Sports > Outdoors
Metaline Falls to resurface on Pend Oreille River
Boundary Dam project will reveal falls
Sun., Aug. 22, 2010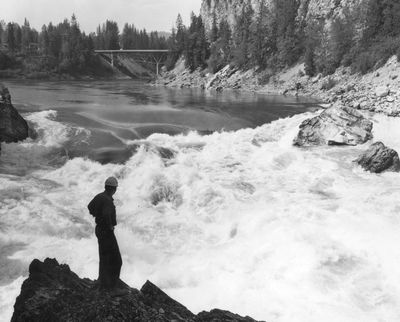 The namesake of Metaline Falls, Wash., will reappear for the first time in 27 years during early September as a Pend Oreille River reservoir is drawn down for a major maintenance project at Boundary Dam.
Starting Sept. 9, the dam's reservoir will be slowly lowered 40 feet over several days, said Scott Thomsen, spokesman for Seattle City Light, which operates the dam.
From roughly Sept. 9-16, the drawdown to elevation 1,950 feet will prevent access at all boat launch facilities on the Boundary reservoir, including the forebay, Metaline Park, and Campbell Park below Box Canyon Dam, Thomsen said.
The drawdown level appears to be just short of exposing the treacherous whitewater downstream in Z Canyon, which detoured explorer David Thompson.
The project involves the removal and rehabilitation of a 312-ton gate used to maintain the seven sluice gates at dam's base.
The project will impact some Labor Day weekend recreation, as the Boundary Dam campground and boat launch will be closed starting Wednesday through Nov. 1.
The Pend Oreille River hasn't rushed under the state Route 31 bridge and over Metaline Falls toward Z Canyon as a natural-flowing river since the last major dam maintenance projects in 1979, 1981 and 1982, Thomsen said.
"A lot of us (with Seattle City Light) have not seen the river flow naturally, but we understand it would be dangerous for boaters," he said.
Although water levels are expected to return to normal management in late September, the Boundary Dam campground area could later be temporarily closed periodically as portions of the project continue, he said.
Boundary Dam, which began operation in 1967, produces half of the electricity Seattle City Light produces for its customers and is a significant contributor to the economy of Pend Oreille County, said Jorge Carrasco, dam superintendent.
Safety during the drawdown shouldn't be too much of an issue because the few people who boat on that stretch of river usually launch at Boundary Dam – and that launch will be closed, said Mike Kress, Pend Oreille County Sheriff's Department spokesman.
Generally only experienced paddlers would float the river from Metaline downstream even during normal operations because of serious hydraulics in the water downstream from the state Route 31 bridge near Deadman's Eddy, he said.
Local journalism is essential.
Give directly to The Spokesman-Review's Northwest Passages community forums series -- which helps to offset the costs of several reporter and editor positions at the newspaper -- by using the easy options below. Gifts processed in this system are not tax deductible, but are predominately used to help meet the local financial requirements needed to receive national matching-grant funds.
Subscribe to the sports newsletter
Get the day's top sports headlines and breaking news delivered to your inbox by subscribing here.
---
Subscribe and log in to the Spokesman-Review to read and comment on this story