News > Features
Nugent's 'American Dream cocktail' lands in Spokane
Fri., Aug. 27, 2010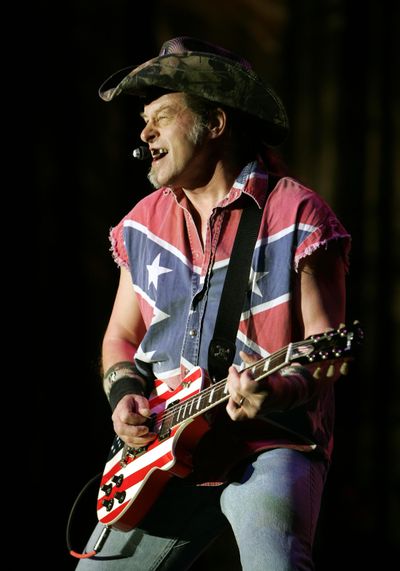 Ted Nugent has many names: The Nuge, Motor City Madman, Ted the Sledge, for a few.
But no matter what you call the gregarious and outrageous musician, he's still got the passion, the drive, the energy and the moxie to please rockers of all ages.
The Nuge prefers to preserve his voice when he's on tour, making phone interviews impossible, his publicist said. But he was happy to field questions via e-mail.
Nugent says that even though he's in his 60s, he's never felt so young. Music is partly responsible for that, he said, along with "a lust for life and an unbridled pursuit of happiness."
He has his own recipe for staying young. "Passion, venison, clean living, spirit and attitude," he wrote. "The American Dream cocktail."
Nugent grew up in Detroit, taking up the guitar as a teenager. His introduction to musical notoriety came from his days as lead guitarist with The Amboy Dukes in 1965.
In 1975 he struck out on a solo career, which produced such familiar songs as "Cat Scratch Fever."
He's also known for his devotion to hunting, fishing, trapping and the ultimate in self-survival skills, not to mention his strong ties to conservation and the right to bear arms.
"I am and have always been a conscientious pragmatist, living my life based on logic, truth, accountability, a Herculean work ethic, good will and decency," Nugent wrote. "It's called the American Dream."
So how do his love of music and hunting get along?
"My music is mostly an uppity soundtrack of the pure, perfect primal scream of rugged individualism, absolute independence and being one with the good Mother Earth," he wrote.
"Hunting, fishing and trapping are the last perfect natural environmental positives available to mankind, and my ultra-intense soulful American music is the soundtrack of defiance against the brain-dead denial of political correctness against my hunting lifestyle.
"I rock like an animal all summer long, then hunt September through March. It simply doesn't get any better than this."
Nugent has done his share of acting as well, from guest spots on "Miami Vice" and "That '70s Show" to his reality outdoor TV series "Spirit of the Wild," which took viewers on a variety of bow hunting jaunts.
He also played host to a VH1 reality show called "Surviving Nugent," in which he took city folks into the backwoods and taught them how to survive in the wilderness.
Nugent's been married twice and has a tribe of children and grandchildren he adores.
"All my children are devoted to being the best that they can be and to the American freedoms that facilitates it, including the self-evident truth of self defense," he wrote.
"I have eight wonderful kids and seven wonderful grandchildren. Clearly my proudest accomplishment in life is the wonderful Americans my kids turned out to be. They are all kind, polite, healthy, athletic, hard-working, generous, loving, funny, cocky, great marksmen and thoughtful, conscientious human beings all. I love them all with all my heart and soul."
Local journalism is essential.
Give directly to The Spokesman-Review's Northwest Passages community forums series -- which helps to offset the costs of several reporter and editor positions at the newspaper -- by using the easy options below. Gifts processed in this system are not tax deductible, but are predominately used to help meet the local financial requirements needed to receive national matching-grant funds.
Subscribe now to get breaking news alerts in your email inbox
Get breaking news delivered to your inbox as it happens.
---