Sports > Gonzaga basketball
Gonzaga bench finally lends a needed hand
Fri., Feb. 5, 2010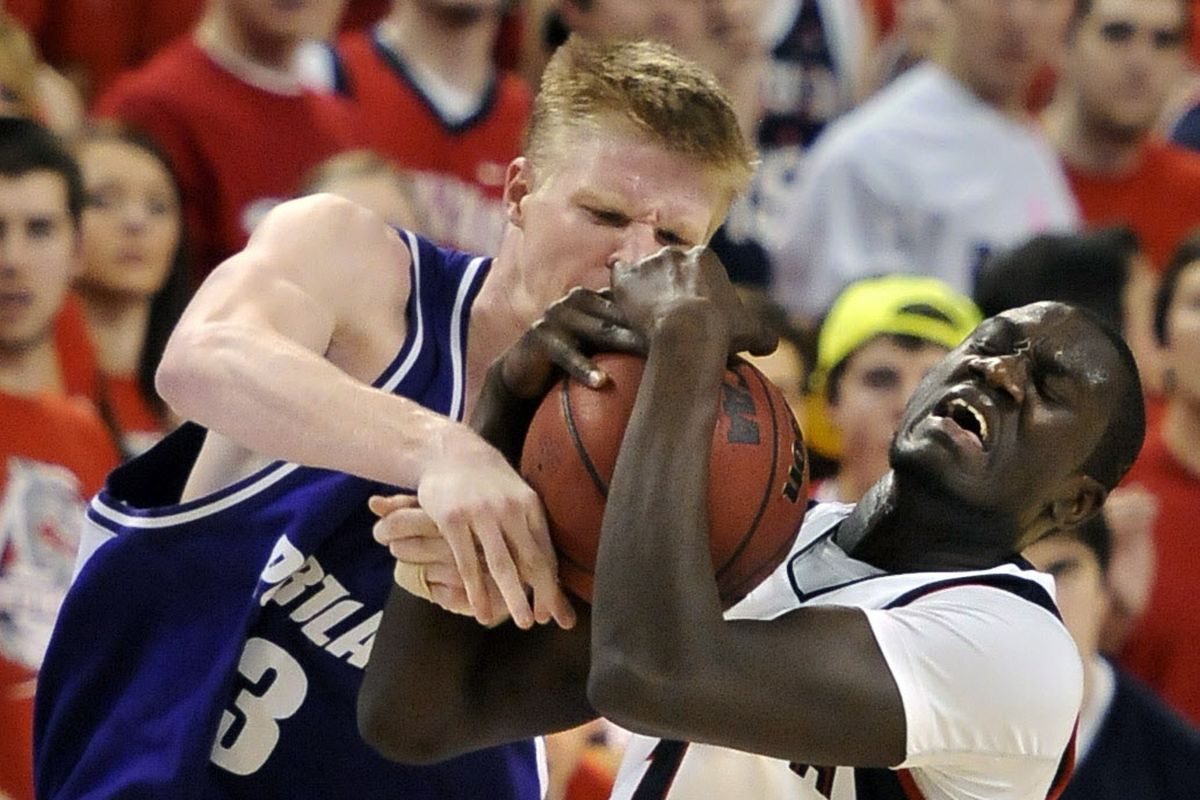 Gonzaga's Mangisto Arop rips the ball away from Portland's Ethan Niedermeyer near the end of the first half Thursday, Feb. 4, 2010, in the McCarthey Athletic Center. (Dan Pelle / The Spokesman-Review)
At last, reinforcements for The Three Basketeers.
One for all and all for … well, for drilling the Portland Pilots a new one.
Not sure if you can say the Gonzaga Bulldogs really needed the 76-49 pasting they put on the Pilots at McCarthey Athletic Center on Thursday night, but the nation of Zagistan certainly did. Hand-wringing had reached Mach I in the public panic after last week's loss to San Francisco – which much of the local cognoscenti apparently didn't realize played Division I basketball – so on that score the blowout was as welcome as a college freshman's first care package from home.
But what the Zags did need was a different dimension, a new look in the wake of two successive weekends during which their aspirations for a 10th consecutive West Coast Conference regular-season title appeared vulnerable, and oddly so in light of their strong work in November and December.
You could almost hear the cry: Their kingdom for a bench.
Yes, there were several other elements of the Gonzaga game that had dropped off during this strange interlude, and the play of a couple of starters had been nitpicked to death as well. So reliant had the Zags become on the talents of Matt Bouldin, Elias Harris and Steven Gray – the Three Basketeers – that it appeared they were beginning to wear down.
And a contributing factor in all of it was that there's been little in the way of consistent relief coming from the Bulldog reserves in any department – scoring, rebounding, defense, energy or just not screwing it up.
"We're just trying to find one or two of those guys," coach Mark Few was moved to say on the radio earlier this week, "that aren't going to hurt us."
It had come to that: He'd settle for not being hurt by the bench, and hoping for help later.
And then on Thursday night, this bonanza.
Gonzaga's reserves outscored their Portland counterparts 24-10. Even with Harris saddled with two dubious offensive fouls in the first five minutes, the Zags were able to manhandle the Pilots on the glass. So well did swingman Manny Arop play on both ends of the floor that Few couldn't get Gray back into the game.
Above all, there was this: With a lineup of starters Bouldin and Demetri Goodson (in his most complete game of the season) and subs Arop, Grant Gibbs and Kelly Olynyk, the Zags turned a 10-point lead into 20 over the last four minutes of the first half.
"If anything, we might have picked it up tonight off the bench," Gibbs said. "We can't have a drop-off. It's not so much scoring, it's effort. You can just see how much it helps us."
In the fitful recent victories over Pepperdine, Loyola Marymount and Santa Clara and the stumble against USF, the Zags had early opportunities for separation each time. Instead, they allowed the opposition to hang around – "dodging bullets," as Arop put it, until one winged them. Assistant coach Leon Rice tried to target the reasons – the poor foul shooting (which continued Thursday) and, of course, the inevitable "Bob Beamonesque" effort every WCC team musters against Gonzaga.
"But one other thing that helps you in those situation is consistency from your bench," he said. "Ours has helped at times, but I wouldn't say you knew what you were getting night in and night out from any of them. You look at our teams that have been able to go undefeated in league and the bench has always helped on a consistent basis.
"They need to step up, on both ends. If you take Matt or Steven out, does a 10-point lead become 15 or does it go back to five and you have to get them back in?"
It can be difficult for a backup to find a rhythm without extended minutes, but nevertheless those minutes must be earned.
"I have to approach it like every game is a big game for me," Arop said.
In terms of both playing time and production, Gonzaga hasn't had to make do with contributions so erratic in at least five seasons. And while any of the backups has the ability to change a game (the good), there has been absolutely no predicting whether any of them will (the bad).
"Usually, it's, 'Nope, nope, nope, well, OK – this guy,' " said Few. "But tonight they all did, and that was big. And they didn't come out because they played better. It's a privilege, not a right. If you go in and turn the ball over three times and take a quick shot and don't guard, you don't get to continue to do that – but tonight they didn't do that."
All for one. It's the best part of the equation.
Local journalism is essential.
Give directly to The Spokesman-Review's Northwest Passages community forums series -- which helps to offset the costs of several reporter and editor positions at the newspaper -- by using the easy options below. Gifts processed in this system are not tax deductible, but are predominately used to help meet the local financial requirements needed to receive national matching-grant funds.
Follow along with the Zags
Subscribe to our Gonzaga Basketball newsletter to stay up with the latest news.
---