Sports
Bone works on getting message across
Coach works on fine-tuning team's focus after collapse
Sat., Feb. 13, 2010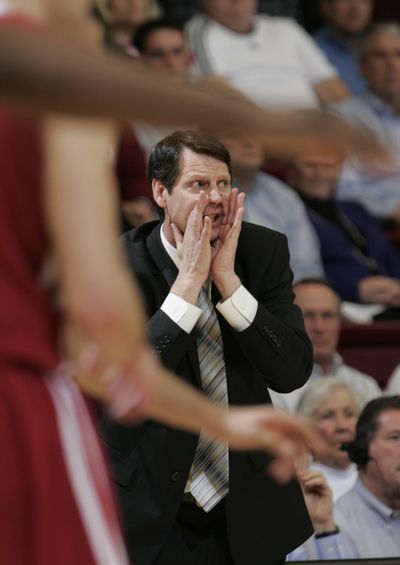 BERKELEY, Calif. – Grinding can make a point. Or turn a sharp edge dull. The difference is just how much pressure is applied.
That's the choice Washington State University men's basketball coach Ken Bone faced Friday afternoon.
To recap, Bone's Cougars had dominated Stanford for 25 minutes, only to let an 18-point edge slip away in the final 15.
The 60-58 defeat to an 11-13 Cardinal team may not have been the worst calamity in the history of college basketball, but to the 18- and 19-year-olds who make up the bulk of WSU's roster, it may have seemed that way.
So it was time for Bone to reshape the focus that seemed to be at a fine point a week ago. No need to rush. Only the Pac-10 leader, California, looms today as the Pac-10 schedule grinds on.
So on Friday the Cougars went over the scouting report on the Bears (16-4, but 8-4 and atop the conference by a game over the Arizona schools), watched video, shot, got up-and-down the court and talked about their mental approach.
After 12 nonconference and 12 Pac-10 games, the X's and O's are in place.
"I would say 95 percent of what we're doing now is just fine-tuning what we already have in," Bone said as the Cougars (15-9, 5-7) got in some final shots at Haas Pavilion. "It's becoming more the mental part of thinking the game."
And that's where WSU fell down in the epic collapse Thursday night.
"At this point of the season, I think we've seen a little bit of everything, so now (the question is) can we execute it against other teams," Bone said. "At times I think we lose our concentration in what we're trying to accomplish. Last night was a situation where I felt we broke down mentally a couple times."
Those breakdowns are going to happen more often with a young team, Bone said. He points to recent WSU history – the three years of Dick Bennett's rebuilding effort – and to his own – the first two years he was at Portland State – in pointing out the process isn't a short one.
"Any Cougar fan would understand, more than anybody, that coach (Tony) Bennett's last three years were made off of coach Dick Bennett's first three years," Bone said. "They were able to benefit off the fact those kids were in the program for years, just like Cal is now.
"At this point, (the Bears) are the best team in the league. Their players have gotten better, but they also know the system. They're seasoned."
Bone said it took his Portland State group a "good year-and-a-half to almost two years" to reach the point he felt things were in place. At times, Bone said, his first Cougar team seems to be getting there quicker.
"At times, I feel like (this group) is doing it now," Bone said. "There are times where our kids have done a great job. But there are other times, like last night, where we break down or we don't recover as well as I think we should."
It isn't the first time WSU has squandered large leads this season. Seven times the Cougars have built double-digit leads only to lose (three times) or win by six or fewer points.
"You would think after doing it a couple times, OK, now they know," Bone said. "They know not to do that or they know to do this.
"When in reality, it takes time to gain the wisdom you need to play the way teams want to play to win championships."
Local journalism is essential.
Give directly to The Spokesman-Review's Northwest Passages community forums series -- which helps to offset the costs of several reporter and editor positions at the newspaper -- by using the easy options below. Gifts processed in this system are not tax deductible, but are predominately used to help meet the local financial requirements needed to receive national matching-grant funds.
Subscribe to the sports newsletter
Get the day's top sports headlines and breaking news delivered to your inbox by subscribing here.
---