News > Nation/World
Mousavi blasts crackdown
Reform leader says Iran is in 'serious crisis'
Sat., Jan. 2, 2010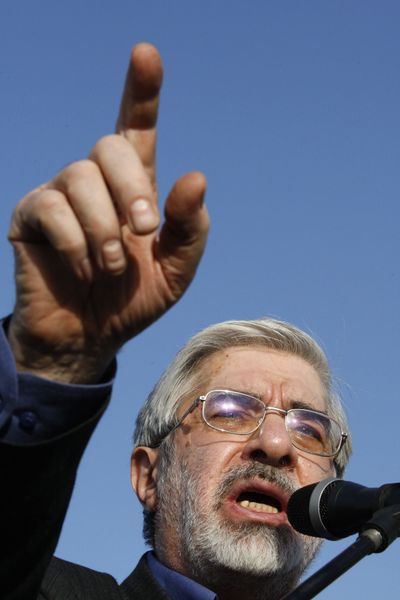 BEIRUT, Lebanon – Defying demands for his execution, Iran's leading opposition figure on Friday issued a scathing denunciation of the government's violent crackdown against his supporters, calling for a restoration of civil liberties as a way of ending what he described as a "serious crisis" that has destabilized the nation.
Mir Hossein Mousavi's statement, posted to reformist Web sites, were his first public comments since a violent weekend of protests coinciding with an important religious holiday. Mousavi's 43-year-old nephew, Ali Habibi-Mousavi, was shot to death on Sunday.
Mousavi said threats against his life would not deter him.
"I'm not afraid of being one of the post-election martyrs who lost their lives in their struggle for their rightful demands," he wrote in his first major public statement in weeks. "My blood is not redder than that of other martyrs."
Mousavi ran for president in disputed June elections that saw President Mahmoud Ahmadinejad declared the victor, triggering months of on-and-off protests.
Authorities describe the unrest as a foreign-backed plot meant to weaken the Islamic republic, which is under international pressure for its drive to master nuclear technology. Opposition news Web sites report that security forces have arrested at least 1,300 people in Tehran and other cities since the Dec. 19 death of dissident cleric Ayatollah Hossein Ali Montazeri began a fresh wave of demonstrations.
Plainclothes security officials and Basiji militiamen have stormed the homes and offices of dissident clerics and activists. Hard-line clerics loyal to supreme leader Ayatollah Ali Khamenei have labeled the protesters and opposition leaders "mohareb," or enemies of God, an Islamic offense punishable by death.
Opposition Web sites on Friday also published a photograph of a Chinese armored anti-riot vehicle equipped with high-powered water cannons that has reportedly arrived in Tehran for possible use against demonstrators.
The constant stream of threats has failed to silence an opposition that has become increasingly daring. Some took to the streets Thursday in demonstrations around the capital and were met with volleys of tear gas.
Local journalism is essential.
Give directly to The Spokesman-Review's Northwest Passages community forums series -- which helps to offset the costs of several reporter and editor positions at the newspaper -- by using the easy options below. Gifts processed in this system are not tax deductible, but are predominately used to help meet the local financial requirements needed to receive national matching-grant funds.
Subscribe to the Coronavirus newsletter
Get the day's latest Coronavirus news delivered to your inbox by subscribing to our newsletter.
---