Sports
Time to refocus
Beavers visit Cougars today
Sat., Jan. 2, 2010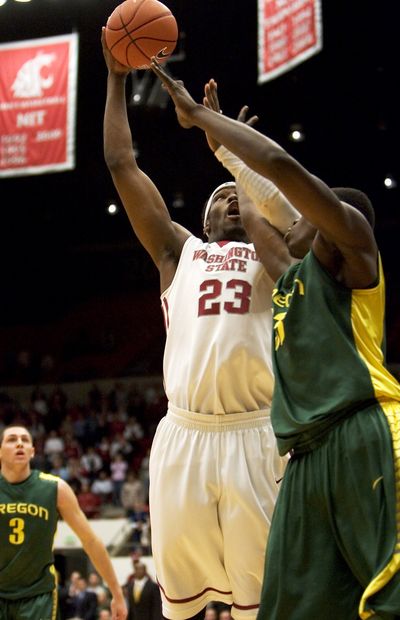 PULLMAN – Ken Bone's cell phone and computer have been busy.
The Washington State University men's basketball coach said Friday he's received more than 30 messages since Thursday night from coaching friends and "even a couple of officials about what took place."
"The topic isn't about 'Oh, what an exciting game,' " Bone added. "The topic is about the obvious."
Bone isn't just referring to Thursday's 91-89 double-overtime defeat to Oregon at Friel Court, of course. He's referring to the technical foul called on the WSU bench at the end of the first overtime, allowing the Ducks to overcome DeAngelo Casto's basket and an 80-78 lead with .3 seconds left.
He appreciates the concern, but added "it makes it even more difficult to put it behind you when people keep bringing it up."
And Bone did all he could at practice Friday to move beyond the Pac-10-opening loss and get ready for today's challenge, Oregon State.
"We'll find out (today)," said Bone when asked if his team had been able to forget the result and bounce back from 50 minutes of basketball. "You always talk about how to deal with adversity, turn the page, put things behind you and all that (but) it's a lot easier said than done."
"We're fine," said sophomore guard Klay Thompson, who struggled shooting (6 of 19 from the floor) but still finished with 33 points by converting 19 of 21 free throws, both career highs.
"It's the past," Thompson said. "You can't dwell on it or it'll affect (today)."
And today means the Beavers (6-5 overall, 0-1 in the conference), who are also coming off a loss, 76-70 at Washington on New Year's Eve.
"They're well-coached and they have great players," Bone said. "But they (also) play a unique style. The more time you have to prepare, the better chance you have to compete against them."
OSU plays mainly zone defense, a 1-3-1 after they score and a more conventional 2-3 when they don't. To score, the Beavers run the Princeton motion offense, featuring backcuts and misdirection. They have two players scoring in double figures, Seth Tarver (12.9) and Calvin Haynes (11.6).
"They're real similar to Air Force," said Thompson, referring to WSU's recent Spokane opponent, "and the way they play. We got a lot of experience against them. And a lot of us played against them last year. We'll be ready."
One player WSU (10-3, 0-1) needs to be ready for is freshman point guard Reggie Moore.
Moore struggled Thursday, getting into first-half foul trouble – he fouled out on the game's final play – and having trouble on the defensive end. He finished with 10 points in 33 minutes.
"He wasn't himself," Bone said. "Maybe it had to do with his first Pac-10 game, I don't know. He didn't have one of his better games. But I think he'll bounce back. He's a competitor."
Which is the same thing Bone's hoping for from all the Cougars. Asked if he replayed the Oregon game in his mind throughout the night, Bone said it wasn't any different than every game, with a small twist.
"I hardly slept at all," Bone admitted. "There's just one thing I wish had been changed. We didn't play a perfect game by any means, but we played well enough to win. And thought we did win. But we didn't."
Local journalism is essential.
Give directly to The Spokesman-Review's Northwest Passages community forums series -- which helps to offset the costs of several reporter and editor positions at the newspaper -- by using the easy options below. Gifts processed in this system are not tax deductible, but are predominately used to help meet the local financial requirements needed to receive national matching-grant funds.
Subscribe to the sports newsletter
Get the day's top sports headlines and breaking news delivered to your inbox by subscribing here.
---