Sports
Chiefs forward Johnson owns Memorial Cup ring, gold medal
Thu., Jan. 7, 2010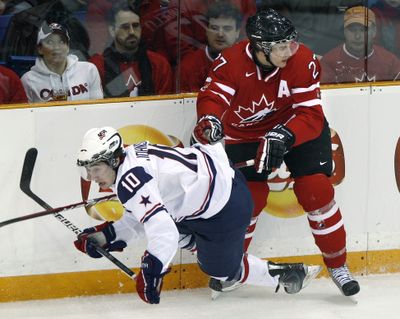 Basking in the glow of gold, Tyler Johnson fielded a tougher question than any other member of Team USA at the conclusion of the World Junior Hockey Tournament Tuesday night.
It was the kind of question the Spokane Chiefs' forward and Spokane Valley native loved to consider.
Johnson was repeatedly asked, "What was better, a gold medal or Memorial Cup ring?"
"I've had so many people ask me about that, to be honest," he said in a telephone interview from Saskatoon, Saskatchewan, after Team USA shocked five-time defending champion Canada 6-5 in overtime. "The Memorial Cup might have meant more, because you're with the team eight or nine months and battling together the whole entire time. It's something that was a goal for a long time.
"The World Juniors is very special, playing for your country, winning gold for them. It's only the second time the U.S. won World gold. It's pretty cool."
Think about the choice. There's the Memorial Cup – called the hardest championship to earn – which came with his hometown team in 2008, versus a gold medal with a USA jersey.
"They're both pretty amazing," Johnson said after considering the accomplishments. "I feel the same way I did after the Mem Cup. I'm always going to remember this."
It was an amazing tournament for Johnson, who was on last year's fifth-place team.
Although 15 of his teammates have been drafted by National Hockey League teams, the undrafted Johnson was honored by his coach as one of the team's three stars of the tournament.
"Being recognized as one of the three on the entire team with the type of team we have is pretty special," he said. "I have to thank my team for that. It's hard not to play well when you're playing with good players like that."
The tournament didn't start well for Johnson when he was ejected just seconds into the first game. It also didn't end on a personal high note when he was injured in the first period against Canada.
"I thought I did very well," he said. "That first game was kind of a weird game for me since I got 20 seconds and got kicked out for something I didn't do. I think I responded very well."
Twice after that he was selected as Team USA Player of the Game, including the pool-play shootout loss to Team Canada on New Year's Eve. Overall he had three goals and two assists in what amounted to five games.
His injury came on a partial breakaway early in the gold-medal game, when he went down and crashed awkwardly into the boards.
"It's one of the worst injuries I've ever had," he said. "It's so embarrassing to say.
"My butt muscle was cramping up. I couldn't put any pressure on it. I tried going back out three or four different times but my leg, after taking four or five strides, was shot. I didn't think I could help the team by not going fast."
Team speed was vital for the Americans against a skilled opponent that featured 21 NHL draft picks, including 10 first-rounders such as Spokane Chiefs captain Jared Cowen.
The injury makes Johnson questionable for the Chiefs, who face three games in three nights. They are home against Chilliwack on Friday and Tri-City on Saturday, before going to Everett on Sunday to start an eight-game road trip while the U.S. Figure Skating Championships are at the Arena.
"They told me it's going to bruise up pretty bad," Johnson said. "They said I'd be pretty stiff and sore."
But late Tuesday night he was feeling golden.
Local journalism is essential.
Give directly to The Spokesman-Review's Northwest Passages community forums series -- which helps to offset the costs of several reporter and editor positions at the newspaper -- by using the easy options below. Gifts processed in this system are not tax deductible, but are predominately used to help meet the local financial requirements needed to receive national matching-grant funds.
Subscribe to the sports newsletter
Get the day's top sports headlines and breaking news delivered to your inbox by subscribing here.
---