News > Features
heroes welcome
Brandi Carlile jumps at chance to work with Elton John, others on her latest album, 'Give Up the Ghost'
Fri., Jan. 8, 2010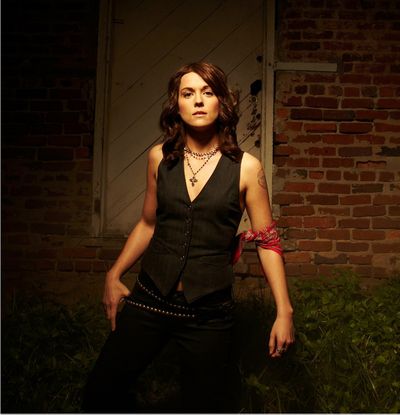 On her third album, "Give Up the Ghost," Brandi Carlile can't help but feel inspired. Working side-by-side with some of her biggest heroes in music has that effect on her.
Released in October on Columbia Records, "Give Up the Ghost" was produced by Rick Rubin and features a collaboration with Elton John, who Carlile described as her "gateway drug" into rock music as a child.
"He really was my introduction into rock, from classic country-and-Western music," says the Seattle-based singer/songwriter, who comes to the Knitting Factory on Tuesday.
"When I discovered Elton John it was the heaviest (music) I'd ever heard. I dove into it and found all these other bands like The Beatles and Queen," she said. "Then I started studying heavy into the orchestration and harmonies in rock music."
John appears on "Caroline," a song on "Give Up the Ghost" inspired by Carlile's niece of the same name.
"(He) was amazing. He finished 'Caroline' – vocals and piano – in an hour and half," she said. "The biggest lesson I learned from him is to just keep my eyes ahead and always be excited about what I'm doing and what other bands are doing.
"That's his mantra, to keep his eyes on new bands and new music. That's what keeps him fresh."
Blending elements of rock, pop, folk and country styles, "Give Up the Ghost" also includes string arrangements by another of Carlile's heroes, Grammy-winning arranger-composer and longtime Elton John collaborator Paul Buckmaster.
"Since I first got hip to him I became a fanatic of his string arrangements because they are so dark and weird and unlike anything else anyone was doing," said Carlile, who appeared with the Spokane Symphony last April.
"I always told myself that one day, when I made the record, it would have a Paul Buckmaster string arrangement."
Carlile and her core band – which includes her writing and touring partners, twin brothers Tim and Phil Henseroth – were joined in the studio by Indigo Girls' Amy Ray on harmony vocals, as well as Red Hot Chili Peppers drummer Chad Smith and Tom Petty and the Heartbreakers multi-instrumentalist Benmont Tench.
She co-headlines dates in February with the Indigo Girls, who have also been a major influence in Carlile's musical upbringing.
"I grew up so influenced by them, especially my sense of harmony, so singing with them seems natural and fun," she said.
"That's the most exciting thing about this trajectory of my career, to meet and thank all of these people who've influenced me personally and musically. This is one of those things you dream about when you're 11 years old."
During the holiday downtime, Carlile and the twins finished a Valentine's Day EP she hopes to release soon titled "XOBC."
Already, she said, they have three songs written for her next full-length album.
Local journalism is essential.
Give directly to The Spokesman-Review's Northwest Passages community forums series -- which helps to offset the costs of several reporter and editor positions at the newspaper -- by using the easy options below. Gifts processed in this system are not tax deductible, but are predominately used to help meet the local financial requirements needed to receive national matching-grant funds.
Subscribe to the Coronavirus newsletter
Get the day's latest Coronavirus news delivered to your inbox by subscribing to our newsletter.
---