Sports
Davis, White grow into starring roles
Fri., Jan. 15, 2010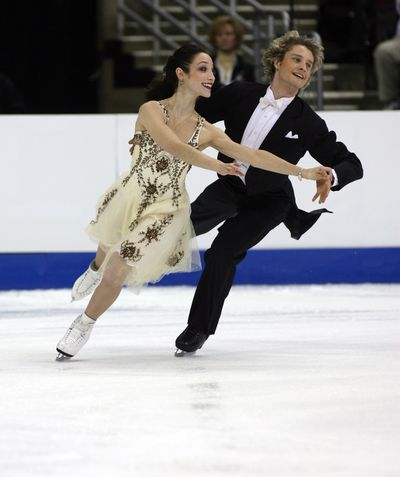 For ice dancers Meryl Davis and Charlie White, 2009 was a golden year.
The Michigan natives begin 2010 hoping for more of the same.
Davis and White began last year by capturing their first U.S. Figure Skating national championship. Not only will they be out to defend their title in Spokane, but they're favored over reigning Olympic silver medalists Ben Agosto and Tanith Belbin – the couple who had a stranglehold on the championship until an injury to Agosto forced them to withdraw from the 2009 nationals.
Last month, Davis and White capped a breakout year with six firsts in seven events by winning the International Skating Union Grand Prix Final in Tokyo, becoming the first Americans to win.
"We're focused on making sure we go into this season like any other," Davis said. "All we can do is skate our best and prepare to the best of our ability."
White agreed.
"We're really focused on the national championships," he said. "It's important to us to keep our title. Obviously in the back of our heads you're thinking about the Olympics a little bit."
The Vancouver Olympics begin 18 days after the conclusion of the national championships.
Davis and White, students at the University of Michigan, are taking this semester off.
"Hopefully we'll be really busy," Davis said, alluding not only to the national championships but the Olympics.
In the six weeks between the Grand Prix Final and national championships, Davis and White have been polishing their programs. They're confident of success in Spokane.
"We definitely have what it takes to defend our title," Davis said. "If we can go out there and put out some good performances in Spokane, there's no reason we shouldn't have a shot at the national title."
Agosto and Belbin have been the most successful American ice dancers. They became friends with Davis and White when the teams trained together in Canton, Mich.
They didn't compete against each other much in 2009. They were scheduled to face off in Tokyo before Agosto and Belbin had to withdraw when Belbin had emergency oral surgery.
"We're very proud of them," Belbin said. "We're still very close. Anybody who has seen Meryl and Charlie dance the past couple of years know they were building a momentum that would carry them through to this level and beyond if they continue on."
Local journalism is essential.
Give directly to The Spokesman-Review's Northwest Passages community forums series -- which helps to offset the costs of several reporter and editor positions at the newspaper -- by using the easy options below. Gifts processed in this system are not tax deductible, but are predominately used to help meet the local financial requirements needed to receive national matching-grant funds.
Subscribe to the sports newsletter
Get the day's top sports headlines and breaking news delivered to your inbox by subscribing here.
---