Sports
Increased hunger, two new programs keep Lysacek on task
Fri., Jan. 15, 2010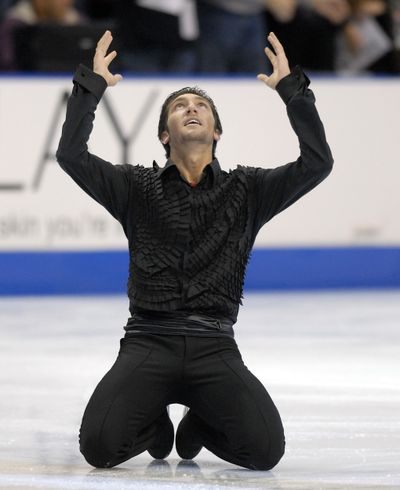 The morning Evan Lysacek woke up as world champion – in his adopted home of Los Angeles, as accomplished in his way as Kobe and the Lakers are theirs – what stood out among the calls and texts and flowers and congratulations and gushy interrogations was this:
A three-page review of what he needed to work on and improve, compiled by his coach, Frank Carroll.
So much for the glory of gold.
"It was eye-opening for me," Lysacek remembered. "At a time in my life when I thought I had brought my goals down to a realistic level, it made me realize I had to strive for the stars."
Even when he is one.
The 2010 AT&T U.S. Figure Skating Championships open for business today at the Spokane Arena with a dynamic that hasn't been in evidence for 26 years. With berths to the Olympic Games on the line, the established headliner of these de facto trials – the only reigning world champion here – is male.
Not a pixie teenager or a 20-something grand dame, but 6-foot-2, one-time wannabe hockey player Evan Lysacek.
When he finished off his free skate to Gershwin's "Rhapsody in Blue" last March in Los Angeles, Lysacek became the first American male to win the worlds since Todd Eldredge 13 years before. And not since Scott Hamilton in 1984 have the trials featured the defending world men's champ, a circumstance that could weigh on Lysacek like lead blades during a quadruple jump – if he viewed it that way.
"What it's done, definitely, is make me more hungry," he insisted.
Once is not nearly enough.
Expectation accompanies victory, but Lysacek has chosen liberation instead. He will not assume that one world title will begat another – or Olympic gold – nor will he shrink from the possibility of repeating the achievement. He has, he has said, "an open book – and I'm going to write it as each day goes on."
Seems to fit with his approach even before he became world champion. In the wake of his two U.S. titles, he had failed to reach the worlds podium in 2007 and was knocked out in 2008 by injury. And after a rather uninspiring skate at this event last year, he wound up third behind Jeremy Abbott and Brandon Mroz – and on top of that, was suffering from a stress fracture in his left foot.
"The situation wasn't optimum for me, but I just thought whatever I do, I have to be happy with it," he said. "The window of opportunity is small."
But it's bigger for those poised to leap through it.
Lysacek has been a remarkably consistent skater, not just since his fourth place finish at the last Olympics but going back to when he left the junior ranks. Other than the Olympics and the 2007 worlds, he's been on the medal stand for every significant national and international competition he's entered since 2004.
He's been just as consistent as a world titlist – finishing second in his first outing this year and winning gold at both Skate America and the Grand Prix Final.
Consistency, however, isn't the same as standing pat. If Lysacek wants to transcend the status of one-hit wonder, the challenges won't simply have to come from his rivals but himself.
"After winning the worlds my coach and Lori Nichol, my choreographer, were pushing me to do something new," Lysacek said. "I was thinking of doing something along the lines of 'An American in Paris' – something mimicking that Gershwin attitude on ice. But they kept saying, 'No, you have to stretch and try something new.' And I kept thinking, 'No, I don't want to.'
"We ended up agreeing that I'd try something really different and if I didn't like it, I could go back to something that was comfortable to me."
What they settled on was a short program skated to Stravinsky's "The Firebird" and a long program of "Scheherazade," the Rimsky-Korsakov take on the Arabian Nights.
"I'd never studied the actual history of the story I'm skating to, or the dances that had gone on for years and years," Lysacek said. "I'd never really gone into the music and background, but I did all of that this year. I took time to learn the attitudes and story line of the program and now I can relate to it and bring it into today. These are stories that are still relevant today – stories of love, heartbreak, struggle, battle, triumph, defeat, sex.
"And now I have two programs I absolutely love."
He'll be skating them in an arena he holds in similar regard. Spokane hosted the 2007 event where Lysacek tried – and landed – his first quad jump in competition and, of course, won his first national championship.
"That comes with some serious bragging rights," he acknowledged, "but more than that, it was the moment in that building. You're talking about a sold-out crowd who were not just fans of skating, but knowledgeable – cheerleaders for us, who made us feel special and important. It was such a positive, responsive crowd and that made it an event."
Fulfillment would still be two years in the making, until another full house cheered him to a world title in the Staples Center.
"More than anything, it justified the last 17 years of my life," Lysacek said. "Not going to university, moving to L.A., spending every waking moment training and working out. Finally, it was justified. Now I'm the best in the world.
"My life's work was for this."
Local journalism is essential.
Give directly to The Spokesman-Review's Northwest Passages community forums series -- which helps to offset the costs of several reporter and editor positions at the newspaper -- by using the easy options below. Gifts processed in this system are not tax deductible, but are predominately used to help meet the local financial requirements needed to receive national matching-grant funds.
Subscribe to the sports newsletter
Get the day's top sports headlines and breaking news delivered to your inbox by subscribing here.
---