Sports
First play fitting for Fitz, but rest needs some work
Fri., Jan. 22, 2010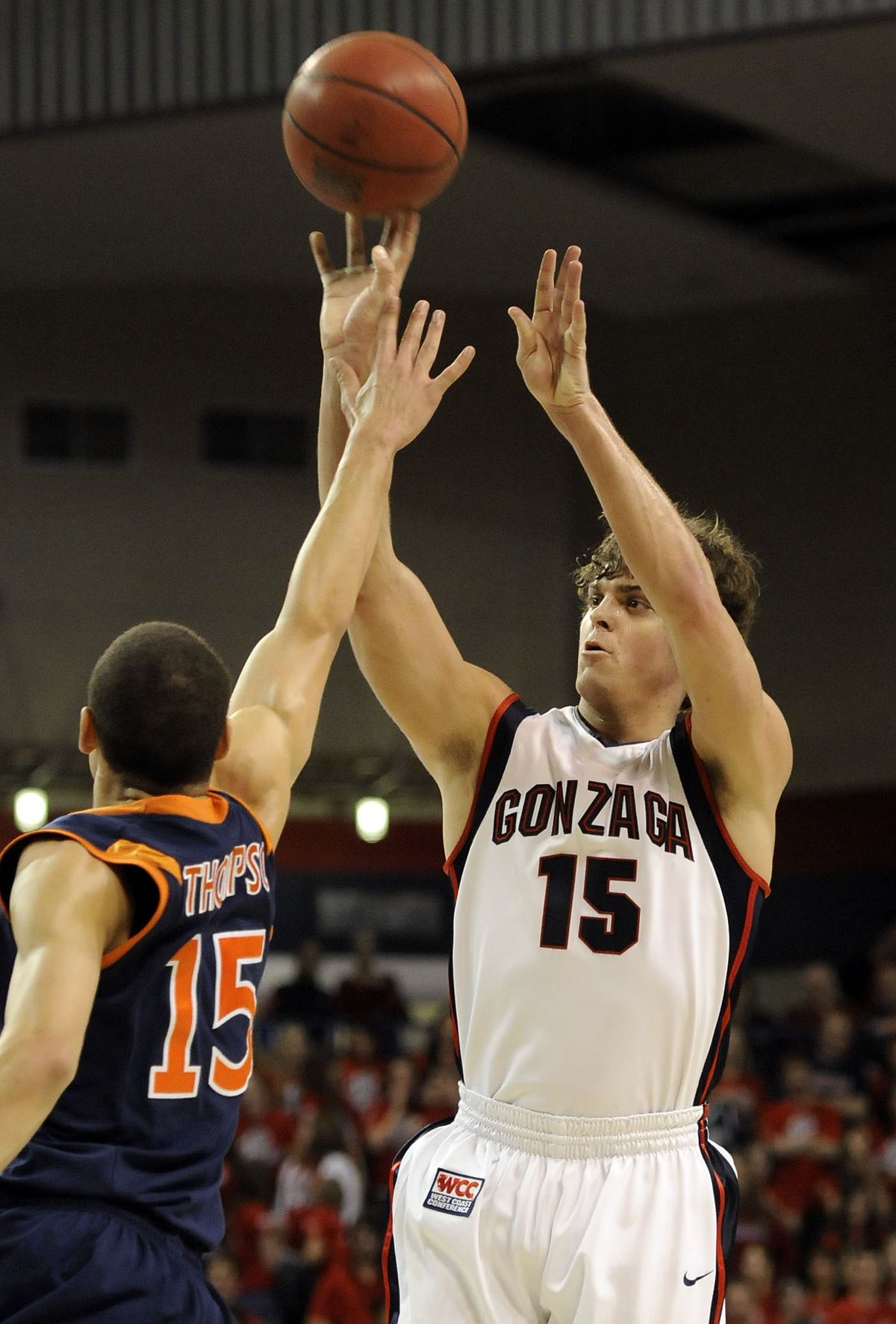 Gonzaga's Matt Bouldin scored a career-high 32 points against Pepperdine. (Dan Pelle / The Spokesman-Review)
Maybe the best tributes are the subtle ones. This time, at least, subtle will have to do.
Gonzaga returned to play at home for the first time in three weeks Thursday night, with emotions raw and regretful tugging at their coach, Mark Few. His old boss, Dan Fitzgerald – who launched Few's college coaching career 20 years ago by hiring him for comically sub-starvation wages – died Tuesday evening. It was a shocking loss to everyone who knew him but especially to the young coaches – Few, Dan Monson and Bill Grier – who worked side by side with him to establish the Bulldogs' success, and an ethos.
So when Matt Bouldin scored on a free-throw line jumper on the Zags' first possession, you might have detected a wistful break in Few's game face.
"We ran 'crackdown' for Fitzy and got a bucket," Few noted, "and that brought a tear to my eye."
It's an entry to Fitzgerald's beloved Flex offense, and it wasn't just an homage but a conspiracy. As it happened, both Monson and Grier – now head coaches at Long Beach State and San Diego, respectively – had games Thursday night, too.
"Billy was supposed to run it and Dan was supposed to run it," Few said. "Anybody who ever played for Gonzaga – or against Gonzaga when he was here – would have recognized it. That was nice. He would have been proud of that."
Yes – but maybe not much more than that.
The old Fitzgerald bromide was "play hard, play smart," and the Bulldogs came up mostly short in both departments in a 91-84 victory over Pepperdine, allowing a mercurial sophomore named Keion Bell to torch them for 37 points. Even Few allowed that he wished "we would have played a little better for him." And it wouldn't have hurt if the pregame moment of silence, which was little enough in the way of recognition for the program's godfather, had been introduced with some feeling and gravitas and not so much like a train conductor rushing through the upcoming stops on a suburban commuter route.
But in the end, the game's the thing – and there's so much more to Gonzaga's than what the Bulldogs showed this night.
"We've got to have some pride," said guard Matt Bouldin, "when a guy throws in 34 on us in the second half."
If you're in to easy rationales, there were some funky circumstances this week. The Zags were coming off a sensational stretch of victories, including road wins over their presumptive challengers in the West Coast Conference race, Portland and Saint Mary's. And there have been times when previous Gonzaga teams have returned home with the mindset that the cocoon that is the McCarthey Athletic Center will more or less will them to victory over lesser opponents, even if their own game is B-minus or lower.
This may have been the case even if the Waves shared the same 3-0 record top the WCC standings with Gonzaga, though of course those wins came at home against teams from the conference's nether region.
"I don't want to say it was fool's gold, those first three wins," said Pepperdine coach Tom Asbury. "I just don't know how ready (Gonzaga) gets to play us."
Surely they weren't ready for Bell, who went from invisible in the first half to unstoppable in the second.
"Once I scored a bunch in a row," he said, "I realized they didn't have anybody who could stay in front of me, so I could kind of worry about the second guy."
Except, too often, there wasn't one.
"Our helpside stood there and watched him," Few said, "and ironically, we spent all week working on it."
The game goes in the "W" column, nevertheless, but there's a danger in any nonchalance. Another young and hungry – and not as good – foe rolls in Saturday in Loyola Marymount. And the Waves roll out with the notion that they can hang around.
"Or maybe it sends them a message," said Asbury, "and they may come down and blow us off our floor."
That Asbury was the coach on the opposing bench was somehow as fitting as Few's choice of a first play. He's in his second time around in Malibu; the first time, he teed it up against Fitzgerald for six years, and for the last couple they had the best teams in the WCC.
"He enjoyed life so much,"he said, "and you wish guys like that live a longer life.
"It was a different time. This building wasn't here and this program was good, but not like now. It's a giant now."
And it needs to play like one.
Local journalism is essential.
Give directly to The Spokesman-Review's Northwest Passages community forums series -- which helps to offset the costs of several reporter and editor positions at the newspaper -- by using the easy options below. Gifts processed in this system are not tax deductible, but are predominately used to help meet the local financial requirements needed to receive national matching-grant funds.
Subscribe to the sports newsletter
Get the day's top sports headlines and breaking news delivered to your inbox by subscribing here.
---