Sports > Outdoors
Out & About
Sun., Jan. 24, 2010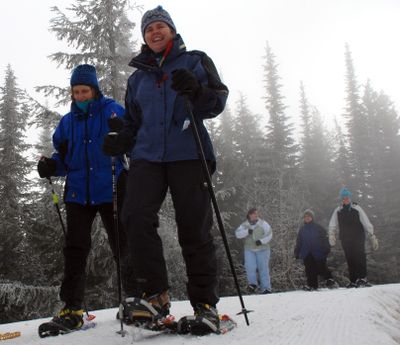 This 'Souper' Bowl for women only
What: Fifth-annual Women's "Souper" Bowl, with cross-country skiing and snowshoeing activities, lessons, lunch.
When: Feb. 7. Check-in starts 8:30 a.m. (with hot cinnamon rolls) Activities run 10 a.m.-1 p.m. (Note: does not conflict with the other Super Bowl.)
Where: Selkirk Lodge, Mount Spokane Park.
Who: For women, all ages and athletic ability.
Cost: $25 minimum suggested donation for Women's and Children's Free Restaurant.
Details: Guided snowshoe tours, self-guided ski and snowshoeing to enjoy chocolate truffles at Nova Hut, plus women's 10K skate and classic ski race. Prize drawings.
Transportation: Sno-Park permits required for vehicles.
Reserve seats on chartered "Souper Bus," which leaves Mountain Gear at 8 a.m. and stops at Mt. Spokane High School at 8:30 en route to the mountain. Departs mountain at 1 p.m.
Pre-register: souperbowlspokane.org.
Boat Show has class attraction
OUTREACH – Sign up for a boat safety course that fulfills Washington's mandatory requirement for boat operators and get free admission to all four days of the National Boat Show.
The Spokane Sail & Power Squadron is offering America's Boating Course during evenings at the Feb. 1-4 boat show at Spokane County Fair & Expo Center.
The eight-hour course meets requirements for Washington's boating safety card. Cost: $40.
The mandatory safety requirement is being phased in over 10 years. This year, boat operators ages 30 and younger must have cards.
Info: (509) 328-6165.
Boy's death spurs hunter orange
OUTLAW – Matthew Gretzon may accomplish in death what 18 other Oregonians have failed to do over the past two decades to change the way the state's 250,000 hunters see each other in the field.
Gretzon, 15, was shot dead Dec. 6 by his uncle, who mistook the camouflaged boy for an elk in Yamhill County brush, making him the 19th hunter since 1992 killed in a vision-related accident while not wearing hunter-orange clothing.
His death has sparked the Oregon Fish and Wildlife Commission to consider mandatory hunter-orange regulations for 2011 in Oregon, which remains one of 10 states, including Idaho, that don't require hunters to wear the bright color in the field.
Some version of a hunter-orange requirement will be offered as part of the 2011 hunting regulations packet that will be offered for public comment this spring.
Readers comment on 'long rangers'
Your opinions on last Sunday's story about long-range rifle shooters who take aim at big game were complied in Rich Landers' Thursday column. See it online at spokesman.com/ outdoors.
Local journalism is essential.
Give directly to The Spokesman-Review's Northwest Passages community forums series -- which helps to offset the costs of several reporter and editor positions at the newspaper -- by using the easy options below. Gifts processed in this system are not tax deductible, but are predominately used to help meet the local financial requirements needed to receive national matching-grant funds.
Subscribe to the sports newsletter
Get the day's top sports headlines and breaking news delivered to your inbox by subscribing here.
---
Subscribe and log in to the Spokesman-Review to read and comment on this story