News > Nation/World
Biden calls for unity in Iraq
Vice president's visit marred by bomb blasts
Mon., July 5, 2010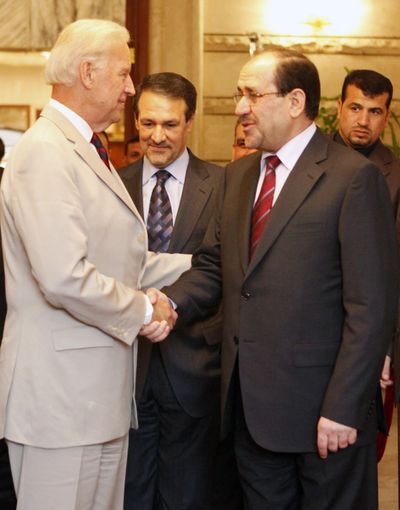 BAGHDAD – Vice President Joe Biden on Sunday urged rival Iraqi politicians to end months of delays and select new leaders for their wobbly democracy, predicting a peaceful transition of power even as suicide bombers struck government centers in two major cities.
The attacks in Mosul and Ramadi underscored persistent fears that insurgents will exploit Iraq's political uncertainty to stoke widespread sectarian violence. Four people were killed and 25 injured in the two blasts that occurred hundreds of miles apart.
At least five mortar rounds also fell in the Green Zone late Sunday when Biden was there, Iraqi police officials said. The Green Zone is the sprawling protected area in the heart of Baghdad that is home to the U.S. Embassy as well as the Iraqi parliament and prime minister's office.
There were no reported casualties, said the officials, who did not want to be identified because they were not authorized to speak to reporters. Mortars and rockets are periodically fired into the Green Zone but rarely result in casualties or damage.
On his fifth trip to Iraq since he was elected, Biden sat down separately with Prime Minister Nouri al-Maliki, a Shiite who is struggling to keep his job after his party lost the March 7 election, and his chief challenger, former premier Ayad Allawi.
The Sunni-backed Iraqiya political alliance that Allawi heads won the most seats in the vote, but it fell far short of securing enough seats in parliament to control the government. That has led to four months of both men trying to woo support from allied lawmakers, ultimately delaying the decision of who will be the next prime minister.
Biden made clear that a government that is not represented by all sides – no matter who leads it – will fall short of a thriving democracy.
"All are going to have to play a meaningful role in this new government in order for it to work," Biden told Iraqi leaders of some of the top vote-getting political coalitions at a U.S. Embassy reception Sunday evening. "My plea to you is finish what you started."
Earlier, talking to U.S. troops, Biden said: "When the new government is formed, it will mark something absolutely extraordinary: a peaceful transition of power encompassing all the people of Iraq, maybe for the first time in their history."
Biden met first with Allawi, where he was kept waiting for a few minutes at the home of Deputy Prime Minister Rafia al-Issawi, an Iraqiya lawmaker. After the hourlong, closed-door talk, Allawi said that Biden offered no specific proposals to end the impasse "but there was an interest in Iraq's stability, and that the forming of the government should not be prolonged."
Allawi called the discussion "frank and constructive."
Several hours later, al-Maliki spokesman Ali al-Dabbagh said Biden warned the prime minister in their 90-minute meeting that delays in forming the government "will bring crisis in Iraq, and the political alliances should make an effort to avoid this crisis."
Local journalism is essential.
Give directly to The Spokesman-Review's Northwest Passages community forums series -- which helps to offset the costs of several reporter and editor positions at the newspaper -- by using the easy options below. Gifts processed in this system are not tax deductible, but are predominately used to help meet the local financial requirements needed to receive national matching-grant funds.
Subscribe now to get breaking news alerts in your email inbox
Get breaking news delivered to your inbox as it happens.
---