Sports
Contador captures third Tour
Schleck second again, vows to win yellow
Mon., July 26, 2010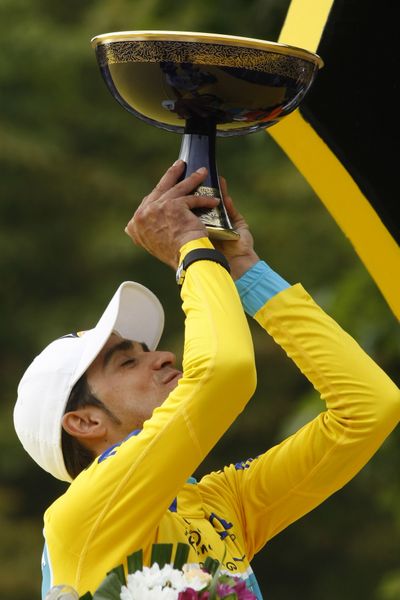 PARIS – Alberto Contador stood atop the podium at the Tour de France on Sunday for the third time in four years, struggling to rein in his emotions as Spain's national anthem echoed across the wide boulevard of the Champs-Elysees.
Off to one side, Lance Armstrong applauded and then, without much fanfare, headed toward the exit.
"I need a cold beer," he said when asked his thoughts at the finish line.
Rarely has the emergence of a sport's newest superstar dovetailed so neatly with the departure of the last one.
Contador held off a next-to-last day challenge from Andy Schleck of Luxembourg, his runner-up for a second consecutive year, draining much of the drama from the 20th and final stage. Denis Menchov of Russia was third overall.
Armstrong completed his last Tour in 23rd place, 39:20 behind Contador, his former teammate and rival. His crash-filled journey was a far cry from the third-place finish he posted in 2009 on his return from a four-year retirement.
Yet the sport the 38-year-old American leaves behind hardly wants for budding stars eager to lead the way.
Schleck, for one, vows he'll win the yellow jersey one day. That promise could produce the next great Tour rivalry, but this year, it wasn't always sporting.
The high-drama point in the race – and the low-point in their avowed friendship – came in Stage 15.
Wearing the yellow jersey, Schleck mounted an attack against Contador on a Pyrenean climb. Suddenly, Schleck's chain came undone, and he pedaled in vain. Contador sped ahead, and by the stage finish, had taken yellow and 39 seconds on Schleck – his margin of overall victory.
Many cycling aficionados cried foul, saying Contador had broken the sport's unwritten etiquette about not taking advantage of unlucky breaks a rider can't control – especially when he was wearing yellow.
Some fans jeered Contador, and he later apologized on YouTube. Schleck, who was fist-swatting angry at first, eventually patched things up with his rival and urged the crowd to as well.
By the time they wheeled into Paris for the finale, the coronation trumped any lingering controversy.
"I suffered to get this result," said Contador, before hoisting the victor's cup, the Arc de Triomphe looming in the background. "I don't have words to express what I feel."
Schleck pointed to Contador's yellow shirt.
"This year, it didn't work. I have a rendezvous in one year with that color there," he said. "I am better than last year because then it (the deficit) was 4 minutes."
Mark Cavendish of Britain claimed his fifth stage victory this Tour and 15th in his career in a sprint at the end of the 20th and final stage – largely a ceremonial 63.7-mile course from Longjumeau to Paris.
Contador, 27, exchanged hugs with his Astana teammates, who began chanting "Ole, Ole, Ole, Ole" on the Champs-Elysees, where thousands of fans lined the route to cheer the cyclists. He now joins Greg LeMond, Louison Bobet and Philippe Thys as a three-time Tour champion.
Contador sipped champagne during the leisurely ride and held up three fingers to signal his third Tour win. His Astana team was prepared to quash any attempt for Schleck to break away Sunday – and they had a playful ride.
Local journalism is essential.
Give directly to The Spokesman-Review's Northwest Passages community forums series -- which helps to offset the costs of several reporter and editor positions at the newspaper -- by using the easy options below. Gifts processed in this system are not tax deductible, but are predominately used to help meet the local financial requirements needed to receive national matching-grant funds.
Subscribe to the sports newsletter
Get the day's top sports headlines and breaking news delivered to your inbox by subscribing here.
---
Subscribe and log in to the Spokesman-Review to read and comment on this story