News > Idaho
Steele pleads not guilty to new charges
Wed., July 28, 2010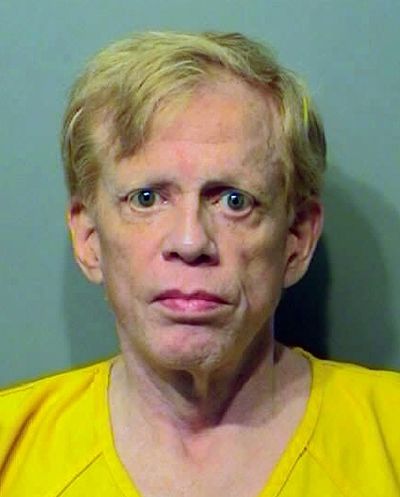 The reported victim in an alleged murder-for-hire plot appears to be supporting the main suspect in the case – her husband, former Aryan Nations lawyer Edgar Steele. Cyndi Steele joined her husband's supporters in U.S. District Court in Coeur d'Alene Wednesday as Edgar Steele, 65, pleaded not guilty to four additional felonies, one that carries a mandatory sentence of at least 30 years in federal prison. She spent several minutes talking to her husband's public defender, Roger Peven, and to her husband's friends before leaving without speaking to a reporter. Several of Edgar Steele's supporters said the case against him is a fraud and called him a "political prisoner" targeted because of his legal work against the federal government. They pointed to voice impersonation software they say was used to fabricate recordings of Steele discussing the murder plot with Sagle man Larry Fairfax, who the FBI said wore a hidden recording device after telling investigators of Steele's plan. But FBI agents allege Fairfax failed to tell them about a pipe bomb he'd already planted under Cyndi Steele's car. Employees at a Coeur d'Alene auto shop found the device June 15 during an oil change. That pipe bomb led to a new grand jury indictment against Steele that charges him with use of interstate commerce to commission murder for hire, tampering with a victim, use of explosive material to commit a federal felony and possession of a destructive device in relation to a crime of violence, according to federal court documents filed last week. The murder and tampering charges carry a maximum of 10 years in prison each; using an explosive in a felony carries a maximum 20 years, and the final charge carries a minimum 30 years in prison. Fairfax pleaded not guilty to possession of an unregistered firearm and making a firearm in violation of the National Firearms Act, which carries maximum penalties of 10 years in federal prison. He remains in custody. The victim tampering charge against Steele stems from a phone call he made to his wife from the Kootenai County Jail in which he urged her to tell authorities the voice on the recording of the murder-plot discussion does not belong to him. "No matter what you hear, no matter what you think, no matter what you feel, you have to say the following: 'No, that is not my husband's voice,'" Steele said. "Then like a rhinoceros in the road, you have to stand your ground and refuse to say anything but that." Prosecutors allege he tried to "intimidate and corruptly persuade" Cyndi Steele during the call, according to the indictment. Steele has since been transported to the Spokane County Jail. He wore a blue Spokane County jail jumpsuit during the hearing before Magistrate Candy Dale, who appeared via video from Boise. Steele appeared solemn during the brief hearing, answering Dale's procedural questions with "Yes, your honor" and "No, your honor." He shared looks with supporters, including Deon Masker, wife of white supremacist Richard Masker. Steele has been in custody since a federal raid at his Talache Road home, east of Shepherd Lake near Sandpoint, on June 11. Steele's trial is scheduled to begin Aug. 16, but his public defenders recently filed a request for a 60-day extension as they try to stop federal investigators from searching items seized from Steele's home law office. Steele, well-known for his defense of the Aryan Nations in a high-profile 2000 lawsuit, is concerned government searches may compromise attorney-client privilege and wants the court to stop the searches "until the warrant can be received to determine if proper procedures are in place to protect the privacy of the information seized," according to documents filed last week. Prosecutors say they haven't searched Steele's files yet and say they are preparing a second search warrant to authorize a team to separate and redact sensitive data "so that investigatory agents will only obtain information relating to this case, and not unrelated attorney-client information from the computers," according to court documents. The team will not discuss the confidential information withheld from investigators, prosecutors say.
Local journalism is essential.
Give directly to The Spokesman-Review's Northwest Passages community forums series -- which helps to offset the costs of several reporter and editor positions at the newspaper -- by using the easy options below. Gifts processed in this system are not tax deductible, but are predominately used to help meet the local financial requirements needed to receive national matching-grant funds.
Subscribe now to get breaking news alerts in your email inbox
Get breaking news delivered to your inbox as it happens.
---