Sports
Cougars set to build with Tuel
Wulff names sophomore as starter at media day
Fri., July 30, 2010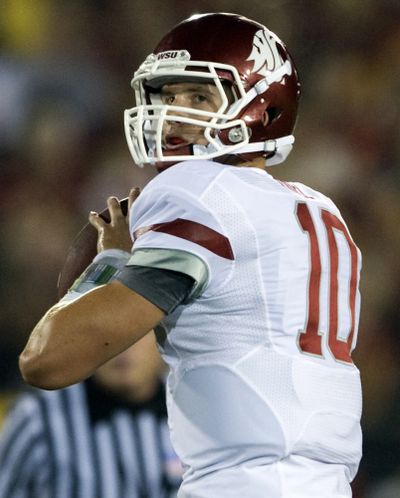 PASADENA, Calif. – Washington State coach Paul Wulff made official Thursday what most everyone else thought all along.
Sophomore quarterback Jeff Tuel is the team's starter.
"He's our starting quarterback heading into fall camp," Wulff said at the annual Pac-10 media day in the Rose Bowl. "If the season were to start today, he would be our starter."
Tuel and redshirt junior Marshall Lobbestael battled for the starting spot throughout the spring, with Wulff ending the workouts hedging his bets.
"Yeah, (Tuel's) running with the ones, there's no question," Wulff said after the spring game. "And he's doing well, there's no question. We want to bring both those guys along, we're going to need them both, they're both going to need to play for us, there's no question."
It's that need to have both prepare like starters that Wulff cited Thursday in explaining why he didn't anoint Tuel after spring practice.
"In this conference, realistically, how many players start every game and play every game?" Wulff asked. "You have to have two players that have the potential and the ability to start.
"We're being realistic with both of them. Both have to have the mindset of being starters."
But there can only be one starter, and with the start of practice a little more than a week away, Wulff announced his choice.
As a true freshman, Tuel made his debut at USC in the season's fourth game, relieving Lobbestael and completing 14 of 22 passes for 130 yards and one interception.
Tuel started the next five games before having his season cut short with a slight dislocation of his kneecap against Arizona. For the season, the 6-foot-3, 215-pound Tuel was 71 of 121 (58.7 percent) passing for 789 yards, with six touchdowns and five interceptions. His best game came at California when he threw for 354 yards and two scores.
Lobbestael started three games last year and relieved in six others, hitting on 67 of 144 passes (46.5 percent) for 655 yards. He threw for three touchdowns and eight interceptions.
During spring's three scrimmages, Tuel was 25 of 41 (61 percent) passing for 297 yards, three touchdowns and one interception. Lobbestael was 17 of 31 (55 percent) for 165 yards, two scores and three interceptions.
Oregon picked to win
For the first time in seven years, USC was not picked to win the Pac-10 football title by the West Coast media.
Maybe it was because the Trojans were picked to win again last season and didn't, breaking a streak of nine consecutive years the poll had picked the champions.
Instead, it was the Oregon Ducks atop the 2009 standings, and it's the Ducks atop the 2010 poll as well, earning 15 of a possible 35 first-place votes and 314 points overall in voting announced Thursday at the Rose Bowl, the final stop on a three-day conference media tour.
It was the first time the Ducks have been picked to win the conference since 2001 (they did), but if it sounds like Oregon doesn't have a huge mandate, it isn't. For the only time in the poll's 49-year history, seven schools received first-place votes.
And second-place USC, which had 12 first-place votes, finished just three points behind Oregon. From there it was a large drop off to third place Oregon State (262 points).
Washington State, 1-11 last year, was picked to finish last for the third consecutive season, gaining 39 points. Ten points are awarded for first place, nine for second with the totals descending from there.
"You just have to ignore it," said senior defensive lineman Kevin Kooyman, WSU's representative on stage with coach Paul Wulff, of the last-place pick, "and think about the season, because football's football. When it comes down to it, it doesn't matter what the media says – no offense to you guys."
Others receiving first-place votes were OSU (three), Arizona (two) and Stanford, Washington and UCLA (one each).
Locker crucial
Washington coach Steve Sarkisian knows how lucky he is to have quarterback Jake Locker, who, despite the chance to go high in the NFL draft, returned for his senior season.
He also knows how important Locker is to UW.
"If you want to win a Pac-10 championship, you have to find a way to win on the road," in hostile environments, Sarkisian said. "Generally speaking, when you have a veteran quarterback, he's the guy that can perform in that setting.
"For us, having Jake as we go to Cal, as we go to USC, as we go to Arizona, as we go to Eugene and play Oregon, as we go to Provo … and play BYU, we'll take that advantage of having that senior quarterback who has been in those environments."
The Huskies have another game that Sarkisian neglected to mention: at WSU for the Apple Cup on Dec. 4.
Rank Team (1st-place)
Total 
1.
Oregon (15)
314 
2.
USC (12)
311 
3.
Oregon St. (3)
262 
4.
Stanford (1)
233 
5.
Arizona (2)
222 
6.
Washington (1)
209 
7.
California
175 
8.
UCLA (1)
134 
9.
Arizona St.
81 
10.
Washington St.
39 
Inside: WSU's Kooyman wanted another chance to inspire the Cougars' defense/B3
Local journalism is essential.
Give directly to The Spokesman-Review's Northwest Passages community forums series -- which helps to offset the costs of several reporter and editor positions at the newspaper -- by using the easy options below. Gifts processed in this system are not tax deductible, but are predominately used to help meet the local financial requirements needed to receive national matching-grant funds.
Subscribe to the sports newsletter
Get the day's top sports headlines and breaking news delivered to your inbox by subscribing here.
---