News > Spokane
Leash-free park being renamed for canine researcher
Patricia Simonet concluded dog vocalization is their version of laughter
Fri., June 25, 2010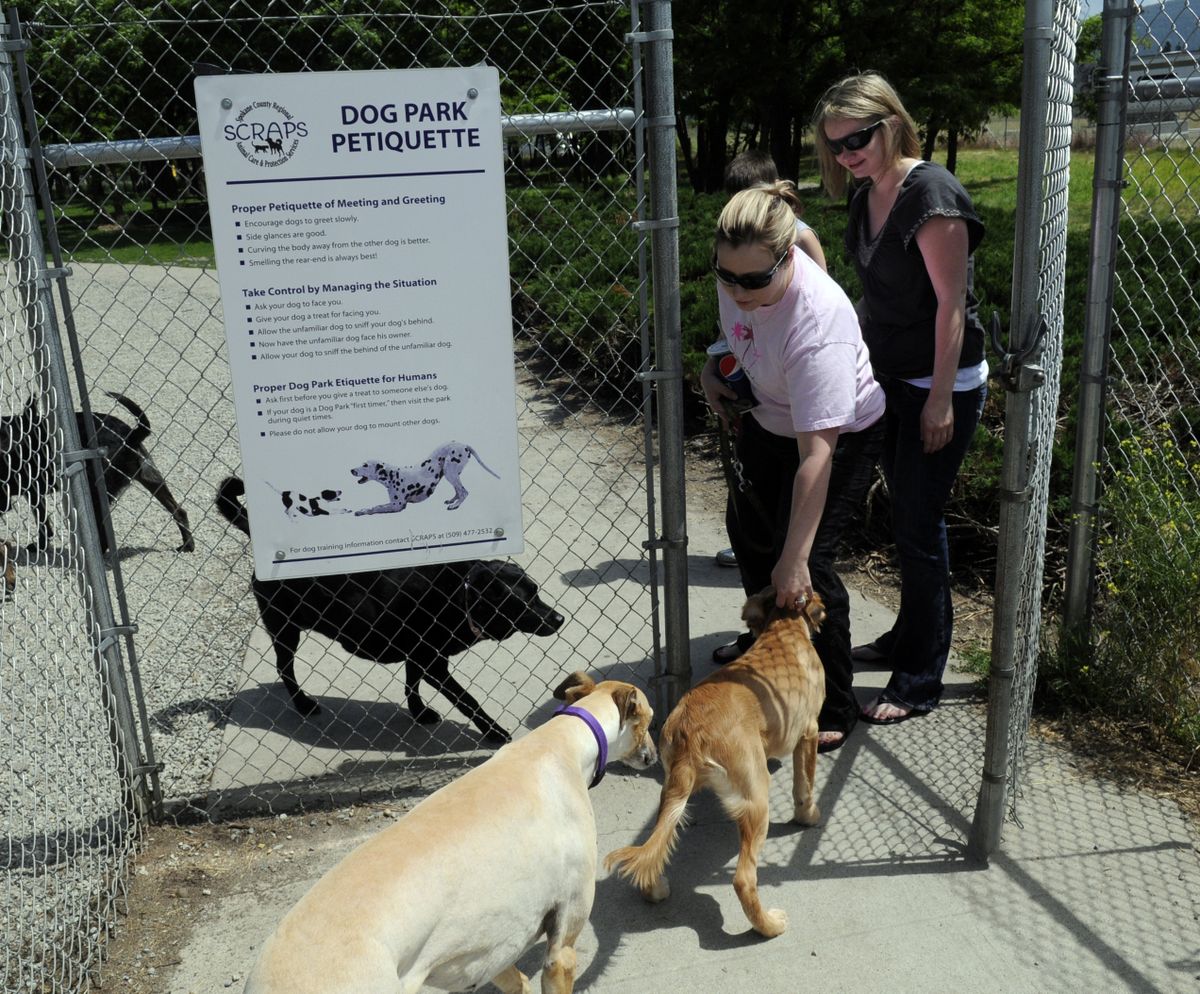 Dogs are unleashed as they enter Gateway Regional Park at the state line Thursday. The park will be renamed the Patricia Simonet Laughing Dog Park in honor of the longtime SCRAPS employee, who also wrote the dog park "petiquette" that greets visitors. (J. BART RAYNIAK)
A dog park near the Idaho state line will be named for the Spokane researcher who put a smile on dogs' faces around the world.
The fenced 3 1/2-acre portion of Gateway Regional Park where dogs can frolic without leashes will be designated the Patricia Simonet Laughing Dog Park, Spokane County commissioners decided Tuesday.
Commissioners also blessed a proposal to find out whether constituents would like a similar dog park behind the Wandermere Fred Meyer store on North Division Street. A developer has offered to build it in exchange for a road.
Patricia Simonet is an academician and former Spokane County Animal Protection Services program coordinator whose research identified a sound dogs make to initiate play. She called it the "dog-laugh."
It consists of "breathy exhalation" that sounds like panting but is "distinctly different," according to a research paper Simonet presented at an international conference in New York.
The dog-laugh periodically bursts into a broader frequency range than panting, and dependably induces playful behavior, Simonet reported.
Her research gained international attention in 2001 when Science News magazine reported on a presentation she made to the Animal Behavior Society. The BBC, CNN and National Public Radio picked up the story.
SCRAPS Director Nancy Hill appeared with Simonet on the "Good Morning America" show and in CNN reports on Simonet's finding that dogs could be put in a playful mood or calmed by the "hhuh, hhuh, hhuh" sound – even a human imitation of it.
"It was an interesting idea," Hill said. "I just couldn't imagine what would make shelter dogs quiet and calm, but I did see living proof of it."
Recordings of that sound now are used to calm dogs at animal shelters around the country, Hill told commissioners.
Parks Director Doug Chase and Assistant Director John Bottelli joined Hill in proposing to name the dog park for Simonet, whose after-hours research was conducted at the SCRAPS shelter with assistance from kennel worker Donna Versteeg and shelter volunteer Dan Storie.
Simonet joined the agency in 2003 after being an assistant professor at Sierra Nevada College near Lake Tahoe, Calif. She holds a doctorate in psychology from the University of Nevada at Reno.
An ongoing battle with cancer forced Simonet to resign last year.
A second dog park in the county would be built on undeveloped Freddy Park, behind the Fred Meyer store at the corner of Division Street and Hastings Road, if yet-unscheduled public meetings indicate support for the idea.
The four-acre park was donated by the store in 2001.
Bottelli said a developer has offered to build a dog park on the property in exchange for a road across the edge of it, to serve a mixed-use development south of the store.
County planning records show Star Saylor Investments wants to develop a 14.8-acre site behind the Pine Acres Par 3 Golf Course on the east side of North Division Street.
The development site is between Regina Avenue and the Fred Meyer store. A road across the Freddy Park site would connect with North Standard Drive and provide access to Hastings Road.
Details of the proposal haven't been revealed, but Star Saylor Investments has indicated it wants a zone change, from low-density residential to mixed-use, which would allow apartments as well as commercial uses.
An abandoned 2006 proposal called for 59 single-family houses.
Bottelli said Star Saylor would ensure that the dog park would be no smaller than three acres.
Local journalism is essential.
Give directly to The Spokesman-Review's Northwest Passages community forums series -- which helps to offset the costs of several reporter and editor positions at the newspaper -- by using the easy options below. Gifts processed in this system are not tax deductible, but are predominately used to help meet the local financial requirements needed to receive national matching-grant funds.
Subscribe now to get breaking news alerts in your email inbox
Get breaking news delivered to your inbox as it happens.
---