Two of three teams defending Hoopfest titles fall in elite finals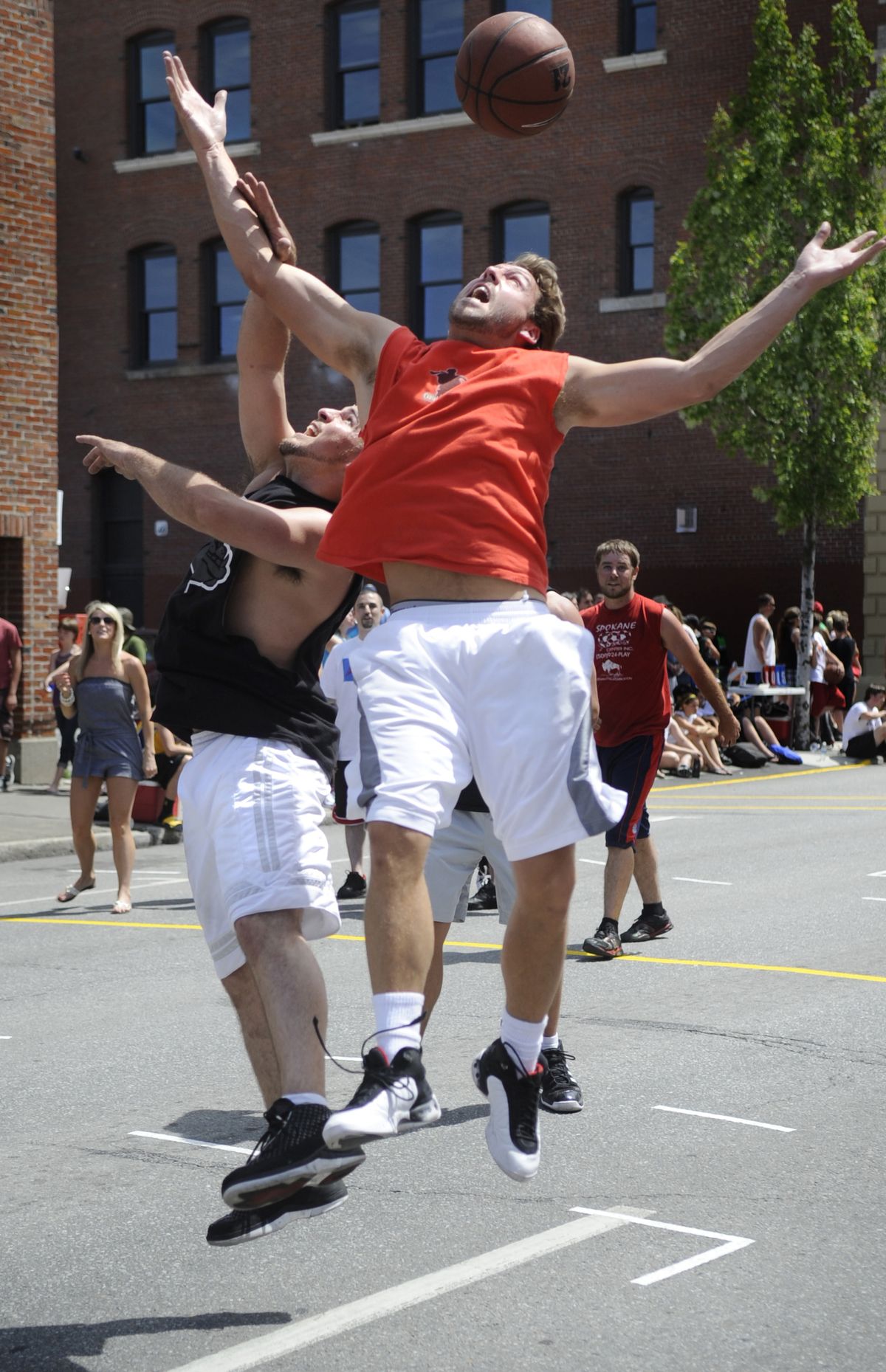 The 2009 champions of all three of Hoopfest's elite divisions made it back to the finals again on Sunday, with one of them, Associated Messenger, seeking a fourth-straight men's 6-foot and under crown.
Two of them were matched against the same opponents they faced in last year's championship game, and both found out just how bitter payback can taste.
But the third, Team Tonicx, rode the dominant play of former Gonzaga University standout David Pendergraft to an easy win over Team Bam Jam Boise to claim a second-consecutive men's over 6-foot division title and become the only repeat champion in Hoopfest 2010, the world's largest 3-on-3 basketball tournament, which played out for the 21st year on the streets of downtown Spokane.
Pendergraft scored 11 points to lift Tonicx to a 21-11 win over Bam Jam, but Associated Messenger saw its three-year title run snapped by a 20-11 loss to No Ceilings. And Acme Concrete Paving, which won last year's women's elite title while playing as EXLGS, had its hopes of a repeat championship dashed by a 20-18 loss to TBA, in what might have been the most physical title game of the day.
Men's over 6-foot
Pendergraft, who was named the division's most valuable player, was a crowd favorite at Nike Center Court, much like he was during his four-year stay at GU. The 6-foot-6 redhead from Brewster threw in three 2-pointers and scored five straight points during one stretch of the title game to give his team a cushy 13-7 lead.
Defense dominated from there as Tonicx closed the two-day tournament by not allowing an opponent to score more than 13 points.
"It feels great, because it's so hard to repeat," said Pendergraft, who helped Gonzaga win four West Coast Conference titles and advance to the NCAA tournament four times during his college career, but still seemed genuinely excited over another Hoopfest championship.
"We had such an awful bracket this year – a lot of tough teams that just get better and better. But just like anything, defense wins championships."
Former Ferris High School star Erik Benzel finished with eight points for Topicx and drilled a 2-pointer from the right wing to end it. But the 6-1 guard made it clear that Pendergraft was the biggest factor in the repeat.
"He played great today and carried us," Benzel said. "Those (2-pointers) he hit early were huge, because against a team like (Bam Jam), you need to get up on them or you'll find yourself in a slug-it-out contest."
Men's 6-foot
and under
In a rematch of last year's final featuring two locally based teams, No Ceilings put an emphatic end to Associated Messenger's impressive championship run.
Justin Bright, a 2003 graduate of Central Valley High School, scored nine of No Ceilings' first 14 points and helped anchor a suffocating defense that seemed to frustrate the three-time defending champions.
Bright's older brother Dan, who graduated from University High in 2001, finished with four points and was named the division's MVP.
"He deserves it," Justin said. "He worked his butt off for it, and I can honestly say that I wouldn't be the player I am today if it wasn't for him. He's the gym rat – the guy who's in the gym every day, and I'm the one on the couch he has to drag out to play."
Bright also admitted revenge played a factor in his team's win.
"We played against them last year and lost by two," he said, "so we had a bitter taste in our mouths. You kind of dream about winning a Hoopfest championship, and it feels great to finally get it."
Greg Johnson, who scored six of Associated Messenger's 11 points, took the loss well.
"What people don't understand it how hard it is to win this thing once, let alone three years in a row," he said. "I play against these guys we lost to all the time, and they're really good. And I know this has been on their minds.
"They played awesome, but we'll be back – a year older and a year slower."
Elite women
In another rematch of last year's final, Seattle-based TBA rode tournament MVP Lindsey Wilson's eight points – which included the game-winning basket from the left wing – to a hard-earned victory over defending champion Acme Concrete, a team comprised of former University of Montana players.
But the most telling factor might have been fatigue, considering Acme Concrete Paving lost in Saturday's opening round and had to play seven more games, including six on Sunday, to make it to this year's finals.
Hollie Tyler, last year's MVP in ACP's championship drive, scored 11 points in this year's title game, but failed to finish several shots from inside the lane down the stretch.
"We came out that first game and just couldn't finish it," she said. "And having to play six games today was a real grind."
Tyler also thought the physical play and officiating played a role in deciding the outcome.
"The refereeing was absolutely terrible," she said. "They have to be more consistent throughout the tournament. They can't go to the championship game and then not call anything."
TBA jumped to an early 5-2 lead and was still up 13-10 when Acme Concrete Paving used three unanswered buckets by Tyler pull within 14-13.
"This feels really good, because we beat a really good team," Wilson said. "Every time we kind of got ahead, they'd come back. And every time we kind of relaxed, they'd make us pay for it.
"But it was really fun, again, to being taking everything so seriously. We all play together in a lot of pickup games, and stuff, but Hoopfest for us is not just coming here to take in a little sun."
---