News > Business
Baseball cards' value based on many factors
Sun., March 7, 2010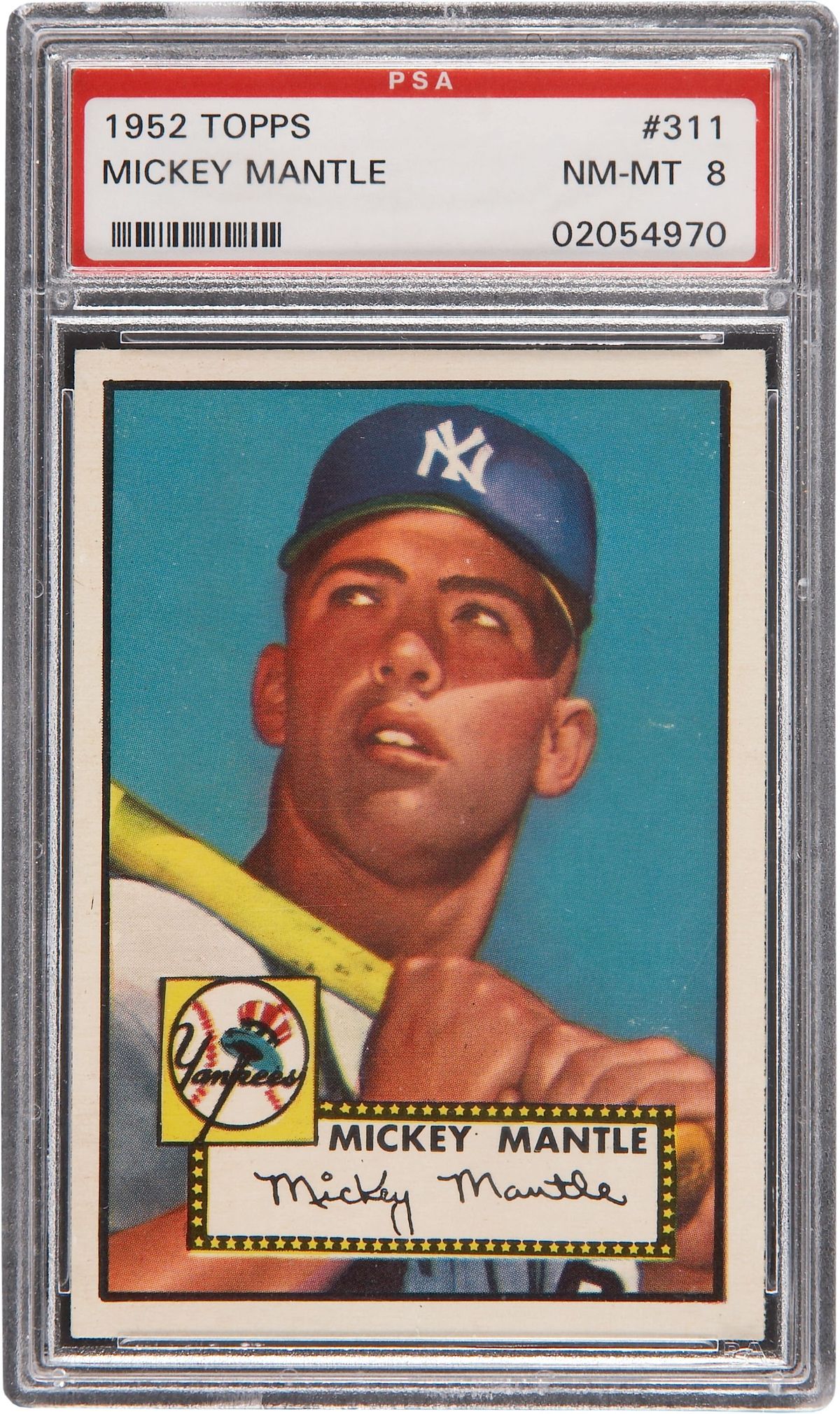 This is a higher-grade 1952 Topps Mickey Mantle rookie card. Associated Press photos (Associated Press photos)
NEW YORK – The boxes of baseball cards you so carefully collected are invaluable for the memories they evoke. But do they have any real value?
Many collectors hope their hobbies will one day bring them a fortune. And with the recent sales of Batman and Superman comic books for about $1 million each, the fantasy of a big windfall may have crossed your mind.
Here's what anyone with a collection, or looking to start one, should know.
Sizing up value
Three big factors generally determine a card's value: the player pictured, the card's condition and its rarity.
Hall of Famers and marquee names are obviously more sought after, but even a player no one remembers can command thousands of dollars.
That's because collectors aim to complete sets, or obtain all cards issued in a given year or edition. So a 1963 card of a forgotten player can still be valuable.
A card's condition can also produce big swings in price, but more on that later.
You should also know that vintage cards – generally those from before 1970 – are in greater demand since they're harder to come by. Cards from after that era are easier to find because companies started ramping up production, notes Chris Ivy, director of sports auctions at Heritage Auction Galleries in Dallas.
Collectors in later years also realized cards could be valuable, so it's easier to find modern cards in good condition.
That said, even relatively new cards can still have value. A 1993 Derek Jeter rookie card in near mint condition, for example, can be worth about $350.
To get a baseline for how much your cards are worth, browse the Web sites of auction houses such as Heritage Auction Galleries ( www.ha.com) or Lelands ( www.lelands.com) for price listings on comparable cards. Tuff Stuff's Sports Collectors Monthly ( www.tuffstuff.com) also has a portion of its price guide online.
Another common pricing reference for collectors is "The Beckett Almanac of Baseball Cards and Collectibles." The guide is also online at www.beckett.com, although you need to pay for access. Subscriptions start at $6 a month.
Keep in mind that price guides are usually based on cards in good condition; cards with wear and tear could be worth far less.
You could always bring your cards to a hobby store too. A knowledgeable worker should be able to give you an idea of what they're worth for free, so long as you're not hauling in crates of them. Of course, you'll want to double check any casual estimates.
How to sell
If you have cards worth around $500 or more, consider selling through an auction house. This gives you access to a pool of experienced buyers willing to pay top dollar for quality cards, says Joe Clemens, price guide editor at Tuff Stuff's Sports Collectors Monthly.
Auction houses typically take a commission of about 15 percent, although that figure can vary depending on the sale price. So for a card that sells for $500, you'd pay a commission of $75.
Cards of lesser value can be sold at hobby stores or baseball card conventions. EBay is another option, although Clemens notes that the overall breadth and quality of cards isn't as great, so bids tend to be lower.
One way to drive up your card's value is to get its condition professionally graded, since this gives buyers confidence about what they're getting.
The two big grading services, Professional Sports Authentication in California and SGC Grading in New Jersey, seal cards in plastic cases, which are tagged with the card's serial number and a grade ranging from one to 10.
The points make a big difference. A rookie Mickey Mantle card with a grade of 8, for instance, was sold by Heritage Auction for $71,700 last fall. The same card with a grade of 1 sold for nearly $3,600.
Grading can be expensive, however – $5 to $20 per card, depending on its estimated value, plus another $20 or so for shipping each way. So it's only worth doing if you think your cards will sell for a worthwhile amount.
You can find out more about grades and fees at www.psadna.com or www.sgccard.com.
Notes on collecting
Topps issued its first cards in 1951 and is the most well-known publisher of baseball cards. The company last year also won exclusive rights to use the logos for Major League Baseball and its teams. But issuers such as Panini and Upper Deck have their followers too, and you may prefer the style of those cards.
A 12-pack of Topps cards costs about $2 at big-box retailers. Cards are randomly packaged, so there's no guarantee on which players you'll get, said Warren Friss, the company's general manager.
If you don't have the patience to collect cards one pack at a time, Topps also started selling entire sets in the mid-1980s. Sets have 660 cards and cost about $60 online at www.topps.com or at hobby stores. Topps also issues several special editions a year.
As for which players and teams to hold onto, it's no secret which cards will gain the most value.
"Collect players you believe are going to do well, rookies you think are going to have long, good careers, and stand the test of time," Friss said.
Beyond that, collecting should be inspired by your love of baseball and the cards themselves.
"They're meant to be fun, and looked at and played with," Friss said. "It's not always about making an investment. For some people it's just the fun of looking at their heroes."
Local journalism is essential.
Give directly to The Spokesman-Review's Northwest Passages community forums series -- which helps to offset the costs of several reporter and editor positions at the newspaper -- by using the easy options below. Gifts processed in this system are not tax deductible, but are predominately used to help meet the local financial requirements needed to receive national matching-grant funds.
Subscribe now to get breaking news alerts in your email inbox
Get breaking news delivered to your inbox as it happens.
---