Sports > Outdoors
Rent a classic
Restored Volkswagen campers offer more than a nostalgia trip
Sun., March 7, 2010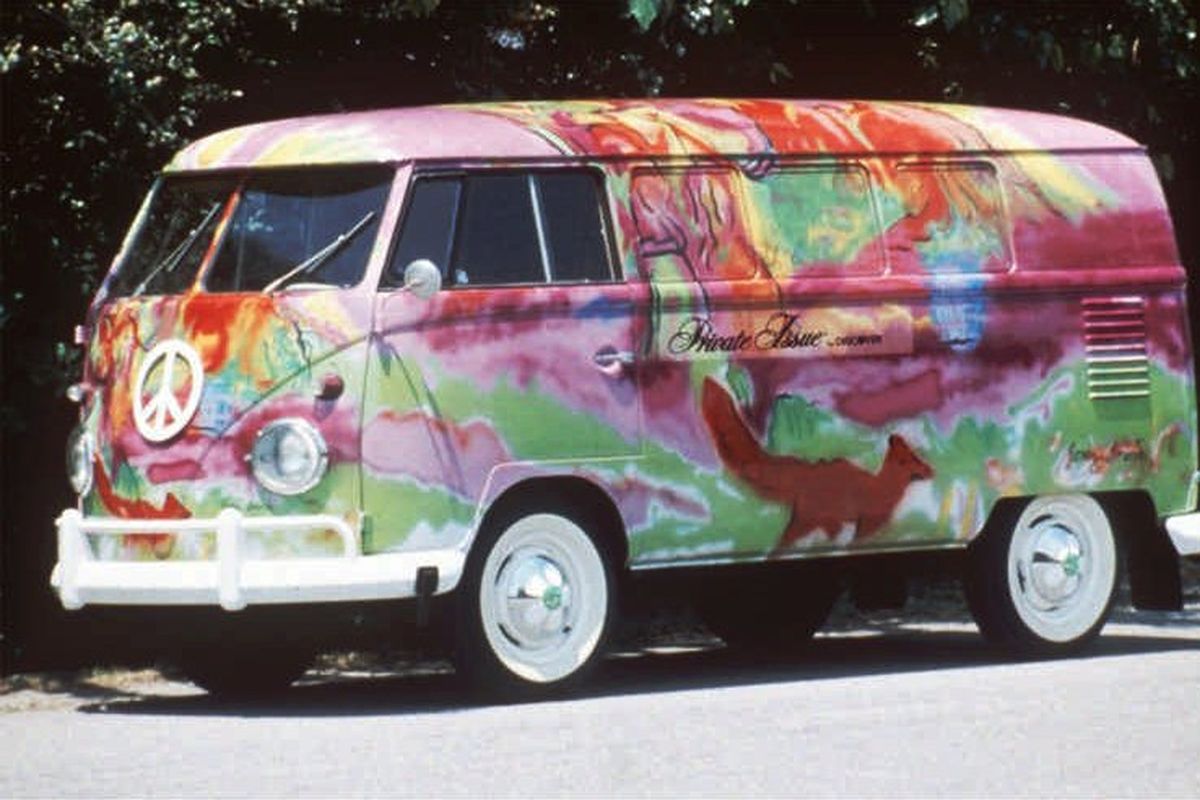 The Volkswagen Microbus, such as this aftermarket-painted 1959 model, got the legend rolling. The van's evolution ranged from hippy mobiles to family campers. (File Associated Press)
One man's affection for classic Volkswagen vans is spinning into a unique camping experience people can rent.
"Any wide spot on the road is a potential camp site," said Scott Quinnett, 40, as he pointed out the features packed into the 14-foot vans.
His clientele is mostly outdoors enthusiasts – couples, tourists and families – heading out on adventures such as casting flies to St. Joe River fishing holes, listening to a Columbia Gorge concert, climbing at Smith Rocks, expanding a bird life lists, sea kayaking the San Juan Islands, visiting Walla Walla wine country, hiking in Glacier Park or maybe touring the Selkirk Loop into Canada.
Quinnett founded Dragonflyvans based in Coeur d'Alene after restoring and customizing nine Volkswagen Vanagon Westfalia Wolfsburg Edition Weekenders.
The rigs offer more luxury than a tent and more freedom than a recreational vehicle.
"People who've had these vans know what I mean when I say they offer the best mobile camping experience on wheels," said Quinnett, who tinkered in fields such as youth counseling and pro skateboarding before capitalizing on his mechanical inclinations.
These vintage vans are available for rent starting at $120 a day with accessories and options ranging from kitchen gear, coolers and bike or boat racks to guided group van-camping tours that include a tag-along facilitator and mechanic.
Quinnett did his first motor swap on a Vanagon in 1988. He was known for creating hot-rod vans before going to work in California for GoWesty, a company widely recognized for its mission to keep Volkswagen vans in service rather than rusting in junkyards.
"I adore these vans," he said, looking over at his wife, Rachelle, and son, Tanner, who was playing in the van's pop-up bed loft.
"My son was conceived in a restored Westfalia Camper van while we were exploring Baja."
After opening his own Vanagon specialty shop in Seattle, he came up with a plan for moving back to his Spokane-area roots.
He scoped the drier climates on the country for 1986-1987 Weekender vans worth restoring. "Volkswagen insiders value those year models for having the best layout," he said. "They're simple, roomy and functional.
"But dealing with 20-year-old vehicles is tricky business. You're looking mainly for good metal. I can replace or restore most things, but you can't work up from a rusted hulk.
"When I'd find one, I'd get on the plane with X amount of tools and electronic parts and drive them back home."
After nearly four years, he'd restored a fleet of nine camper vans he's named as though they were his footloose children: There's Nuthouse, Toaster, River Room, Homespun, Cloud Room, Shadowfax, No Brainer and Longshot – the only one acquired on the East Coast.
The vans look much as they did when their first owners took them camping 150,000 miles ago, with some notable exceptions:
•High-end, iPod-compatible stereo systems have been installed.
"We know music and camping go together," Quinnett said.
•Each van is retrofitted with heavy-duty bumpers.
"That was a stroke of genius," he said. "The first guy who rented one, a family friend, backed up and into a tree just getting out of the driveway."
These Westfalia "Weekender" vans – which sleep four and seat up to seven – do not have the bells and whistles of the "camper" vans, such as water tanks or propane refrigerators and stoves.
"All of that stuff adds weight and absorbs space," he said. "It's too easy to take your own water containers and coolers and customize exactly what you need for your trip."
"As a rental vehicle," Rachelle added, "we didn't want to include a two-burner stove that some people would use to fry a couple pounds of bacon."
She recommends renting the propane-fired Coleman Road Trip barbecue stove/grill and cooking under the awning (that pulls out from the van's sliding door).
The Quinnett's have van-camping down to a science, and they even offer Dragonfly events, where they facilitate group trips.
"Last year we worked with a snowboarding group to Mount Hood and hosted the Santa Cruz surfing group to Coldwater Classic at Lapush," Quinnett said.
"Half the experience is learning all you can do with these vans," he said, pointing out how to rig a solar shower under the hatchback.
"The vans are ideal for traveling with kids," Rachelle said. "You can be out of the rain, lounging or changing diapers in comfort."
While they get 17-20 miles per gallon, these are green machines, Quinnett said.
"They say 25 percent of a vehicle's carbon footprint is in the manufacturing before it starts rolling down the street," he said. "That's why we keep them on the road. They've paid their carbon dues."
Renting one of these vans isn't cheap, but it's an affordable option to owning, licensing, insuring and storing any other RV for the few times many of them are used each year, he said.
"Best of all, these vans turn heads and quick-start conversations," he said.
After all the work he's put into the vans, Quinnett admits he doesn't turn them loose with just anyone.
"My target audience is people with a certain level of respect for what they're using," he said. "Nobody under 25.
"The experience can grow on you. In the time I've been doing this, at least 15 people who've tried these vans have ended up getting their own, even though a restored model goes for at least $18,000.
"These are not 1978 Chevy van that have been beaten to a pulp.
"These are vehicles that are increasing in value. It's a unique experience."
Local journalism is essential.
Give directly to The Spokesman-Review's Northwest Passages community forums series -- which helps to offset the costs of several reporter and editor positions at the newspaper -- by using the easy options below. Gifts processed in this system are not tax deductible, but are predominately used to help meet the local financial requirements needed to receive national matching-grant funds.
Subscribe to the sports newsletter
Get the day's top sports headlines and breaking news delivered to your inbox by subscribing here.
---