Sports > Gonzaga basketball
What could've been: Vasquez almost was a Zag
Sun., March 21, 2010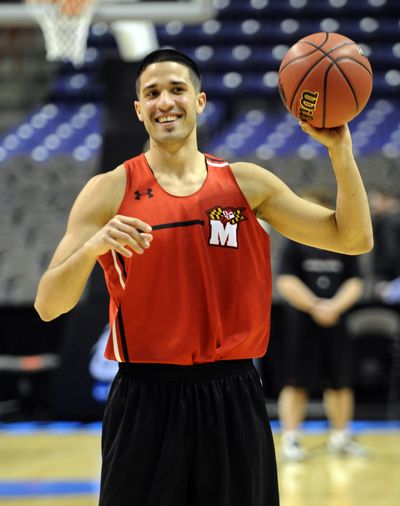 How about the thought of a backcourt duo of Matt Bouldin and Greivis Vasquez thrilling Gonzaga University fans for four years at the McCarthey Athletic Center?
Laugh, if you must, but it almost happened.
Vasquez, a senior point guard for Maryland University and the 2010 player of the year in the Atlantic Coast Conference, confirmed Saturday afternoon that he left his home in Caracas, Venezuela – at the urging of Gonzaga assistant Tommy Lloyd – some five years ago, with the intent of eventually becoming a Zag.
But after spending a year at Montrose Christian School in Rockville, Md., Vasquez, who is in town with the Terrapins in hopes of advancing past today's second-round matchup against Michigan State in the Midwest Regional of the NCAA men's basketball tournament taking place at the Arena, couldn't commit to GU.
"Coach Lloyd was huge in getting me to the States," explained the 6-foot-6 Vasquez, who is averaging 19.4 points, 6.3 assists and 4.7 rebounds for a Maryland team that tied with Duke for this year's regular-season ACC title but lost to Georgia Tech in the league tournament. "He helped me go to Montrose, with the idea that I was going to come to Gonzaga."
But after arriving in the States, where he quickly made new friends and learned to speak English, Vasquez found himself in a comfort zone he was unwilling to leave. And when Maryland coach Gary Williams offered him a full-ride scholarship, it made sense for him to stay out East.
"At the time, the thought of coming from the East Coast to the West Coast wasn't good," Vasquez said, "because I didn't want to have to meet new people. I just wanted to stay where I was comfortable."
There was some speculation that GU backed off the recruitment of Vasquez after signing Bouldin, a 6-5 prep standout from Colorado, who has gone on to letter four years and become the 2010 player of the year in the West Coast Conference.
But Lloyd insists the Bulldogs, who are in Buffalo to take on top-ranked Syracuse in today's second-round of the NCAA's West Regional, coveted Vasquez all along.
"We would have taken him and Matt in the same backcourt – who wouldn't have?" Lloyd said. "But Montrose is a school that takes foreign students without restrictions, and I think that community really embraced him and made it seem like home to him."
Coaching ties
As college coaches stay around long enough, friendships develop regardless of geography and conference affiliation.
Purdue coach Matt Painter and Texas A&M coach Mark Turgeon crossed paths when Painter was an assistant and eventually the head coach for one year at Southern Illinois and Turgeon was at Wichita State before going to Texas A&M.
"To be frank, I'm not looking forward to playing against him," Painter said of Turgeon. "He's a great guy, very good coach. I've got a lot of respect for him. He does it the right way."
Turgeon's thoughts were so similar about Painter that they could have been interchangeable.
"He's No. 1 a family man, which I appreciate in this business," Turgeon said. "He does it the right way, he recruits good character kids, he makes them better, they play as a team (and) they play with toughness."
Upsets, more upsets
Players and coaches were asked during Saturday news conferences their thoughts on the upsets and parity in the tournament this year. Many were asked about it three hours before Northern Iowa knocked off Kansas.
"I'm not surprised at all," Purdue senior guard Chris Kramer said. "That's why they call it March Madness. … The seeding doesn't really matter. You might be a higher seed because you have a chance to play some people and beat some very good people and those midmajor teams are just coming out and showing people they can play and they can play with some of the best teams in the country. And they kind of play with that chip on their shoulder because they didn't recruited by some of those higher-named schools."
Painter chalked it up to parity.
"That's what the NCAA tournament is," Painter said. "You're going head to head and you're on a neutral court and you don't have that home crowd behind you, you don't have your officials with you and there's a little bit more balance."
Turgeon had a different take.
"There's just so many darn good basketball players anymore," he said. "And with 13 scholarships instead of 15, it allows more schools to get better players."
Turgeon also thinks coaching has improved.
"I don't ever want to say coaching's ever been bad, but if you're not a very good coach you won't keep your job very long," Turgeon said. "So I just think the coaching's just gotten better and better across the country. That would be my theory."
Local journalism is essential.
Give directly to The Spokesman-Review's Northwest Passages community forums series -- which helps to offset the costs of several reporter and editor positions at the newspaper -- by using the easy options below. Gifts processed in this system are not tax deductible, but are predominately used to help meet the local financial requirements needed to receive national matching-grant funds.
Follow along with the Zags
Subscribe to our Gonzaga Basketball newsletter to stay up with the latest news.
---
Subscribe and log in to the Spokesman-Review to read and comment on this story