Sports
Eye on the future
Seahawks place their faith in Whitehurst
Sun., March 21, 2010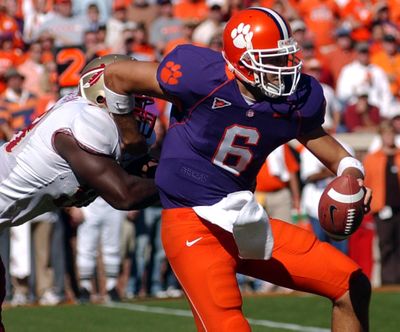 RENTON, Wash. – Charlie Whitehurst has yet to throw a pass in an NFL game, but the Seahawks still feel like they know their new quarterback.
Turns out that Seattle's new general manager, John Schneider, has had an eye on the newly acquired signal-caller since his days at Clemson.
"In (2005), I saw Charlie throw on a really, really cold nasty day," Schneider said, noting he also saw Whitehurst in a game a year later. "I was just extremely impressed and had a hard time getting him out of my mind. … I just always had Charlie in the back of my mind.
"There are just certain things you see when you're at a workout like that, and it's hard to get that out of your head."
Schneider and Whitehurst, it turns out, were even born in the same Green Bay hospital.
Schneider and Seahawks coach Pete Carroll must like what they saw in Whitehurst, because they're betting on the 27-year-old former third-round pick becoming a big part of the team's future. Seattle parted with a third-round pick in 2011, and swapped second-round picks with San Diego for this year, moving 20 spots down in the draft. Seattle is also paying Whitehurst $8 million over the next two years with $2 million more possible in incentives according to ESPN reports.
The decision, Carroll said, wasn't made lightly, and included not just Carroll, Schneider and the usual personnel people, but offensive coordinator Jeremy Bates and quarterbacks coach Jedd Fisch.
"There's always risk involved when you make decisions like this," Carroll said, "but our research and background in making a trade of this nature, we felt like we had the elements that put together the kind of process that allowed us to make a very confident, solid decision. We're not looking over our shoulder on this deal at all. We feel like we've done something that absolutely helps our football program, that's going to help us win."
So it's clear that the Seahawks view Whitehurst as a potential starter, the question is how soon that will happen. Matt Hasselbeck is signed through 2010, and will be the front-runner to start this season, but there's no guarantee the job is his in Carroll's culture of competition, competition, and, oh yeah, more competition.
"It's clear to us that Matt has paid his dues," Carroll said. "He's done a great job in the program, we're excited about him coming and leading this program, but in all phases of our program, in every aspect of it, we're trying to make it as competitive as possible, and so Charlie is coming in here to battle. He's going to show where he fits into the whole thing. … We would not have done this if we didn't think we were bringing in a highly competitive player. So we're counting on Matt to lead this thing, and Charlie's going to take a shot at it at every turn. That's the way we'll approach it at all our positions, and quarterback is no different.
"Right now Matt's the guy and Charlie's coming after him, and hopefully he can make it a difficult situation for us because he's playing so well."
Carroll, Hasselbeck and Whitehurst all met Thursday, and Carroll said Hasselbeck is happy to have Whitehurst on the team, even if it means some competition.
"Matt's a vet man, he really gets it," he said. "He's for the program winning and improving, so that was the approach he took. He's excited Charlie is coming and he's going to help him in all he can to take Charlie's game as far as he can. … He's accepted this as a great addition to our team."
Carroll and Schneider both have high opinions of Whitehurst, though both said the trade doesn't rule out the possibility of drafting a quarterback, even in the first round.
"Absolutely not," Schneider said.
For Whitehurst, the move represents a fresh start after spending the last four years behind Philip Rivers and Billy Volek.
"I've been in San Diego for four years and I've been itching to really compete and get this opportunity," Whitehurst said. "It's been presented to me, and it's my job now to make the best of it. Everybody does want to play, and I'm no different. So it's been tough. You play your whole life, then you sit there and you watch for four years. … The time is now for me to see if I can get it done in this league."
Local journalism is essential.
Give directly to The Spokesman-Review's Northwest Passages community forums series -- which helps to offset the costs of several reporter and editor positions at the newspaper -- by using the easy options below. Gifts processed in this system are not tax deductible, but are predominately used to help meet the local financial requirements needed to receive national matching-grant funds.
Subscribe to the sports newsletter
Get the day's top sports headlines and breaking news delivered to your inbox by subscribing here.
---
Subscribe and log in to the Spokesman-Review to read and comment on this story