Mickey Rourke's comeback rolls on with 'Iron Man 2'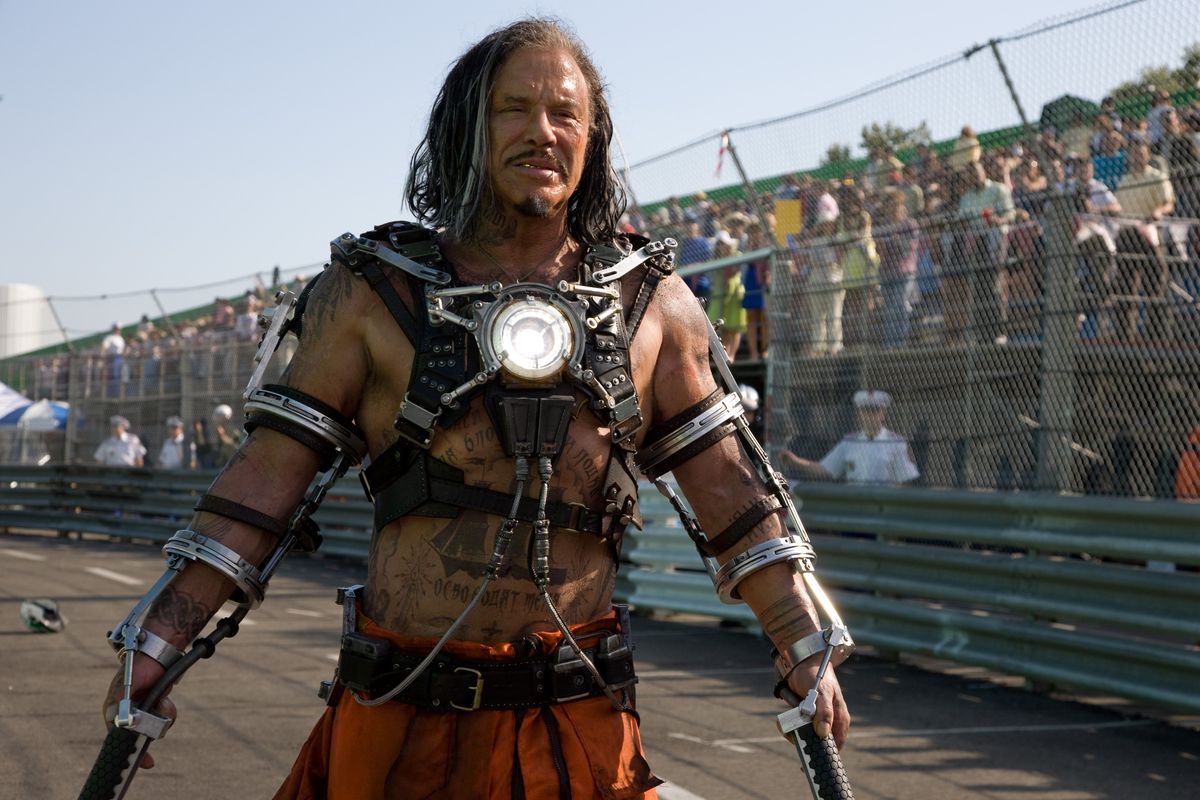 With the muscular physique of a lifelong athlete and a face battered by boxing, Mickey Rourke looks almost as intimidating in person as he does in "Iron Man 2," where he plays a villainous loner determined to destroy the hero with deadly electrically charged whips.
But when the 53-year-old actor walks into a suite at the Four Seasons Hotel in Los Angeles to talk about the film, he brings a disarming secret weapon: the tiniest, cutest Pomeranian puppy.
He poses for photos with the fuzzy miniature, then the little dog he calls Mush contentedly curls up next to him.
Rourke's famous love for small-breed dogs – he thanked his dogs when he won a Golden Globe for "The Wrestler" last year, and dedicated his Spirit Award for that film to his late Chihuahua, Loki – hints at the inner sensitivity of the man who derailed a promising career in the 1980s with angry outbursts and arrests.
He spent years defeating his demons to make a critically acclaimed comeback in "The Wrestler." Now he stands poised to recapture the Hollywood glory he enjoyed early in his acting career with his terrific turn as Whiplash in "Iron Man 2," opening in theaters today.
"I didn't think it was going to happen again," Rourke says. "I burned too many bridges and I did misbehave terribly and I've only got myself to blame."
Not that the "Iron Man" role was an easy sell – for Rourke or for Marvel Studios. Director Jon Favreau says he and star Robert Downey Jr. worked hard to persuade both.
"There was a lot of resistance to (Rourke)," Favreau says. "The studio was not inclined to hire him. It took a bit of a struggle and Robert was very helpful in that. And Robert was the guy who there was resistance in hiring last time around."
Downey overcame his own troubled past, marred by drug addiction, to see his star power restored with his role as Tony Stark in the first "Iron Man" film, a huge hit that brought in $318 million domestically.
Rourke's agent insisted that doing "Iron Man 2" would be a good move, but the actor still needed convincing.
"I didn't want to play a one-dimensional villain," he says. "I said I'd like him to have a sense of humor. I'd like him to have a particular look. I'd like to do it with the accent.
"I could see Favreau shaking his head, and I knew I was taking the chance that he could just say, 'Goodbye, thank you for coming in.' But he embraced the ideas."
Making those suggestions and seeing them realized on screen has renewed Rourke's love of acting. It reminds him of his heroes, like Marlon Brando and Montgomery Clift, and the brave choices they made during their careers.
"Getting back to being interested enough to make those choices has made me like acting again," he says. "I enjoy what I do now. I don't disrespect it and I don't hate it anymore."
The truth is he always loved it. An amateur boxer in his teens, Rourke tried acting during a break from the ring and became an instant devotee, studying at the Actors Studio in New York.
"I'd work my construction job, or wherever I was working all day long, and then I'd go into the studio at midnight and work for three or four hours," he says.
Before long, he was working with Steven Spielberg and Francis Ford Coppola and earning critical praise for roles in "Diner" and "Barfly." But the movie business isn't like boxing, and Rourke's temper often got the best of him.
"When I came to Hollywood, I realized it wasn't all about acting," he says. "This is where I went wrong. …
"With boxing, with sports, it's black and white most of the time. There's hometown decisions, but it's not as gray as the acting, and that short-circuited me. Now I realize it is political … and at the end of the day, it's a business."
Rourke says he had "authority problems" with Hollywood. He was difficult to work with. He'd mouth off to studio heads, policemen, anyone who crossed him. And he was self-righteous about it.
Soon the work dried up.
"I had lost my house, my wife, my money, my career and my credibility," he says. "When a decade went by and I didn't work, I thought it was over."
He was living in "a state of shame, as my doctor calls it," knowing he had squandered the promise of his early work. He recalls stopping into a 7-Eleven on Sunset Boulevard for cigarettes late one night when a man behind him in line said, "Hey, aren't you the guy who used to be in movies? What's your name?"
"He mentioned like three wrong names," Rourke says. "And I remember the whole way home I was so embarrassed. (I wished) there was a button to make me disappear."
Instead, he went to therapy and learned to shed the childhood traumas that caused his temper to flare.
He had all but given up on Hollywood when an agent from a top firm asked to meet with him. Then came roles in "Domino," "Sin City" and "The Wrestler," and now "Iron Man 2."
And there's plenty of work ahead. Rourke just wrapped "Passion Play" with Megan Fox and is currently filming "The Disciples" with John Hurt and Freida Pinto.
After that, he has a project with Tony Scott, "Potsdamer Platz," about a New York crime family's attempt to gain a foothold in Germany; a movie about the Hells Angels; and "Genghis Khan."
Plus, there's still "Wild Horses," the script Rourke's been working on for 20 years and probably won't wrap for another couple of years.
He says he's been looking to cast "a movie star" in the co-starring role because he couldn't raise the capital on his name alone.
But he doesn't mind waiting because "I'm only gonna get one shot to do it and I want to do it the right way. I want to do it my way."
---