Took time for Carroll to trust his quarterback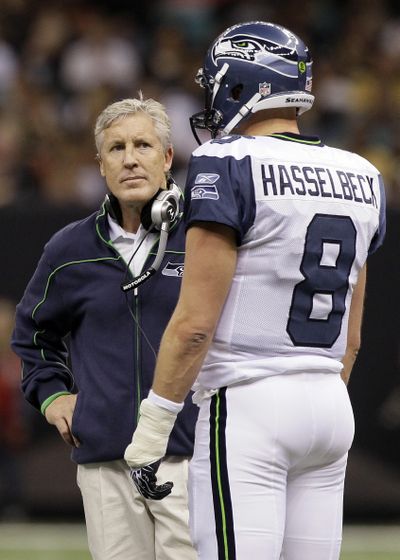 SEATTLE — The relationship could have been described as an arranged marriage.
Pete Carroll was the coach hired to reshape the entire franchise, Matt Hasselbeck the quarterback he inherited.
But that doesn't capture the complexity of the situation because Carroll considered himself fortunate to have a veteran quarterback. Hasselbeck was one of the first players he reached out to, a real selling point for this job.
And still, it took half a season for coach and quarterback to find a common ground. Eight games before the coach really trusted the quarterback, and it has only been in the past two weeks that the quarterback has had the confidence and the game plan to start throwing the football like it was 2007 again.
"We've come together on it, really," Carroll said after Sunday's game. "I think it took some time for us to kind of get together on our thinking, Matt understanding and us understanding Matt.
"I think we've really kind of cut him loose."
That was evident Sunday in New Orleans when Hasselbeck threw for 366 yards, his highest total in six years. It was a breakthrough moment in a relationship that could have potentially reached a breaking point after Hasselbeck was intercepted at least once in each of the first four games.
Understanding just how coach and quarterback came together is critical in understanding the evolution of these Seahawks under Carroll. He is going to reshape this franchise. That has been made clear from the sheer volume of roster transactions, now at 257 after Seattle added offensive tackle Will Robinson and defensive tackle Amon Gordon on Tuesday.
But changing the roster is only part of this process. Transforming players is the other, and no player demonstrates that more than Hasselbeck. He began this season the same way he ended last year, which is to say he was trying to throw his team out of any offensive funk. That resulted in 10 interceptions in the final four games of 2009.
That wasn't going to fit with Carroll's emphasis on preventing turnovers, an approach summarized with a single saying: It's all about the ball. They say possession is nine-tenths of the law, but for Carroll it has everything to do with the outcome of games.
After Hasselbeck was picked off three times in a Week 2 loss at Denver, Carroll made the decision to dial back the offense.
"We were throwing some picks earlier in the season, and he had to get through that," Carroll said. "(To) understand how careful he needed to be with the football. We had almost to take a couple steps backward to get that down."
The result was more than a month of downright tepid offense. The Seahawks failed to cross midfield in the second half of a loss in St. Louis, and didn't score an offensive touchdown in the six quarters before Hasselbeck suffered a concussion in a 33-3 loss at Oakland on Oct. 31.
"We were very conservative with him for a while," Carroll said.
That changed two weeks ago. Seattle reached the halfway point of the season at 4-4, and that's when the reins were loosened for Hasselbeck and by extension offensive coordinator Jeremy Bates.
"We decided, 'Let's go now. It's time to go,' " Carroll said.
The game plan was opened up for Hasselbeck.
"We really trust him and he knows what's going on," Carroll said. "We matched up a lot of good stuff that he understands conceptually and he's really ripping with it."
Hasselbeck passed for 333 yards the next game, his most in two years. He upped that to 366 against the Saints, the most he's had since passing for 414 yards against Dallas on Dec. 6, 2004.
The marriage may have been arranged, but it's that relationship between the coach and quarterback, the common ground they've found, that might be the most important thing for this franchise's stretch run in Carroll's first season.
"The X's and O's, I think we're communicating well," Hasselbeck said. "We are making mistakes here and there, but we're growing, but probably more importantly just the vision for the team that he's set out, I think for the most part guys are getting it."
Notes
Seattle waived rookie DE E.J. Wilson, a fourth-round pick from North Carolina, to make room for Gordon. Wilson is the highest member of Seattle's draft class to be waived. He was active for two games. Gordon was with the Seahawks in training camp.
The Seahawks cut G Allen Barbre to make room for Robinson, an offensive tackle who was with the Seahawks in 2008, signed as an undrafted free agent. Robinson was on Washington's practice squad.
---