News > Washington Voices
Two GU students plan benefit organ concert
Thu., Oct. 21, 2010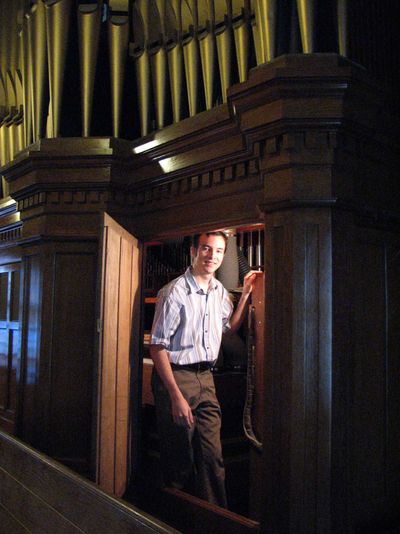 The pipe organ at St. Aloysius Church sits high above the church floor, some of its pipes stretching all the way toward the ceiling of the big, old church surrounded by Gonzaga University's campus.
The floor vibrates, and the sound reverberates under the cathedral ceilings when Tyler Pattison sits down and plays the giant instrument with his hands and feet. The organ rumbles and whispers, sings thrills and crescendos, as air is pushed through its more than 2,000 pipes by a complicated system of vents and stops and bellows.
Built in 1927 by the Kilgen Co., the organ was last restored and modernized in 1968, and it now badly needs a tuneup.
"We are doing lots of patching and Band-Aiding to keep things going," said Pattison, who is a sophomore in Gonzaga's engineering program. "It's not just the pipes that need help, it's the wind chests and the moving parts that connect everything – the organ has more than 100 dead notes at this point."
To help raise money for the restoration and tuneup, Pattison and Gonzaga organ major Robert Carr are putting on a Halloween concert on Oct. 29 at 7 p.m.
"We are asking for donations, but this concert is really more about introducing people to the organ," said Pattison. "We haven't unleashed the organ in public in a very long time."
The concert will feature some pieces composed by Pattison – though he's quick to point out that it's not about him – as well as hymns and modern pieces.
Pattison is not majoring in music, but he has studied organ since he was a child and his affection for the three-story-tall instrument showed as he played in the empty church Monday morning.
"I was 8 years old when I first sat right next to this organ," said Pattison. "I was here for Easter Vigil with my mom and my godmother, and I was kind of restless, so I got to sit up here and I was fascinated." Pattison was taking piano lessons at the time, but just a few years later he graduated to organ and never looked back.
He explained that his engineering background actually comes in handy as the restoration project begins to take shape.
"There is a lot of wiring and relays in there," Pattison said as he opened the door to the organ's belly. "To do the open heart surgery that's needed here is very involved."
Tuning and repairing an organ like the one at St. Aloysius can't just be Googled. Knowing their limits, Pattison and Carr have already contacted an organ repair company on the West Side of the state to get an idea of how much the repair may cost, and they are hoping they can be part of the project under supervision of the organ builder.
"Repairing an organ isn't just about tuning the pipes. The wind chests are where all the moving parts are – and it's just so complicated," said Pattison. "But organs wear out. They don't outlast the buildings they are in; that is just how it goes."
Pattison is encouraging people with no live pipe organ experience to come to the concert, because it's difficult to describe the sound and it's very difficult to record it.
"It just doesn't sound the same coming off your CD player," Pattison said.
Depending on who built it and where it is installed, every pipe organ sounds different.
"Every pipe organ is unique in every sense," said Pattison. "Maintaining and tuning them, you have to be able to balance it all out, so the organ can speak and whisper and proclaim all at the same time."
Local journalism is essential.
Give directly to The Spokesman-Review's Northwest Passages community forums series -- which helps to offset the costs of several reporter and editor positions at the newspaper -- by using the easy options below. Gifts processed in this system are not tax deductible, but are predominately used to help meet the local financial requirements needed to receive national matching-grant funds.
Subscribe to the Coronavirus newsletter
Get the day's latest Coronavirus news delivered to your inbox by subscribing to our newsletter.
---
Subscribe and log in to the Spokesman-Review to read and comment on this story