News > Idaho
Job creation tops Idahoans' concerns
Wed., Oct. 27, 2010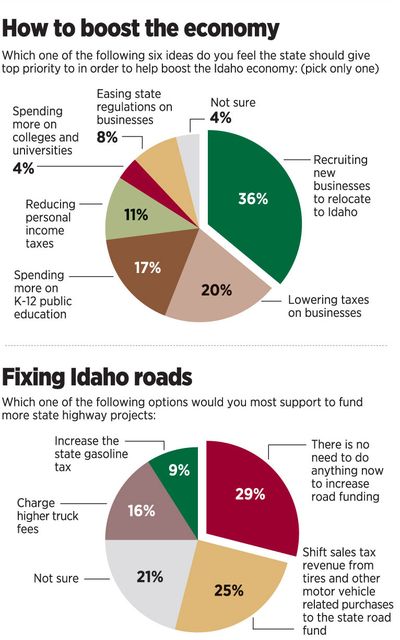 With the election less than a week away, Idaho voters are worried about their state's economy, wary of plans to run huge trucks across scenic U.S. Highway 12, and averse to generating more funds for road improvements in the state.
Those results from the Idaho Newspapers Poll, a collaboration of The Spokesman-Review and six Idaho newspapers, show an unsettled electorate in a state that's about to decide whether to keep its current governor, members of Congress and other top leaders – and could spell trouble for the incumbents if they hold their seats.
Gov. Butch Otter, an enthusiastic backer of the mega-loads of oil equipment proposed for Highway 12, has pushed without success for the past four years to raise hundreds of millions more for the state's roads. But the new poll shows nearly a third of Idaho voters don't see a need, and those who do don't like his solutions.
Gary Hagman, of Dalton Gardens, who was among the more than 600 Idahoans who participated in the poll, said the state needs to get its economy going again before it can afford to invest in things like roads and schools. "Everybody wants to go back to work, and so do I," he said.
What does the poll mean: Poll respondents, asked to choose the top priority to boost the state's economy, thought private-sector jobs were the most important. Among six choices, the most popular was recruiting new businesses to the state, followed by lowering taxes on businesses, more spending on K-12 public education and reducing personal income taxes. Easing regulations on businesses and spending more on colleges and universities both trailed in the poll.
What you should know: Idaho's economy has taken a big hit after a deep recession; unemployment now stands at 9 percent, and the state has lost more than 66,000 jobs since September 2007. "The trend line is just flat," says Boise State University economics professor Don Holley. "The best single indicator of the state's economy is the level of employment, and it's just not going anywhere."
Why you should care: An ailing economy not only has cost thousands of Idahoans their jobs and left many owing more on their homes than they're now worth, it's also reduced state tax revenues and forced cutbacks in public services ranging from education to mental health treatment.
What the poll doesn't say: Pollster Brad Coker of Mason-Dixon Research said people likely favored many or all of the options by large margins, but they were asked to pick just one as top priority. The economy is the top concern of Americans in polls across the nation right now.
What people are saying about the poll: Hagman, a 60-year-old laid-off construction manager, said, "We have to put the private sector back to work. … Everybody wants good schools and roads, but it's better if we start the economy (first) and pay for it as we go." Holley said Idaho likely won't recover until the nation does. "We've got to get people spending again," he said, "and they're not spending because they've lost so much in wealth."
– Betsy Z. Russell, The Spokesman-Review
Mega-loads
What does the poll mean: The proposed use of U.S. Highway 12 as a transportation corridor for massive equipment loads destined for Montana and Canada has garnered media attention across Canada and the United States. More than two-thirds of poll respondents in Idaho also had opinions about the issue – and a majority oppose the loads.
What you should know: Two oil companies want to ship more than 200 loads of equipment from the Port of Lewiston east along the highway. Most shipments would block both lanes of traffic; the largest are more than 200 feet long and weigh up to 580,000 pounds. Each load would take three days to reach Lolo Pass. They would have police escorts and travel only at night, pulling into turnouts during the day. The maximum allowed traffic delay would be 15 minutes. Opponents sued after the Idaho Transportation Department issued permits for four loads. District Court Judge John Bradbury revoked the permits, and the Idaho Supreme Court is reviewing that decision. Meanwhile, more loads arrive at the port every week, waiting for permits.
Why you should care: Opponents worry this designated Wild and Scenic River Corridor will turn into a major industrial route for massive shipments heading to Alberta. The Port of Lewiston says the loads mean more jobs.
What the poll doesn't say: Mega-loads aren't necessarily a topic of passionate interest across the state.
What people are saying: Retired civil engineer Rance Bare, of Idaho Falls, said oversized loads are transported across Idaho highways every day without much problem. "This is an economic issue," he said. "We need to support the growth of the economy in our region. The state has regulations in place, permits, and fines if these companies mess up." Historical restorationist Justinian Morton, of Boise, said these huge shipments damage Idaho's highways and bridges, with taxpayers stuck paying the bill. "These companies are just taking advantage of the state's blindly pro-business political structure. We let them do what other states won't," he said.
– Bill Spence, Lewiston Tribune
Highway funding
What does the poll mean: Poll results show a lack of broad public support for any single mechanism to increase funding for Idaho highways, with respondents especially wary of higher taxes. Two of the most frequently discussed options – a higher gasoline tax and increased truck fees – polled the worst.
What you should know: After failing to persuade the Legislature to raise the gas tax and vehicle registration fees in 2009, Otter assembled a 15-member task force to identify highway funding solutions. The group is expected to release its final report by Dec. 1. In July, the panel signaled it was leaning toward a one-cent hike to the gas tax. The funding option that scored highest in the poll – divert existing vehicle-related sales tax revenue to the state's road fund – did not rank high in the task force's preliminary report.
Why you should care: Transportation advocates have long argued that revenue has not kept pace with rising costs, and that failure to maintain the state's highway system will eventually cost taxpayers much more.
What the poll doesn't say: AAA Idaho spokesman Dave Carlson noted that the three highest-scoring options – do nothing, shift existing revenue and increase heavy trucks fees – do not directly hit most voters' pocketbooks. The only funding option that would affect every driver – increase the gas tax – ranked last. "More than anything, it is the economy talking at this point and time," Carlson said.
What people are saying about the poll: Ken Roth, an 83-year-old Nampa resident and retired J.R. Simplot Co. safety director, said the fuel tax seems like a fair way to fund road work since it reflects use, but he's concerned by claims that trucks aren't paying their share. "They're the ones that do the most damage to our highways," Roth said. "If they're not (paying fairly), then I think they ought to."
– Bryan Dooley, Idaho Press-Tribune (with contribution from Cynthia Sewell, the Idaho Statesman)
Religion in politics
What does the poll mean: A majority of respondents said it does not matter if a candidate has a different religious background than their own. Only 3 percent said religion is very important.
What you should know: Otter is Catholic, while his Democratic challenger, Keith Allred, is a member of the Church of Jesus Christ of Latter-day Saints.
Why you should care: Idaho Falls businessman Frank VanderSloot addressed the religion issue during two recent Otter rallies. According to VanderSloot, Allred "is saying basically, 'So folks, I'm Mormon, so therefore, I'm one of you guys, so vote for me.' " Allred's campaign team denied that he plays up his religious credentials, but said he will discuss his faith if asked to do so.
What the poll doesn't say: Jim Weatherby, emeritus professor of public policy at Boise State University, wondered whether respondents felt the politically correct answer was to say religious background was not a factor. Weatherby also notes the poll did not specify which religions to consider, prompting him to wonder whether voters would have stronger feelings about an atheist or a candidate who was a member of a nonmainstream religion.
What people are saying about the poll: "I never vote for a person based on religion," said Lynn Kirby, of Idaho Falls, who is Mormon. "In fact, in the last election in Idaho I voted for someone from a different religious background than mine."
Pollster J. Brad Coker of Mason Dixon Polling & Research in Washington, D.C., said the results are "pretty typical, even in a state like Idaho where you have significant LDS population. Part of that could be driven by the fact most Mormons tend to vote Republican. In this case, the non-Mormon (gubernatorial) candidate is a Republican."
– Clark Corbin, Idaho Falls Post Register
Local journalism is essential.
Give directly to The Spokesman-Review's Northwest Passages community forums series -- which helps to offset the costs of several reporter and editor positions at the newspaper -- by using the easy options below. Gifts processed in this system are not tax deductible, but are predominately used to help meet the local financial requirements needed to receive national matching-grant funds.
Subscribe to the Coronavirus newsletter
Get the day's latest Coronavirus news delivered to your inbox by subscribing to our newsletter.
---