Sports
Broncos capitalize on Seahawks' mistakes
Mon., Sept. 20, 2010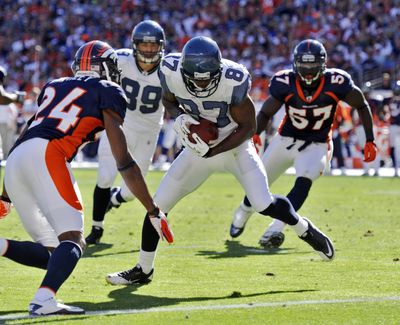 DENVER – The temperature was 91 degrees at kickoff, the hottest regular-season home game in this city's history.
The Seattle Seahawks' meltdown started soon after that.
One week after the Seahawks began their season with a win no one expected, they suffered a loss they really could have avoided.
Four turnovers, seven penalties and a few head-scratching decisions proved lethal for Seattle, which was beaten 31-14 by Denver at Invesco Field. As far as losses go, this one was largely self-inflicted.
"It was a tough lesson," coach Pete Carroll said. "It was a hard one."
Quarterback Matt Hasselbeck was intercepted twice inside the Denver 10, and a holding penalty against right tackle Sean Locklear negated a first-quarter touchdown. Rookie Walter Thurmond muffed a punt deep in his own territory, setting up the Broncos' first touchdown, and the Seahawks defense gave up 34 yards on a trick play in the second quarter.
Seattle went for it on fourth down in the third quarter – trailing by 17 points – and wound up throwing to the corner of the end zone toward Deion Branch, the shortest receiver on Seattle's roster, while he was being covered by Champ Bailey, one of the NFL's best cornerbacks.
This wasn't a defeat so much as a debacle, and there were times when circus music would have served as a fitting soundtrack.
"We made it really hard on ourselves," Carroll said.
Actually, the Seahawks made it almost impossible because they actually moved the ball more effectively than they did a week ago, yet struggled to score. The Seahawks drove 79 yards on their first possession, reaching the Denver 1 – at which point Seattle didn't just pump the brakes, but slammed it in reverse.
First, there was a 5-yard false-start penalty against right guard Stacy Andrews. Then came a holding penalty against Locklear that nullified Justin Forsett's 6-yard touchdown. Finally, Hasselbeck tried to lob a pass over Bailey to Branch, only to have it picked off.
"Really, if anything it was just a poor throw," Hasselbeck said.
It wasn't his last one. In the second quarter, with Seattle trailing 14-0, Hasselbeck saw tight end John Carlson open inside the 20. Facing pass pressure from the outside, Hasselbeck's pass didn't have the velocity it needed, and safety Brian Dawkins picked it off.
"I was having a tough time getting a grip on the ball," he said. "I was late with the throw.
"I think I can make a better throw and get him the ball."
Hasselbeck was picked off three times. All came in Denver's half of the field.
Seattle didn't just hurt itself, though. It also helped Denver. Thurmond muffed a punt at about his own 10 in the first quarter. The Broncos' Cassius Vaughn recovered the ball at the 13, and the Broncos scored three plays later.
The Seahawks outgained Denver in the first quarter, 98 yards to 52. They held the ball almost twice as long and ran almost twice as many plays, and still the Broncos led 7-0. When Denver began moving the ball in the second quarter with scoring drives of 81 and 91 yards, Seattle's window of opportunity was quickly slammed shut.
Seattle cut the lead to 10 points in the third quarter, but thoughts of a comeback evaporated after Denver responded with an 80-yard touchdown drive that was sustained by a pass-interference penalty against Marcus Trufant.
Seattle spent a good chunk of last year resembling roadkill. All seven of the Seahawks' road losses were by double digits, the last four by more than 20.
This was something different entirely. Seattle had a chance in this game. Actually, the Seahawks had more than one. They finished the game with more rushing yards than the Broncos, and if Seattle hadn't wasted all those scoring chances, the outcome might have been different.
"It's fixable," Hasselbeck said. "So that's good. It's not like we were just getting blown off the ball. It's not like we couldn't block a great pass rusher or anything like that.
"All that stuff is fixable."
Local journalism is essential.
Give directly to The Spokesman-Review's Northwest Passages community forums series -- which helps to offset the costs of several reporter and editor positions at the newspaper -- by using the easy options below. Gifts processed in this system are not tax deductible, but are predominately used to help meet the local financial requirements needed to receive national matching-grant funds.
Subscribe to the sports newsletter
Get the day's top sports headlines and breaking news delivered to your inbox by subscribing here.
---
Subscribe and log in to the Spokesman-Review to read and comment on this story