News > Features
Noted violinist set to perform with Spokane Symphony
A year after a budget-forced delay
Thu., Sept. 23, 2010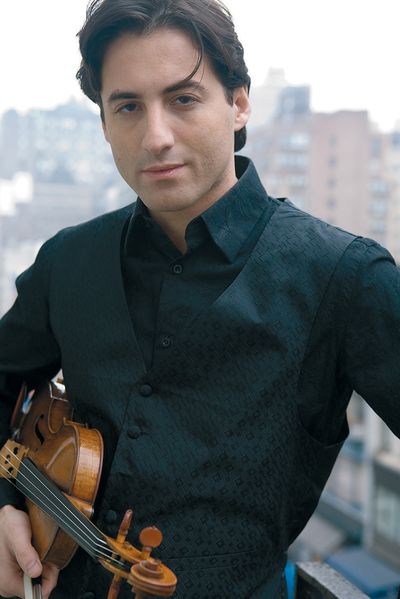 Philippe Quint was scheduled to perform Beethoven's Violin Concerto as a part of the Spokane Symphony's Beethoven Bash last season. But a budget-induced reshuffling caused a year's delay in his appearance.
"Don't worry, we will have him here," Music Director Eckart Preu said at the time.
Preu has made good on his promise. Quint will perform Alexander Glazunov's Violin Concerto as a part of the symphony's season-opening Russian Festival concerts Saturday and Sunday.
Both concerts at the Martin Woldson Theater at The Fox will also include Nikolai Rimsky-Korsakov's "Russian Easter" Overture and Dmitri Shostakovich's Symphony No. 10. Preu will conduct.
Quint was born in Moscow, lived in St. Petersburg as a boy and attended the Special Music School for Gifted Students in Moscow.
"But I would say that I didn't grow up until I came to the United States when I was 16 or 17," the violinist said in a telephone interview from Manhattan, the place he has called home since 1991.
He began studying the instrument when he was 4.
"When you are 4 years old you have no idea about what you will do with your life" Quint said. "I started playing the violin because my grandparents wanted to have a family trio with my grandfather playing cello, my mother playing piano, and that left the violin for me. The trio never happened, but I kept playing the violin … so, now I'm here."
He studied with the distinguished violinist and teacher Andrei Korsakov, a distant relation to Nikolai Rimsky-Korsakov, and made his orchestral debut when he was 9.
"While I was still a teenager, someone brought a tape of a concert to Dorothy DeLay, and she said she would like for me to audition for her," Quint recalled.
"I had dreamed of studying with Dorothy DeLay because every violinist in Russia knew her from her students like Itzhak Perlman, Shlomo Mintz, Midori and so many others. She invited me first to the summer festival at Aspen and then to join her class at Juilliard.
"Miss DeLay's teaching was very different from the teaching in the Soviet Union," he added. "There they tell you, 'Do it this way!' Back in Russia if a lesson didn't go well or was not fully prepared, words and objects would fly around the room. It might end with your music, your violin and you being thrown out the door."
But when it came to DeLay, he said, "With her a lesson was a discussion. She actually would ask me what my concept of a piece or even a phrase in a piece was. She looked to the student's individual talents. Listen to her students, their style of playing could not be more different from one another."
The Glazunov Concerto was not among the works Quint studied with DeLay.
"It was one of the first pieces I studied on my own," he said. "But you always transfer knowledge of what you have already studied. So I think I know what she would have said."
Except for the Violin Concerto, Glazunov's music is not frequently performed in the United States, though Preu has programmed ballet music from "The Seasons" and "Raymonda" with the Spokane Symphony.
"Glavunov's music has so many special qualities that come from his trying to bridge the gap between the Russian nationalists like Mussorgsky and Borodin and Western classical composers," Quint said.
"His Violin Concerto has so many original touches. One that is so amazing to me is the interaction between soloists in the orchestra and the violin solo – it becomes more of a chamber work than a virtuoso concerto.
"The melodies, the harmonic originality, and the unusual form of a single continuous flow instead of separate movement – all this just sweeps you off your feet," he said.
"Some of his younger students like Stravinsky, Prokofiev and Shostakovich criticized Glazunov for not being radical enough. But Glazunov was true to his heart."
Quint will be playing the 1708 "Ruby" Stradivarius, on long-term loan arranged by the Chicago-based Stradivari Society.
"I just got this violin last month, but I fell immediately in love with it," he said. "This concert will be my sixth date, but we're already in a strong relationship!"
Quint will conduct a violin master class with selected high school and college violin students from the region Friday from 3 to 5 p.m. at The Fox. It is free and open to the public.
He and Preu will discuss the music on the weekend's concerts in a pre-concert talk beginning one hour before performance time.
Local journalism is essential.
Give directly to The Spokesman-Review's Northwest Passages community forums series -- which helps to offset the costs of several reporter and editor positions at the newspaper -- by using the easy options below. Gifts processed in this system are not tax deductible, but are predominately used to help meet the local financial requirements needed to receive national matching-grant funds.
Subscribe to the Coronavirus newsletter
Get the day's latest Coronavirus news delivered to your inbox by subscribing to our newsletter.
---
Subscribe and log in to the Spokesman-Review to read and comment on this story