Sports
Carroll stresses limiting Seahawks turnovers
Sun., Sept. 26, 2010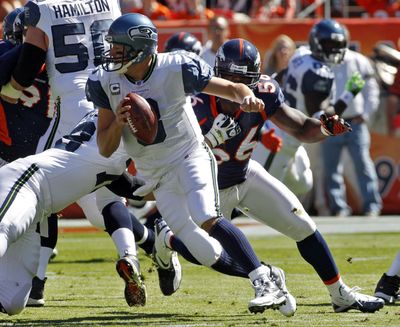 RENTON, Wash. — Two statistics are vital to Pete Carroll.
The final score and the turnover ratio.
To hear the Seahawks coach talk football, the latter stat has a direct correlation to the former and explains why Seattle enters today's game against San Diego with a 1-1 record and is looking to rebound from its first defeat.
"It's been our main theme and our approach in our football for as long as I can remember," Carroll said. "It's about taking care of the football and getting it. It's not just one side, it's not just giving up (the ball), it's getting the ball, too.
"The defense can balance out a mistake or two by an offense by taking the football away. So it's the No. 1 emphasis in the program. That's why it hurts so much to see it be a big factor in the game last week."
The Seahawks committed four turnovers – three Matt Hasselbeck interceptions and a Walter Thurmond fumble – in a 31-14 loss to the Denver Broncos.
Seattle's defense failed to force a turnover after collecting two interceptions in the regular-season opening win against San Francisco.
So it goes without saying, the focus this week has been re-emphasizing the importance of avoiding and creating turnovers.
"Pete (Carroll) said it very plainly in our first meeting on Monday this week," Hasselbeck said. "He just said, 'There's really nothing else to say. If you can't grasp that concept then you're not going to get what we're all about.' And we're all about turnover ratio."
Especially this week against the Chargers (1-1), who finished the 2009 season with a plus-8 turnover ratio and enter today's game with a plus-2 ratio. San Diego is tied for the NFL lead with four interceptions.
"Last week we didn't do a great job of (taking care of the football), but we know that these guys are a good football team," Hasselbeck said.
"It's something that we have to be aware of, they're very opportunistic in the secondary."
For the first time this season, Seattle's injury-plagued offensive line will start consecutive games without any changes. Right offensive tackle Sean Locklear was limited this week, but appears as if he'll play alongside tackle Tyler Polumbus, center Chris Spencer and guards Ben Hamilton and Stacy Andrews. … OL Chester Pitts (knee) is listed as probable, but he's still a week away from practicing without limitations. Rookie OL Russell Okung (ankle) is expected to return next week. … LB Will Herring returned to practice after missing two days on an excused absence. … San Diego RB Ryan Mathews (ankle) did not practice Friday and is doubtful.
Local journalism is essential.
Give directly to The Spokesman-Review's Northwest Passages community forums series -- which helps to offset the costs of several reporter and editor positions at the newspaper -- by using the easy options below. Gifts processed in this system are not tax deductible, but are predominately used to help meet the local financial requirements needed to receive national matching-grant funds.
Subscribe to the sports newsletter
Get the day's top sports headlines and breaking news delivered to your inbox by subscribing here.
---
Subscribe and log in to the Spokesman-Review to read and comment on this story