Sports
WSU's Thompson leans closer toward NBA
Thu., April 14, 2011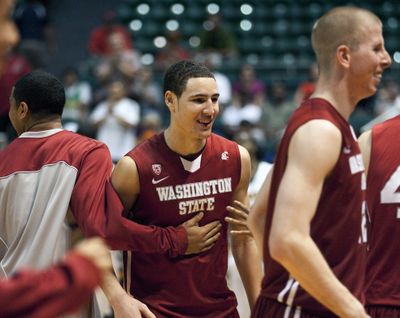 PULLMAN – For those Washington State basketball fans that were hoping April 24 would pass without a word from junior Klay Thompson, it doesn't look as if that will happen.
The star guard will "probably" be putting in the paperwork to be eligible for the NBA draft by the April 24 deadline, according to his father Mychal.
But, thanks to the family connections, the younger Thompson won't have to hire an agent and won't have to make an ultimate decision on entering the draft until May 8, the last day underclassmen can withdraw their name and be eligible the next season.
"That's the way he's leaning," Mychal said Wednesday. "He's probably going to put his name in and use my contacts and my inside information that I have to make up his mind by May 8th."
The path seemed preordained, in that Thompson loses nothing by declaring and gains a better understanding of his draft prospects and what NBA teams think of his skills.
"Yeah, that's the route we're taking," said Mychal, a former No. 1 draft pick, long-time NBA player and current Los Angeles Lakers radio color commentator, the team he finished his career with. "Because I have the advantage most parents don't have, I'm in the league and I can find out firsthand what the scouts and GMs think of him.
"It's like insider trading. I guess that's legal in this business."
Thompson, who said most teams see his son as a first-round pick, mentioned one dark cloud that could influence Klay's decision – the possibility of a lockout between NBA owners and the players over a new contract.
"I'm hearing it from both the optimistic and the pessimistic view," said Mychal, who admits to being in the optimistic camp. "Some people I've talked to say they are going to work it out over the summer. The pessimists say there is a possibility you could lose the whole season.
"You've just got to go with your gut on something like this."
If Klay Thompson enters the draft, is picked and a lockout occurs, Mychal said he would be unable to sign a contract, though the NBA team would hold his rights.
He would be stuck not playing.
"That's the dilemma, the option you face," Mychal said. "Are you willing to sit around until December, January, not play while your former teammates are having fun in college?"
The elder Thompson is heading to Pullman for the weekend to talk with his son about the future.
"We'll go and get pizza and talk about all this stuff," Mychal said.
Because a final decision has to be done soon.
"You've got to be fair to coach Bone, his staff and his teammates. You don't want them hanging on too long," Mychal said, adding Klay's decision will be announced by early next week.
After a declaration of intent to enter the June 23 draft, an underclassman has about 10 days to schedule workouts and judge his worth before the NCAA-imposed deadline. That's not enough time, Mychal said.
"It's stressful and it's unfair by the NCAA to force someone to make up their mind that soon," he said. "The NCAA got selfish and put the squeeze on the young men."
With the tight time frame, Mychal expects to put together no more than a couple workouts.
"Anybody who is interested," he said of which teams they might be with. "Hopefully, it will be the Lakers."
The 6-foot-6 Thompson was a first-team All-Pac-10 selection last season after averaging a conference-leading 21.6 points a game, along with 5.2 rebounds, 3.7 assists and 1.6 steals per game.
Local journalism is essential.
Give directly to The Spokesman-Review's Northwest Passages community forums series -- which helps to offset the costs of several reporter and editor positions at the newspaper -- by using the easy options below. Gifts processed in this system are not tax deductible, but are predominately used to help meet the local financial requirements needed to receive national matching-grant funds.
Subscribe to the sports newsletter
Get the day's top sports headlines and breaking news delivered to your inbox by subscribing here.
---