Sports > Outdoors
Trout survives with 'two mouths'
Sun., Aug. 28, 2011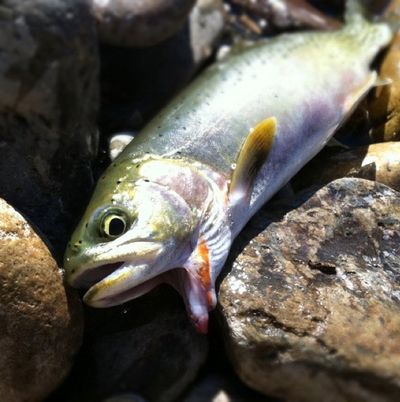 Jay Kirchner of Coeur d'Alene was fly fishing on the North Fork of the Coeur d'Alene River last weekend when he hooked a scrappy cutthroat trout.
"It hit an Elk Hair Caddis on the surface," he said. "There was nothing odd about the strike or the fight except that when I could see it during the fight it looked odd.
"It wasn't until I got it in the net that I saw the fish had two mouths," said the public information officer for the Idaho Panhandle National Forest.
"I laid it out on the shore for a quick picture, then set it loose again. The cutthroat happily swam off."
The Spokesman-Review forwarded the photo to fisheries biologists for their opinion, since it wasn't clear whether the lower mouth is a natural deformity or whether it's the healed result of suffering hooking damage as a younger fish. 
The lower jaw flap resembles the plastic lip that causes a diving lure to dive with the force of water.
"Very rarely, we've documented two-headed fish in hatcheries. This case looks like damage due to hooking disfiguration," said Joe DuPont, the agency's Clearwater Region fisheries manager, formerly the field biologist who conducted definitive studies of Coeur d'Alene River cutthroats.
"I've seen this before, but never to that degree.
Chip Corsi, Panhandle Region manager and fisheries biologist said he's seen this type of hooking deformity during his surveys.
"It's not really a second mouth, but the separation of the tissue that connects the jaw with the gular (tongue) structure.
"Remarkably, these fish are often healed up and in pretty good condition in many cases."
Local journalism is essential.
Give directly to The Spokesman-Review's Northwest Passages community forums series -- which helps to offset the costs of several reporter and editor positions at the newspaper -- by using the easy options below. Gifts processed in this system are not tax deductible, but are predominately used to help meet the local financial requirements needed to receive national matching-grant funds.
Subscribe to the sports newsletter
Get the day's top sports headlines and breaking news delivered to your inbox by subscribing here.
---
Subscribe and log in to the Spokesman-Review to read and comment on this story