News > Spokane
College's wind technology program fills good-paying jobs
Mon., Dec. 12, 2011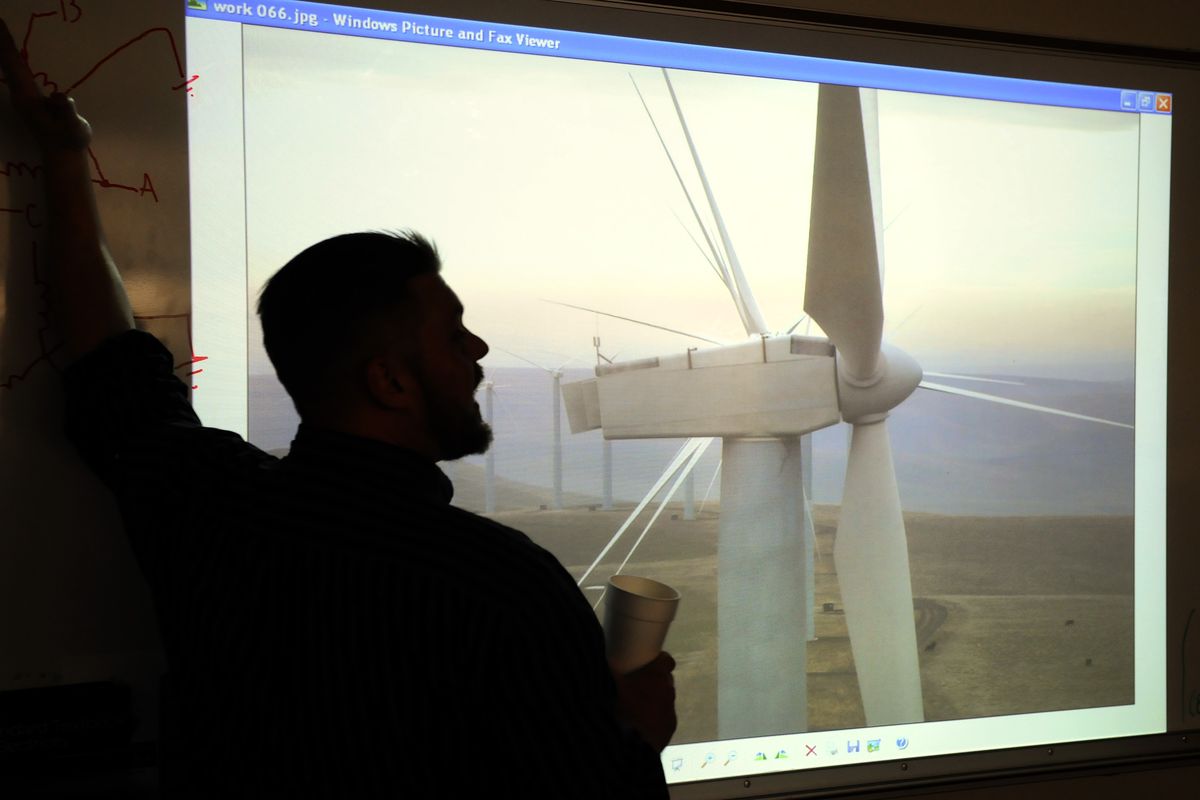 Walla Walla Community College Wind Technology instructor James Bradshaw shares experiences working on wind turbines with his students on Nov. 14. (Dan Pelle)
Second of two parts
Wheat is the most common export commodity in Washington's Garfield County, where Matt Powell spent his childhood. But soon the county of 2,266 people will have a new export: wind energy.
Puget Sound Energy began construction last summer on its 149-turbine Lower Snake Wind Project near Pomeroy. It will begin producing electricity for about 70,000 homes next spring.
Powell worked as a summer intern at the project, earning $18.50 an hour inspecting electrical equipment. It was a heady experience for the 21-year-old, who had just finished his first year in Walla Walla Community College's wind technology program.
"He was signing off on $2 million assets," said James Bradshaw, the college's wind instructor.
Powell will graduate from the program next year. Unlike other young college graduates, who face one of the toughest job markets in decades, Powell doesn't anticipate having trouble finding work. Wind developers across the country are hiring construction workers to build new farms and full-time technicians to run them.
"That makes my mom really happy," Powell said.
Walla Walla Community College launched its wind technology program last year. The 18-month course prepares students to work in the fast-growing field, where graduates can expect starting wages of $15 to $20 per hour.
"We need more wind technicians as we put more projects on the ground," said Liz Salerno, director of the American Wind Energy Association's industry data analysis team.
She estimates that the U.S. wind industry employs about 4,000 technicians, responsible for keeping turbines operating. Demand for wind technicians is growing by 15 to 17 percent annually. Wages reflect job requirements.
"It's a power plant, so you need a specific set of skills: mechanical engineering, electronics, electrical theory, hydraulics, voltage and safety," Salerno said. "And you need to be able to climb a 300-foot tower."
To be accepted into the Walla Walla Community College program, students must pass a mechanical aptitude test and climb the equivalent of a 250-foot ladder.
Steve VanAusdle, the college's president, saw wind technology as a natural fit for the school. Wind farms are clustered north, south and west of Walla Walla. He's also on an advisory board for Pacific Power, a subsidiary of PacifiCorp, which operates wind farms in five Western states.
"I'm trying to understand the whole energy business and what it might mean for demand for educated and skilled workers," VanAusdle said. "Wind was the fastest-growing renewable energy. … We decided to step up."
Launching a $1 million wind technology program in the midst of budget cuts took some creative thinking. With the housing market in a tailspin, the college closed a carpentry program in Clarkston. VanAusdle redeployed other funds and sought grants and private donations.
Vestas, a wind turbine manufacturer, General Electric and other companies donated more than $100,000 worth of equipment, including a generator. Bradshaw, who managed wind farms for PacifiCorp, was hired to teach classes and run the program.
The college worked closely with Columbia Gorge Community College in The Dalles, Ore., which has the West Coast's oldest community college wind technology program. That program started in 2007 on a trial basis, after a college administrator remarked on the huge truckloads of wind turbine components she regularly saw on Interstate 84.
Twenty-three of the first 24 wind technology students were hired almost immediately, said Dan Spatz, development director for Columbia Gorge Community College. The program now accepts 40 students per year, and they can earn either a certificate or an associate's degree. According to a recent survey, 76 percent of the students got jobs in wind technology or a related field, such as electronics.
Bradshaw and Brian Evensen, who teaches the program's electrical classes at Walla Walla Community College, encourage their students to consider working in wind farm construction for a few years. It's a good way to gain experience and advance, though the travel involved "isn't the best fit if you're married with children," Evensen said.
Experienced wind technicians earn wages in the $60,000-per-year range, Bradshaw said. But the instructors also try to drill a humble attitude into their students.
"There is a 100 percent probability that you'll start out with a rag and a bottle of Simple Green," Bradshaw tells them.
That's OK by Brandon Johnson. After eight years of working in the landscaping business, including hanging Christmas lights, the 30-year-old Spokane resident enrolled in the program last fall. He wanted a job with career path opportunities.
"I'm used to working in adverse weather conditions – the snow, the rain and 105-degree temperatures," Johnson said. "And I wanted a job where I can be physical."
At 42, Corey Hart has been a dental assistant, construction worker and office administrator. Married with five kids, Hart is also looking for steady employment with advancement opportunities. He plans to graduate with a two-year electrical degree in addition to a wind technology certificate. He and his wife are willing to move to Texas or the Midwest – regions with rapid wind development.
"If you're willing to relocate, you should have no problem getting a job," Hart said.
Spending a few years on a construction team and seeing different parts of the country also appeals to Powell, the Garfield County resident.
His mother works as a hairdresser in Pomeroy, and when he's home, he occasionally hears derogatory remarks about the new turbines towering 300 feet above the wheat fields.
"A lot of people think they're ugly," Powell said. "I think they're awesome."
For Bradshaw, each new turbine on the horizon represents potential opportunities for his students.
"When I see them I think of jobs. Every eight to 12 turbines on the landscape means one full-time operator's position," he said.
Local journalism is essential.
Give directly to The Spokesman-Review's Northwest Passages community forums series -- which helps to offset the costs of several reporter and editor positions at the newspaper -- by using the easy options below. Gifts processed in this system are not tax deductible, but are predominately used to help meet the local financial requirements needed to receive national matching-grant funds.
Subscribe now to get breaking news alerts in your email inbox
Get breaking news delivered to your inbox as it happens.
---