News
Larry Craig lobbies on wolf legislation
Tue., Feb. 22, 2011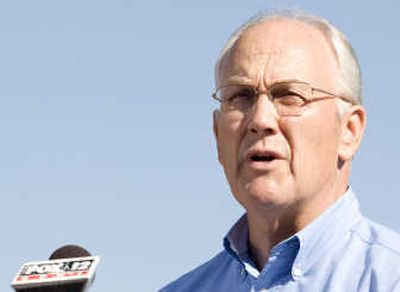 BOISE, Idaho — Former Idaho U.S. Sen. Larry Craig is working for a sportsmen's group that wants Congress to lift Endangered Species Act protections from wolves on grounds the prolific predators are hurting big game populations that are coveted by hunters in the region. Craig represents Sportsmen for Fish and Wildlife and was in Idaho's Capitol Monday, touting wolf delisting bills now in the U.S. House and Senate. Lawmakers, including Idaho U.S. Sen. Jim Risch, Craig's successor in Washington, D.C., seek to bypass the Endangered Species Act and lift 36-year-old protections for today's booming U.S. wolf population. Advocates who accompanied Craig say they have about 50 co-sponsors for federal legislation, including lawmakers from outside Rocky Mountain states, Minnesota, Wisconsin and Michigan, where most of the nation's wolves roam. Craig told the state House Resources and Conservation Committee a new law would return management of wildlife to states, reversing decades of federal government encroachment. Craig believes the Republican landslide in last November's election increases the likelihood of a congressional solution. "We have the window now of two years," he said. "I hope we can do it much faster than that." According to HR 509 introduced in the U.S. House last year, the Endangered Species Act of 1973 would be amended "to provide that Act shall not apply to the gray wolf." Its co-sponsors include Democrat Jim Matheson of Utah and Republican Mike Simpson of Idaho. A U.S. Senate measure, whose sponsors include Idaho's Risch and Mike Crapo, both Republicans, is similar to the House bill. Though Craig was welcomed warmly by committee Chairman Bert Stevenson, R-Rupert, he remains deeply publicity shy following the furor that dogged him during his final 1½ years in the U.S. Senate resulting from his arrest in a sex sting in a Minnesota airport bathroom. He declined an interview request from the Associated Press in the Capitol basement hallway following the meeting. Asked about his involvement with Sportsmen for Fish and Wildlife, he said only "I'm assisting them on occasion." Craig has a Boise-based lobbying firm called New West Strategies but isn't registered in Idaho as a lobbyist, according to the Idaho secretary of state. Stevenson agreed to give Craig's group a letter of support from Idaho House members supporting the federal bills. Starting in 1994, 66 wolves were brought from Canada to central Idaho and Yellowstone National Park in Montana and Wyoming. The animal's population hit the original recovery benchmark of 300 animals a decade ago and at least 1,700 wolves now roam parts of six Rocky Mountain states. In addition, more than 4,000 wolves can be found in the wilds of Minnesota, Wisconsin and Michigan. But after federal protections for the Rocky Mountains wolves were lifted in 2009, U.S. District Judge Donald Molloy ruled last summer the U.S. Fish and Wildlife Service couldn't delist a species in Montana and Idaho but leave out Wyoming's predator population. The subsequent relisting forced Idaho and Montana to cancel a second year of public wolf hunts, exacerbating tensions among many hunters who fear wolves are eating too many moose, elk and mule deer. Ryan Benson, a lobbyist for Sportsmen for Fish and Wildlife's "Big Game Forever" effort, has been traveling from state to state to drum up support for the federal legislation. "The list of interested states is growing," Benson said. "What we're seeing is that without question, the sportsmen of America care about what's happened in the West." Still, attorneys for groups including Defenders of Wildlife that won in Molloy's court last year have said allowing Congress to decide a question of biological sustainability on the basis of politics would set a dangerous precedent, not just for wolves but for other species protected by federal law. Doug Honnold of Earthjustice in Bozeman couldn't immediately be reached for comment on Monday.
Local journalism is essential.
Give directly to The Spokesman-Review's Northwest Passages community forums series -- which helps to offset the costs of several reporter and editor positions at the newspaper -- by using the easy options below. Gifts processed in this system are not tax deductible, but are predominately used to help meet the local financial requirements needed to receive national matching-grant funds.
Subscribe now to get breaking news alerts in your email inbox
Get breaking news delivered to your inbox as it happens.
---