News > Pacific NW
Documents: Guard murder suspect said he deserves death
Thu., Feb. 24, 2011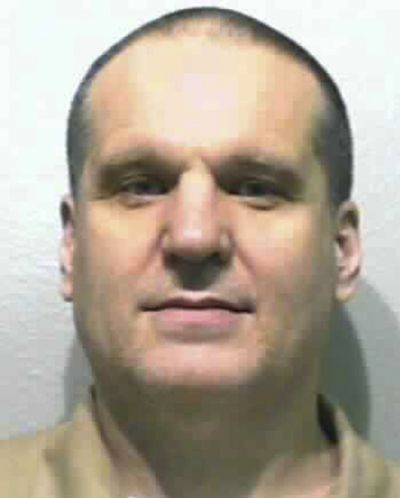 The prison inmate accused of strangling Corrections Officer Jayme Biendl in a chapel at the Monroe Correctional Complex last month told investigators that he deserves to die, according to documents released Thursday by Snohomish County prosecutors. "I took her life and I think I should forfeit mine," Byron Scherf allegedly told Monroe police investigators earlier this month. "If I get a life sentence and she's (dead), then there's no punishment attached to it because I already have a life sentence." The statement is contained in probable-cause documents outlining the police case against the 52-year-old inmate and signed by Monroe police Detective Barry Hatch. The documents were submitted Thursday during Scherf's first court appearance in connection with the slaying as an Everett District Court judge decided there was probable cause to hold him for the slaying of Biendl. Prosecutors on Thursday charged Scherf with aggravated first-degree murder, which could allow them to seek the death penalty. Snohomish County Prosecutor Mark Roe said that once the case is transferred from District to Superior Court and Scherf is arraigned, Roe will have 30 days to decide whether to seek the death penalty. Roe cautioned that the decision is often delayed, in agreement with the defense. In a statement, Roe said that he met with Biendl's family last week to discuss the case. "They expressed their wish that the suspect, if convicted, receive the death penalty. Their wishes are part of what I will consider in making that decision," Roe said. The only other punishment possible for an aggravated murder conviction is life in prison without parole. According to the probable-cause documents, Scherf said that Biendl offended him while they were in the prison chapel on Jan. 29. What Biendl said to Scherf was not revealed by investigators, but Scherf said that her statement "triggered a response in me." "I got to the point where I knew I was going to kill her," Scherf said in his statement to police. Scherf said he waited for everyone to leave the chapel. He then closed the gate to make sure nobody else would come in. He came up from behind Biendl and started pulling at her radio, eventually breaking it. Scherf said the two fought. Biendl bit him and stomped on his foot before they wound up wrestling on the floor, the probable-cause statement said. Scherf then took a cord and wrapped it around the officer's neck and strangled her. Snohomish County Medical Examiner Norman Thiersch said that the officer's neck suffered a "considerable amount of force," according to the probable-cause statement. Scherf said that he sat down in the chapel foyer, away from Biendl's body, and waited for prison staff to find him, according to the statement. When corrections staff asked him about the injuries to his hands and blood on his jacket, he said that he had gotten into a fight with other inmates. Prison staff did not inspect the chapel until about an hour later, when watch control officers were notified that Biendl had not returned her equipment before the end of her 9 p.m. shift, the probable-cause statement said. Biendl was found face up on the stage area in the sanctuary, a cord wrapped around her neck, the statement said. Scherf was arrested. On Feb. 9 he asked to speak with Monroe police investigators and waived his right to remain silent, according to the statement. "I'm responsible for the death of the correctional officer," Scherf said, according to police. "I strangled her to death on January 29 at approximately 8:40 in the chapel." Scherf, who is serving a life sentence for his third rape conviction, told investigators that he did not sexually assault Biendl. Investigators say there is no evidence of any type of sexual assault, the probable-cause statement said.
Local journalism is essential.
Give directly to The Spokesman-Review's Northwest Passages community forums series -- which helps to offset the costs of several reporter and editor positions at the newspaper -- by using the easy options below. Gifts processed in this system are not tax deductible, but are predominately used to help meet the local financial requirements needed to receive national matching-grant funds.
Subscribe to the Coronavirus newsletter
Get the day's latest Coronavirus news delivered to your inbox by subscribing to our newsletter.
---
Subscribe and log in to the Spokesman-Review to read and comment on this story