Sports
Presley, a Gonzaga Prep senior, impresses with great strides
WSU recruit lifts maturity level to equal abilities
Thu., Jan. 13, 2011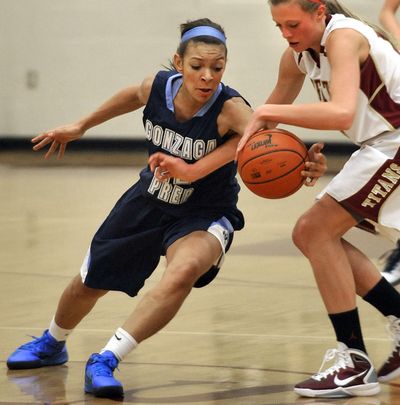 Tia Presley has heard the whispers. The Gonzaga Prep senior basketball standout calls them misconceptions.
She's not a good teammate. She's a ball hog. She's snotty. She has a temper. She's not coachable.
Presley understands why some perceptions exist. Some are probably fair. But she's done as much as she can this season to disprove them.
"I think I've grown up as a player and a person," Presley said. "The perceptions are based on what I used to be as a player and person."
Gonzaga Prep coach Mike Arte agrees.
"There were times early on as a freshman and sophomore that the biggest thing we had to work on with her was her maturity level," Arte said, noting that Presley is a year younger than most of her peers. "I hope people realize that she's made tremendous strides as a person."
Presley is on pace to break the Greater Spokane League's career scoring record set by former University High School and current University of Tennessee standout Angie Bjorklund.
She can finish second all-time in career scoring, but won't be able to catch Bjorklund. The problem is Bjorklund and others have played in as many as 25 more games than Presley because of postseason play.
Presley's focus, though, is on something she has yet to taste as a four-year starter – a trip to state.
"It would be cool (to break the record), but it would mean nothing to me if we don't make it out of Spokane," Presley said.
An interesting way of phrasing her desire to go to state. Instead of wanting to go to Tacoma, she wants to get out of Spokane. Under the old format, the Bullpups never made it to regionals. Hence the make-it-out-of-Spokane phrasing.
So far things are going swimmingly for Presley and the Bullpups (10-1 overall, 9-0 in league), who returned all five starters. They cruised past preseason favorite Lewis and Clark in the teams' first meeting.
"Overall, I think we're more athletic than any team in the league," Presley said. "It shows you don't have to have a bunch of 6-footers to win."
It was a recipe for success last year for Mead, which was led by guard Jazmine Redmon to the State 4A championship game.
Presley, who is listed as 5-foot-9 on the roster but is actually 5-7 1/2, averaged 23.2 points per game last year. She's leading the GSL this season, but her average is down four points.
There's a specific reason why: She doesn't feel like she has to score for her team to win.
Presley has more assists now than she had in 22 games a year ago.
"The past couple of years I've known I've had to score for us to win," Presley said. "That's not the case this year. I have a lot more trust in my teammates. I'm making riskier passes this year. It really comes down to trust. I don't have to take it to the basket every time I touch the ball. Me only scoring wasn't getting us to where we needed to be."
Perhaps the one statistic Presley is most proud of is rebounding. She averages in double digits.
"I'm sure I lead all guards in the league in rebounding," she said. "I love to rebound. I take as much pride in that as I do scoring."
Presley signed early in November with Washington State University. She took other visits to Oregon State, Boise State and Portland.
The week before visiting WSU, Presley went to OSU.
"I was 99 percent set on going to OSU," Presley said. "Then I went to WSU and after the first night I knew I was going there. It felt more like a family atmosphere. I could tell it wasn't just about basketball. I loved the team and coaches."
She had a little fun when she called WSU assistant coach Brian Holsinger to tell him about her decision.
"I called him and said, 'I don't think I can live in Pullman, but I guess I'm going to have to get used to it for the next four years'," she said.
As far as the perceptions about her in the league, Presley is hopeful she's made some strides to disapprove them.
"I'm a competitive person and I think sometimes people take that the wrong way," she said. "Some people think I'm a dirty player because I'm aggressive. I disagree. Not to sound cocky, but I play harder than most people I play against."
Arte has heard the same things.
"People have asked me, 'How can you coach her?'," Arte said. "It's been hard for her to shake those perceptions in our league. For me it's great coaching a kid like her. You see growth in her. She's worked real hard to become a better person. That's the theme of her whole career. It wasn't easy giving her direction until she wanted that direction placed upon her. To be honest, it was difficult to coach her early in her career. That's all changed for her. She's one of the most personable kids I've coached."
Local journalism is essential.
Give directly to The Spokesman-Review's Northwest Passages community forums series -- which helps to offset the costs of several reporter and editor positions at the newspaper -- by using the easy options below. Gifts processed in this system are not tax deductible, but are predominately used to help meet the local financial requirements needed to receive national matching-grant funds.
Subscribe to the sports newsletter
Get the day's top sports headlines and breaking news delivered to your inbox by subscribing here.
---