News > Features
Rocking chairs rather than rocking stages
Clemons' passing latest to leave boomers shaken by vulnerability of once- indestructible musical idols
Fri., July 1, 2011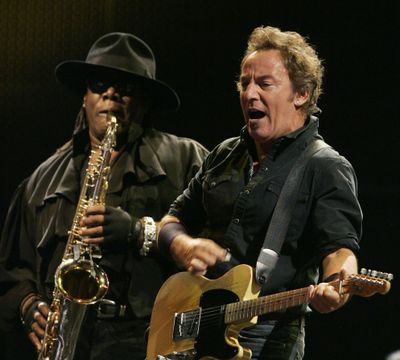 Months before he passed away, saxophonist Clarence Clemons told Rolling Stone magazine that Bruce Springsteen and the E Street Band's 2009 tour was pure hell for him physically.
But despite being 69 years old having his knees and hips replaced, Clemons spoke eagerly about getting back on the road with "The Boss" in 2012 and maybe touring with Lady Gaga, who he performed with on her "Born This Way" CD.
"As long as my mouth, hands and brains still work I'll be out there doing it," he said in February. "I'm going to keep going 'till I'm not there anymore."
Clemons died June 18 from complications related to a stroke. Springsteen, E Street Band members, families and friends said their goodbyes to the massive, ebullient sax player known as the "Big Man" at a private funeral service.
Clemons' passing – along with a recent spate of deaths of other artists from the 1970s and '80s – is forcing some baby boomers to reconcile that the seemingly indestructible musical idols who provided the soundtrack of their lives are either dying or growing old and suffering from the same aches, pains and illnesses that they do.
"Clarence Clemons' death, there's a number of cultural wake-up calls happening," said Robert Thompson, a professor of popular culture at Syracuse University.
"Fans of Bruce Springsteen and the E Street Band, they grew up with him; the fact that he died, and the fact that he died of a stroke, they see a bit of their own mortality."
Gil Scott-Heron, a singer, songwriter, poet and pre-rap pioneer who gained fame with the spoken-word work "The Revolution Will Not be Televised," died in May at age 62.
Phoebe Snow, a singer-songwriter who burst onto the music scene in 1974 with "Poetry Man," died in April at age 60. Teena Marie, the white soul singer who scored 1970s success with songs like "Lovergirl" and "Square Biz," died in December at 54.
And Springsteen lost another cherished bandmate when keyboardist Danny Federici died in April 2008 from melanoma.
"There's this sense that a lot of rock 'n' rollers are playing the role of immortals," Thompson said, noting that aging artists like Springsteen, the Rolling Stones and Billy Joel continue to tour and play to packed houses.
"Rock 'n' roll and popular music, these are the people who represent vitality, power, youth, unfettered energy, and one of them (Clemons) dies of natural causes? That's tough."
William "Bootsy" Collins – who spent much of the 1970s on the road playing bass in the late James Brown's band, with Parliament-Funkadelic and his own Bootsy's Rubber Band – says that, despite appearances, it's physically tough on some older artists to perform live shows.
"I think touring is a young man's sport," Collins, 59, said by email. "I think any time you go into battle on stage or in sports you send your body into shock and it has to have time to recover.
"Most cases we don't have time to give it time to repair itself, because the fans want to see a great show, not you up on stage limping around."
Collins, who's in the midst of a tour that ends in mid-July at Switzerland's Montreux Jazz Festival, says he has his share of aches and pains from decades of abusing his body onstage and through substance abuse offstage.
"For me, I fight the back pain from lifting heaving equipment and carry that heavy Star Bass all those years," the now clean-and-sober musician said. "Arthritis in the fingers, neck, herniated disk from shaking and throwing the neck uncontrollably."
Like other performers, Collins said he's given a nod to advancing age by changing his lifestyle on and off the road.
"I am not out to get laid every night, not looking for the bomb cocaine or weed," he said. "I just wanted to clear my head and see what living on the planet is really like as a normal, well almost normal, human being."
Henry Fambrough, who's been singing and dancing as a member of the Spinners for more than 50 years, said when he's not on the road (the group tours about 60 percent of the year) he's in the gym.
"I go to the fitness center and work out," said Fambrough, 73. "I drink a lot of my vegetables and fruits. Like the old saying, you are what you eat.
"I stopped drinking, I stopped hanging out. My hips are good, my legs are good – I don't feel what I am."
Asked why he keeps performing at his age, Fambrough answered with a question of his own.
"What else am I going to do?" he said. "This keeps me alive, keeps my heart pumping."
Local journalism is essential.
Give directly to The Spokesman-Review's Northwest Passages community forums series -- which helps to offset the costs of several reporter and editor positions at the newspaper -- by using the easy options below. Gifts processed in this system are not tax deductible, but are predominately used to help meet the local financial requirements needed to receive national matching-grant funds.
Subscribe now to get breaking news alerts in your email inbox
Get breaking news delivered to your inbox as it happens.
---