Sports
Ex-Cougars guard Weaver prepares for next playing stop
Sun., July 24, 2011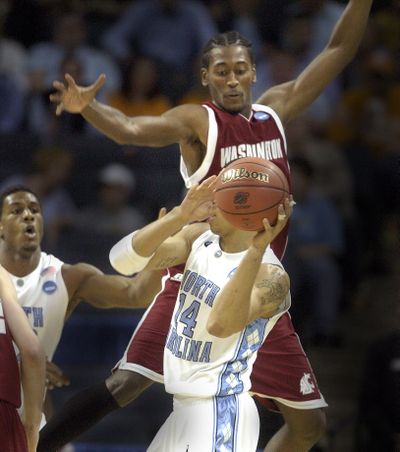 Kyle Weaver still isn't sure where he is headed.
For now, yes. But the long run? No chance.
The former Washington State University star is in limbo, along with every other basketball lifer still harboring an NBA hope, awaiting the resolution of the league's owner-imposed player lockout.
So Weaver, who spent two seasons with the Oklahoma City Thunder, will start the upcoming season – his third since leading WSU to the NCAA Sweet Sixteen in 2008 – on the same continent he ended the last one: Europe.
ALBA, a German league squad in Berlin and the same team former Cougar Taylor Rochestie played for the last two seasons (though Rochestie did not re-sign after leading the Albatross in assists in 2010-11), told German newspaper Der Tagesspiegel this week Weaver agreed to a one-year deal.
"With the lockout, I didn't want to wait," Weaver said earlier in the week from his hometown of Beloit, Wis. "Not having a guarantee or anything, I wanted to not only continue to play, but still have that exposure."
And, as Weaver sees it, Europe isn't a bad place to be.
For now.
"I don't see myself as an overseas player," he said. "I think it's easy to kind of put a tag on yourself, and for other people to put a tag on you as well. That comes with the sport. Everybody is seen as something.
"You get so many different views of who you are, you may get lost in that."
Though he may not see himself as an overseas player, that was exactly where Weaver found himself at the end of last season, playing 10 games for Charleroi in Belgium, averaging 7.5 points and 3.7 rebounds – and gaining an appreciation for the European lifestyle.
"It was great experience for me, being there," said the 25-year-old, who had never been to Europe before. "Being over there, you get a chance to see the world. In Belgium, I was less than two hours away from Holland and France and Germany."
Though Charleroi – a city of more than 200,000 just south of Brussels – was enlightening, it had its non-basketball challenges.
"I would go to Brussels to watch movies, because it's a bigger city, a capital city, and they had everything there," Weaver said. "Great restaurants, great food, it was really nice.
"My city was a little bit more European, I would say. It was French dominated, so there was a language barrier. Communicating sometimes was a little bit tougher. It was a really true, local city. I remember vividly having to go to Brussels to watch movies, because the theater by my house was all in French."
But challenges, and uncertainty, are nothing new to the 6-foot-6, long-armed defensive artist. Coming out of Beloit Memorial High, Weaver was lightly recruited, with only WSU's Dick Bennett among big-school coaches seeing the long-term potential.
That potential blossomed in Pullman, especially the last two years under Bennett's successor – and son – Tony, with Weaver leaving WSU as a two-time All-Pac-10 guard and among the Cougars' all-time leaders in nine categories, including second on the assists list.
The next stop was the NBA, though the team that drafted him in the second round, Charlotte, traded him to Oklahoma City in a flash.
In two years with the Thunder, Weaver played in 68 games, but 56 of those came in his rookie season. Waived by OKC prior to last season, Weaver signed with Chicago, only to be let go after training camp.
Two stints in the NBA's Developmental League followed, sandwiched around a leg injury and subsequent minor surgery. After averaging 15.2 points, 5.7 rebounds and 4.1 assists combined in Des Moines and Austin, Weaver earned a 10-day contract with the Utah Jazz.
"You know what, the Utah experience was great," he said of the time in Salt Lake City, where he played in five games. "It was a good situation to be called back up, especially … being to the point where I was dealing with the ups and downs of my career. It was kind of frustrating at times, but it kept me humble and it kept me hungry at the same time."
With the D-League season finished and his Utah stint over, Weaver packed his appetite and headed for Europe, though his eyes are still on the NBA.
"Going through all that, going to Utah, just being able to have that jersey on again, with my name on it," he said, "playing in those arenas again, the travel, being around the guys, it's a great feeling.
"It's almost more than just the actual basketball, the money and everything else that comes with it. I really appreciated it, coming back that second time, because I've had it and I've lost it."
If and when he's led back to the NBA, Weaver will be ready.
"I still don't see myself as an overseas player, really," he said. "Once this lockout thing gets figured out and teams get situated with a new (collective bargaining agreement), I'll definitely give it another year, maybe even two."
After all, his suitcase is always packed.
"I was talking with somebody about it, and I think I've lived in six cities in just the past year," he said. "It's been crazy. Well, five cities and then another country. So I've been everywhere."
Then he laughed. He isn't sure exactly where he's headed, but he's sure he'll enjoy the trip.
Local journalism is essential.
Give directly to The Spokesman-Review's Northwest Passages community forums series -- which helps to offset the costs of several reporter and editor positions at the newspaper -- by using the easy options below. Gifts processed in this system are not tax deductible, but are predominately used to help meet the local financial requirements needed to receive national matching-grant funds.
Subscribe to the sports newsletter
Get the day's top sports headlines and breaking news delivered to your inbox by subscribing here.
---