News > Features
BUILT-IN FLAVOR
Peppers, sauce, cheese all mixed into meat before grilling
Wed., June 1, 2011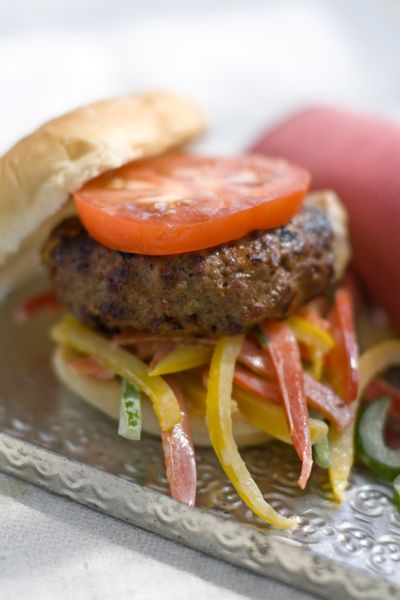 No condiments needed for this high-flavor barbecue-style cheeseburger; they are built right in.
For ease – and let's face it, awesome taste – I took your basic beef burger and mixed in pureed chipotles in adobo sauce, a healthy splash of barbecue sauce (use your favorite brand) and some garlic. But why stop there? I also stuffed the burger with a mix of cheddar cheese and chopped black olives.
To round it out, I mixed together a simple bell pepper slaw to form a creamy-crispy bed for the burger. Of course, you can keep it simple by substituting whichever prepared slaw you prefer.
This recipe also welcomes playing. To jack up the heat, up the chipotles. You also could add some smoked paprika and garlic powder. And there would be nothing wrong with adding yet more cheese to the top.
Chipotle Barbecue Cheeseburger
1/4 cup mayonnaise
1 tablespoon mustard powder
1 tablespoon honey
1 teaspoon cider vinegar
1 red bell pepper, cored and thinly sliced
1 green bell pepper, cored and thinly sliced
1 yellow bell pepper, cored and thinly sliced
Salt and ground black pepper
2 chipotle peppers in adobo sauce
1/4 cup prepared barbecue sauce
2 cloves garlic
1 pound 85 percent lean ground beef
1 cup shredded cheddar cheese
1/4 cup finely chopped black olives
4 large potato buns, toasted
1 large tomato, thickly sliced
In a medium bowl, whisk together the mayonnaise, mustard powder, honey and vinegar. Add all 3 peppers, then toss to coat well. Season with salt and pepper, then set aside.
Heat a grill or grill pan to medium-high.
In a blender or food processor, combine the chipotle peppers, barbecue sauce and garlic. Puree until smooth. Transfer to a large bowl. Add the ground beef, 1/2 teaspoon salt and 1/4 teaspoon ground black pepper, then mix well.
Divide the ground beef mixture into quarters. One at a time, form each quarter into a cup in the palm of your hand. Add 1/4 cup of the cheese and a sprinkling of the black olives to the center of each cup, then push the beef over it to completely cover the cheese. Carefully form the beef into a patty.
Coat the grill grates with oil. Grill the burgers for 7 to 8 minutes for medium-well, or until desired doneness.
Top the bottom half of each potato bun with some of the pepper slaw, then a burger, then a slice of tomato.
Yield: 4 servings
Approximate nutrition per serving: 708 calories, 37 grams fat (14 grams saturated, 47 percent fat calories), 38 grams protein, 57 grams carbohydrate, 111 milligrams cholesterol, 4 grams dietary fiber, 1,047 milligrams sodium.
Local journalism is essential.
Give directly to The Spokesman-Review's Northwest Passages community forums series -- which helps to offset the costs of several reporter and editor positions at the newspaper -- by using the easy options below. Gifts processed in this system are not tax deductible, but are predominately used to help meet the local financial requirements needed to receive national matching-grant funds.
Subscribe now to get breaking news alerts in your email inbox
Get breaking news delivered to your inbox as it happens.
---