Sports
Chiefs, Cowen glad he's still here
Mon., May 2, 2011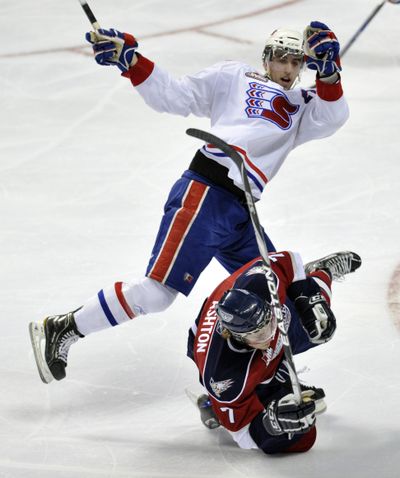 Whatever tonight brings for the Spokane Chiefs – one more game to play or none at all – it's good to remember that hockey in May seemed the least likely of all outcomes back in September.
Oddly enough, the Chiefs still do.
"We were picked to be last and look where we are now," offered defenseman Jared Cowen. "People didn't think we were going to be very good, and none of us really forgot that all year.
"We've kept it in the back of our heads, even now."
Not that backup motivations are needed tonight, when they meet Portland in Game 6 of the Western Hockey League's Western Conference finals at the Spokane Arena, with the Chiefs a loss away from elimination.
"But it's just human nature," Cowen said, "to want to be better than people think you are."
The irony of that notion coming from the captain may not qualify as delicious, but it's close.
For no matter how good Cowen is or has been – WHL All-Star, Memorial Cup champion, first-round NHL draft pick – there are those in local hockeyland for whom that's never been quite enough.
Possibly because it's also human nature to always want more.
To watch his exceptional play during this playoff run has not been a revelation, but an affirmation, and should be acknowledged unconditionally. He has scored and passed and hit with passion, and so well that it sometimes seems as if his shifts have doubled.
"I'd like to think I'm the kind of player who elevates his game at playoff time," he said. "I guess every player does. There's no excuses to play bad, for sure, if you're that much closer to winning it all. I've won before and I want to do it again, for the rest of the guys who haven't."
And yet the fact is he hadn't planned on being in any position to do that.
As Ottawa's first-round pick of two seasons back, Cowen presumed his adios to junior hockey had come a year ago, when the Chiefs stumbled out of the playoffs in the first round. But the Senators returned him to the WHL out of training camp without any particular hesitation, the sort of career hiccup that has sent more than one junior phenom into a funk.
Cowen spent some time there, too.
"But when you look at those type of guys – elite guys – they set their sights high," Chiefs general manager Tim Speltz said. "Jared had a great summer, but there were a lot of things he had no control over. It's entirely possible Ottawa knew from the get-go that they weren't going to be in a position to play young guys.
"He wasn't at his best here at the start, but I think Don (coach Don Nachbaur) was patient with him. I think he helped Jared's adjustment and his game."
But perhaps nothing helped Cowen more than the fact that he wasn't captaining a ghost ship.
These Chiefs, contrary to expectation, were going somewhere. They had pop and drive and good goaltending. They had a coach who wasn't going to accept settling, leaders who picked up the beat, young kids who got better with each shift and only enough ego to hone an edge.
On that subject, if nothing else over the course of Cowen's four years here we have been disabused of any assumptions about his own ego. You'll recall the episode when, desiring to stay near his Saskatchewan home, he asked the Chiefs to not make him the No. 1 pick of the 2006 bantam draft. There was considerable tut-tutting here, but Speltz's salesmanship won the day – and has been repaid many times over.
"In every facet, really," Speltz insisted. "You forget about those guys who are 6-foot-4 and 220 pounds – when they're on the ice, they make it hard on the opposition. Never mind how skilled he is, those guys wear you down – and we're going to miss that when he leaves. We miss it when he's not out there.
"I love how he's been around the team. I love how he competes, how he plays the minutes. And he is absolutely no maintenance."
Some of that is that he expects even more of himself than his critics do. And some of it is perspective won from a Chiefs tenure that has seen it all – the Memorial Cup, a season-ending injury, a playoff flop and now this surprising resurrection.
"A lot of guys," Cowen said, "would be lucky to have had the experience I've had."
One that he's not ready, quite yet, to let go.
Local journalism is essential.
Give directly to The Spokesman-Review's Northwest Passages community forums series -- which helps to offset the costs of several reporter and editor positions at the newspaper -- by using the easy options below. Gifts processed in this system are not tax deductible, but are predominately used to help meet the local financial requirements needed to receive national matching-grant funds.
Subscribe to the sports newsletter
Get the day's top sports headlines and breaking news delivered to your inbox by subscribing here.
---
Subscribe and log in to the Spokesman-Review to read and comment on this story