Sports
WSU recovers from early struggles
Thu., Nov. 17, 2011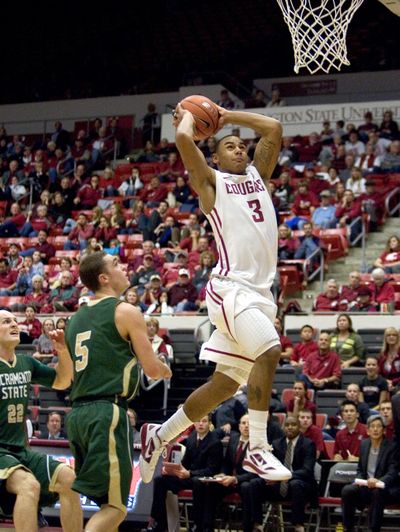 PULLMAN – Ken Bone walked into the interview room Thursday night and accepted the blame. "It was very poor team chemistry tonight," Bone said. "But that's not as much the team's fault as it was mine." Bone was talking about Washington State's glacially slow start in the Cougars' 79-68 nonconference victory over Sacramento State before 4,117 in the home opener at Beasley Coliseum. "We had different agenda tonight – not that it worked – that was more important than, can we execute our offense and look smooth and fluid offensively," Bone continued. "I think it disrupted the way our whole team played." The manifestation of that agenda – Bone said it was about playing hard on every possession – was a different starting lineup from the one that took the court Monday night at Gonzaga. In were freshman DaVonté Lacy, junior Mike Ladd and sophomore walk-on Will DiIrio. Out were seniors Faisal Aden and Charlie Enquist and junior Reggie Moore. The result: A quick seven unanswered points by Sacramento State and a 14-3 lead after 5 minutes, 39 seconds. "The theory was to play the guys we felt would give us the best start," Bone said. "And it didn't work." What did work was the Cougars' defense in the second half and a scoring triumvirate of Brock Motum (a career-high 23 along with eight rebounds), Lacy (15 in his first start) and Aden (18 on 7-of-9 shooting). The trio scored 33 of WSU's final 38 points as WSU evened its record at 1-1 while Sacramento State dropped to 2-1. "That's the beauty of this team," Bone said. "We have more parity. We might not have a lottery pick in our program right now, but we've got a lot of good players. "And if certain guys aren't getting the job done, then there are other guys sitting there, waiting to go." No one was getting it done early. The start was somewhat similar to last year when these teams met, though the roles were reversed. Washington State opened that one on a 27-0 run en route to an 84-36 rout. "The first half, they had the jump on the energy on us," Motum said, mentioning last year's start and theorizing it might have been in the back of some players' minds. Marcus Capers pointed to another game, the loss Monday at Gonzaga, as the culprit. "We weren't anxious to play them, coming off that Gonzaga (loss) again," Capers said. "The intensity level, or the mindset, we had going into the last game and this game was completely different." And though Bone tried to get it started at the half, when WSU trailed 39-36, the game was still touch-and-go with 11 minutes left, tied at 51. D.J. Shelton, who had seven points off the bench, missed a front end but Aden hustled to tap the rebound to Lacy, who scored, was fouled and converted the free throw, something WSU did just 59.4 percent of the time. "A huge hustle play by Faisal off of that miss," Bone said. "From that point on, I'm not sure we were behind." They weren't. "That's what we've been talking about," Bone added. "We need to make those plays." "The whole game, we were low on energy, and plays like that show energy," Lacy said. "And other players feed off it. When we get a play like that, we just can't let it go." They didn't. The Cougars went on an 8-0 run and that separation pretty much remained throughout the last 8 minutes. The WSU lead hit double figures for the first time with 5:37 left, when Aden grabbed a long rebound, sprinted out and threw a no-look bounce pass to Lacy on the left wing. A high-flying, two-hand dunk followed, revving up the crowd and evoking images of some of Caper's dunks in the past. "He actually called me when I committed and said 'I want to take notes from you on how to dunk,'" the brash freshman said, joking at Capers' expense. "You're talking to the teacher here." Capers was the one exhibiting defense, especially in the second half when he took over on John Dickson, Sacramento State's leading scorer with 21 points. Joe Eberhard also had 16 for the Hornets along with 12 rebounds. "We were tougher," Capers said of the second-half defense that limited Sacramento State to 44 percent shooting. "In the first half we backed away from the contact. In the second half, we created a lot of it." Which was his plan with Dickson. "I really tried to not give him any space," Capers said, adding he asked Bone to guard Dickson in the second half. "I was a whole lot more physical with him." It worked. Dickson had 16 points in the first half on 7-of-12 shooting. He had just six after halftime, hitting 2 of 6 shots.
Local journalism is essential.
Give directly to The Spokesman-Review's Northwest Passages community forums series -- which helps to offset the costs of several reporter and editor positions at the newspaper -- by using the easy options below. Gifts processed in this system are not tax deductible, but are predominately used to help meet the local financial requirements needed to receive national matching-grant funds.
Subscribe to the sports newsletter
Get the day's top sports headlines and breaking news delivered to your inbox by subscribing here.
---