Sports
Gonzaga coach takes Halloween to scary limits
Sun., Oct. 30, 2011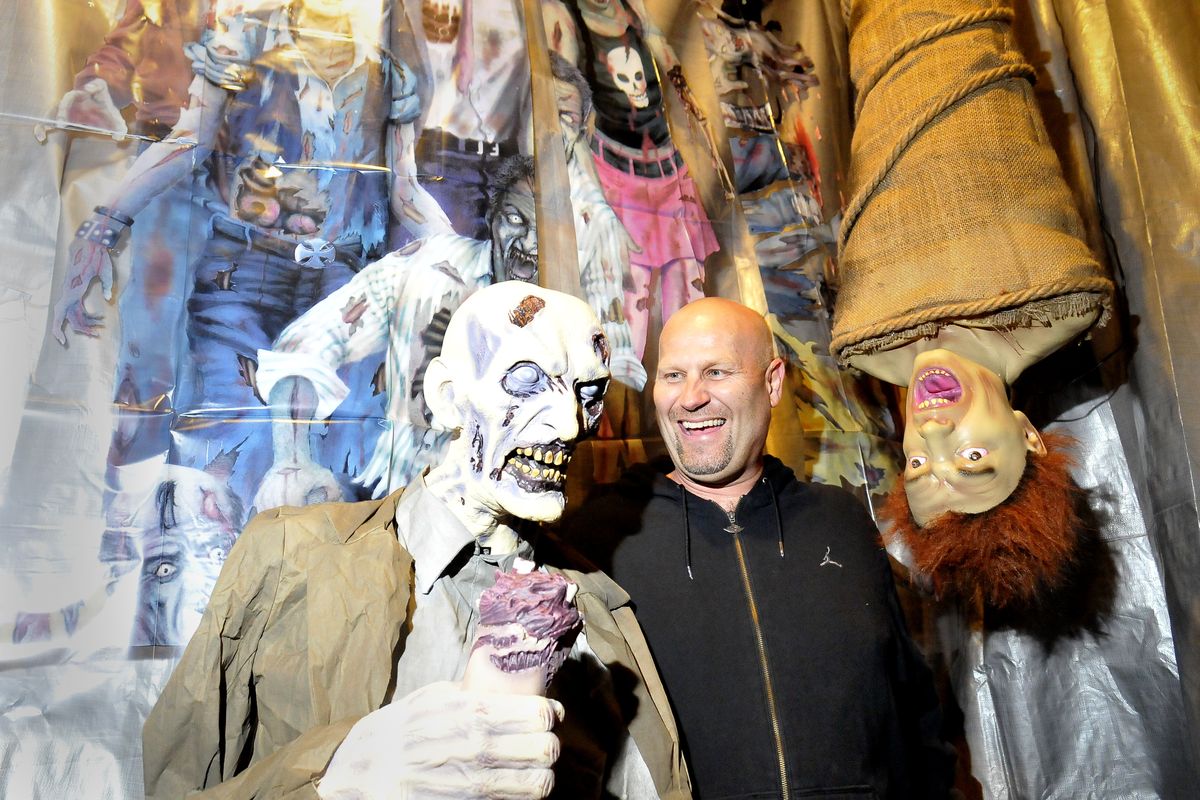 Gonzaga women's basketball coach Kelly Graves has been described as a "big kid" by one of his assistants. (Jesse Tinsley)
On a lawn in north Spokane, an in-the-ghouliday-spirit family has supplemented its bounty of fright night props with a 21st-century favorite – a chalk outline of a dead body, surrounded by yellow crime scene tape.
What, is this Halloween or "Law & Order?"
Ah, but across town, Kelly Graves understands that while there is such a thing as going too far, a bigger Halloween misstep would be to not go far enough.
"Do you think we could tone it down a little this year?" his wife, Mary, has been known to hint.
"Absolutely not," Graves replies.
Here on the cusp of the college basketball season, coaches are urging their players through practices that are teetering on drudgery, sweating out the sprains and bumps lest they become something bigger and warily eyeballing schedules laden with landmines.
Kelly Graves is doing all of that, yes, but he's also carefully stringing a screeching anamatronic zombie to hang upside down from the rafters of his three-car garage, bound in a gunnysack.
He's making sure the corpse in the coffin will bolt upright at just the proper moment.
He's fine-tuning his fogger and rearranging his cauldrons.
And he's admiring his latest treasure – a giant tarantula, set to spring shin-high at unsuspecting visitors.
You've heard of the Wizard of Westwood?
Meet the Sorcerer of the South Hill.
Last March, Graves coached his Gonzaga women's team to the Sweet 16 of the NCAA tournament. On Monday night, he'll be the haunted host for hundreds of visitors to what has to be the most delightful, if not the most frightful, haunted house in college hoops.
"I'm no Scarywood," he insisted. "I'm a suburban wannabe. It's nothing elaborate."
At which point Mary Graves' eyes roll back in her head, not unlike a garage ghoul.
"I only know that when he says, 'I only have a few new things,' it means there's three times as many as he says there is," Mary said. "He gets too excited. He can't not do it."
And eventually, Graves himself has to concede, "Clark Griswold and I would be buddies."
No kidding. It has reached the point that Graves rents a storage unit to house his in the Halloween offseason. Sure, it's also a place to stow the Christmas decorations, and even some of the basketballs and prizes for Gonzaga's summer basketball camp. But first and foremost, it's a closet for all Graves' skeletons – and it's his closet.
"He doesn't know where the checkbook is," Mary said, "and I don't know where the storage unit is."
This year, it took him three trips in his truck to transport it all back to his house.
His anamatronic fraternity must number more than 20 mannequins, plus assorted disembodied heads and beheaded bodies. There is a zombie room and a mad scientist area. Heads swivel 360 degrees, necks telescope creepily. Teeth in skeletons clatter, and any human noise sets off a chorus of moans and wails.
And yet, he noted, "Actors are really the way to go."
Actually, Graves regularly enlists sons Max, Jack and Will to provide the human element to the fright. But, naturally, he's had to contend at various times with them wanting to play hooky to do their own trick-or-treating.
"My boys aren't all that excited about it," he said. "It's pretty much me now."
But even if he wanted to, public demand wouldn't allow him to quit. The Graves driveway might see as many as a hundred people gathered around a bonfire on Halloween night, as neighborhood kids – and vanloads from beyond – drag their parents to the fright. Graves has already laid in his candy – eight giant bags from Costco – but also hands out Gonzaga posters, magnets and schedule cards.
Hey, who says you can't mix a little marketing in with the horror show?
So just how was this Halloween Jones born?
"When I was a kid, Friday nights meant 'Nightmare Theater' on TV – 10:30 after the news," he said. "You look at it now and it's pretty lame, but Dracula, Frankenstein, Wolfman – that was pretty cool."
Mary Graves has another theory.
"He was in the fourth grade when his mom passed away, on Halloween, and I think subconsciously it's one of those things that brings her close to him," she said.
More confounding is how he's able to remove himself from the coach's tunnel vision this time of year. Graves' top two players just missed two weeks of practice, representing the U.S. in the Pan American Games, and he's trying to forge an identity for his team without the special talents of Courtney Vandersloot, who graduated to the WNBA after a sensational career.
Think Geno Auriemma or Vivian Stringer are plugging and patching eight power strips to supply the juice to ghouls and goblins?
"That's just who he is," said one of his assistants, Jodie Kaczor Berry. "He's a big kid – I tell Mary all the time, 'You have four boys.' But there's always time for more than basketball. I think that's what makes him so good with our women – he's their coach and all business on the court, but realizes there's more out there."
And it's another zombie, often as not.
Local journalism is essential.
Give directly to The Spokesman-Review's Northwest Passages community forums series -- which helps to offset the costs of several reporter and editor positions at the newspaper -- by using the easy options below. Gifts processed in this system are not tax deductible, but are predominately used to help meet the local financial requirements needed to receive national matching-grant funds.
Subscribe to the sports newsletter
Get the day's top sports headlines and breaking news delivered to your inbox by subscribing here.
---