Sports
Taylor Martinez, Cornhuskers push aside Huskies
Sun., Sept. 18, 2011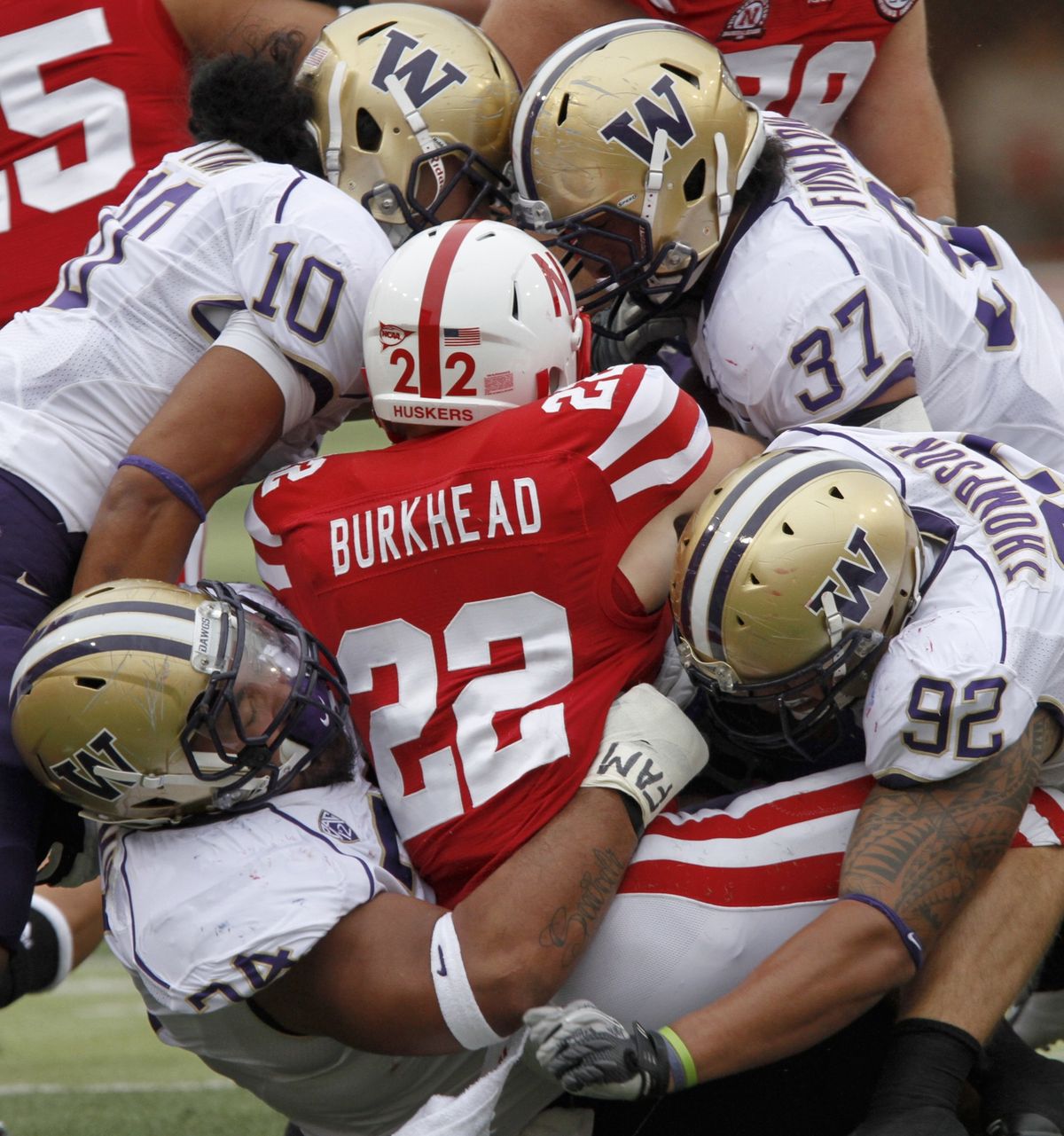 Nebraska's Rex Burkhead evaded most Washington tacklers for 120 yards and two scores Saturday. (Associated Press)
LINCOLN, Neb. – Washington kept coming back against Nebraska, but in the end the Huskies couldn't overcome a flurry of bad breaks in the third quarter of their 51-38 loss to the 11th-ranked Cornhuskers.
"I think we could've easily cashed it in there when the game was out of hand, and I thought our guys competed for four quarters," Washington coach Steve Sarkisian said. "I'm proud of them for that. The reality of it is that we had a complete meltdown in the third quarter, where I think we lost our composure a bit and got rattled."
Nebraska (3-0) won the third meeting of the teams in 364 days. Nebraska won 56-21 in Seattle last September but lost 19-7 in a rematch at the Holiday Bowl.
"It was like a regular game," Huskies receiver Jermaine Kearse said. "They won one, we won one. Unfortunately, we didn't get the last one but we have Pac-12 next week (against California)."
The Huskies (2-1), who had their six-game winning streak ended, could have quit after big mistakes allowed Nebraska to quickly increase its 20-17 halftime lead to 34-17.
The Huskies went three plays and out on their first possession of the second half. They gave Nebraska a short field when Desmond Trufant was penalized 15 yards for interfering with Rex Burkhead as he tried to catch the punt, and they were charged another 5 yards for sideline interference.
Nebraska started at its 44 and ran on seven of eight plays before Burkhead bulled into the end zone from the 1.
The Huskers were set up at the Washington 1 seconds later. Bishop Sankey (Gonzaga Prep) dropped the kickoff, and teammate Kevin Smith couldn't come up with the ball as a horde of Huskers converged. Mathew May recovered, and Burkhead punched it in for his second touchdown in 9 seconds.
"We shot ourselves in the foot," Kearse said. "We knew whoever won the turnover battle was going to win the game, and obviously, we didn't win that battle. The kickoff return kind of hurt us. We all make mistakes. We just try to do our best to come back and bounce back."
Nebraska was up 44-17 after Aaron Green's 6-yard TD run with 12:18 left, but within 5 minutes it was a 13-point game. Chris Polk scored on a 2-yard run, and Keith Price hit James Johnson for a 10-yard TD.
Huskers quarterback Taylor Martinez, who threw for two touchdowns, scored on a 6-yard run with 4:42 left. But Price passed 52 yards to Johnson for his fourth TD toss to make it a 13-point game 15 seconds later.
Polk ran 22 times for 130 yards, and Burkhead had 22 carries for 120.
Price was 21 of 37 for 274 yards. He was intercepted twice, with his last one allowing Nebraska to go into victory formation with just over a minute to play.
Martinez completed 10 of 21 passes for 155 yards, and he ran for 83 yards on 17 carries.
Washington copied from Fresno State's game plan a week ago against Nebraska and had Price roll the pocket to the outside. He and Kearse teamed up for two first-half touchdown passes, a 38-yarder on the Huskies' opening series and a 6-yarder after Ameer Abdullah muffed a punt.
Typically, Nebraska coach Bo Pelini would have been angry about his team's defensive performance. Washington had 420 yards in total offense, and the teams combined for 884.
None of that mattered this time. To Pelini, this game was about revenge.
"I would hope our football team took personal what happened out in San Diego, losing that football game," Pelini said. "End of the day, we all wanted a win. I don't care what the score is."
Local journalism is essential.
Give directly to The Spokesman-Review's Northwest Passages community forums series -- which helps to offset the costs of several reporter and editor positions at the newspaper -- by using the easy options below. Gifts processed in this system are not tax deductible, but are predominately used to help meet the local financial requirements needed to receive national matching-grant funds.
Subscribe to the sports newsletter
Get the day's top sports headlines and breaking news delivered to your inbox by subscribing here.
---