News > Washington Voices
High school teams prepare for robotics competiton
Thu., April 5, 2012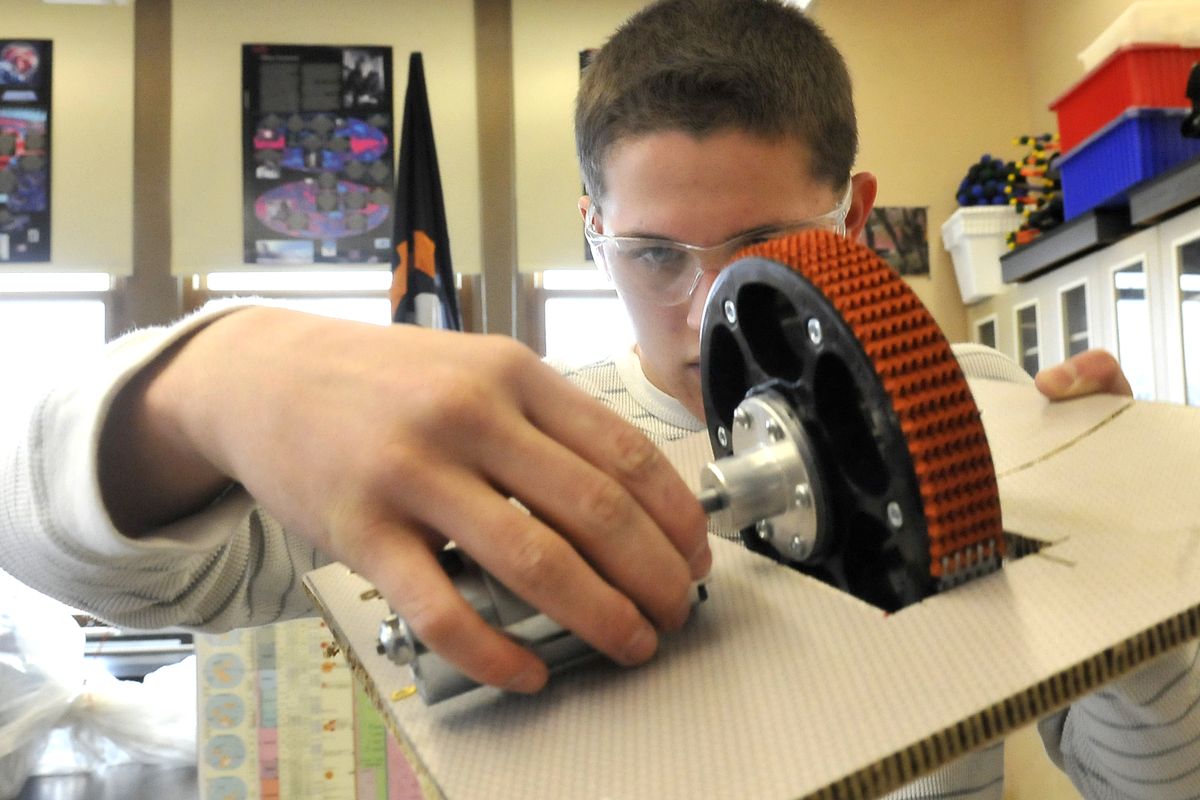 Sam Hatfield, a junior at Lewis and Clark High School, mounts a motor on a board Monday, April 2, 2012, in an LC classroom. The motor is part of a test platform that will replicate the robotics team's robot, which will perform Saturday at a regional event at Eastern Washington University. (Jesse Tinsley / The Spokesman-Review)
It's been described as part science fiction convention, part rock concert.
Starting today at Eastern Washington University, teams from high schools in Washington, Idaho, Montana and California will converge in the 2012 Spokane Regional FIRST Robotics three-day competition.
In FIRST (For Inspiration and Recognition of Science and Technology) Robotics, teams are sent bins of parts, a theme and a list of tasks the robots must be able to complete. Beyond that, the teams are on their own.
"There are no blueprints whatsoever," said Eric Groshoff, West Valley High School's team adviser.
For this year's theme, "Rebound Rumble," the robots must shoot basketballs into hoops, or work as defenders, knocking robots out of the way while they are shooting. Or be able to balance themselves on bridges.
"It's devilishly clever," said Nate Edmons, science teacher and team adviser at Lewis and Clark High School. "It's insanely complicated, but deliberately so."
Each team has six weeks to build its robot. When done, the team must place it in a bag and seal it before the competition. The team can't make modifications once the robot is in the bag.
The competition involves problem solving and team building.
Once teams pull their robots out at competition, they get a chance to do practice rounds. If something isn't working, members can take robots to the pits. There is also a machine shop at the competition to help with repairs.
"It's problem-solving to the max," Groshoff said.
The team building comes in not just within each team, but with the others as well. The top eight teams must align themselves with other teams during the final rounds. They can choose teams with different specialties to help get the most points.
Groshoff's team of about 30 students has been around for about six years. They competed in Seattle a couple of weeks ago, which should help them this weekend, since they know how their robot is working.
He said not only must students come up with a great design, but they must have great hand-eye coordination to control the robots. To help with that, teams that have been around for a while can build replica robots to practice with before the competition. Each year, they get new bins of parts and can also pick parts from previous robots.
He said each team can only spend $3,500 on their robots. Teams rely on partnerships with local businesses – usually engineering or manufacturing firms – to raise enough funds to compete.
At Lewis and Clark, team members were taking advantage of spring break to prepare for the competition.
Their robot, Sherman, is wrapped in its bag, waiting competition. The students describe it with pride.
"It just kind of happened," said Sam Hatfield, a junior. "It wasn't a planned design."
Sherman includes a small cannon that will shoot basketballs. To practice for the competition, the students are building a replica of its cannon.
Both Edmons and Groshoff agree the event is a lot of fun for students, but the main reason is to give students hands-on experience in engineering.
Edmons said robotics teaches students the creative side of engineering and shows them how it can be useful to the community at large.
"That's why I do it," Groshoff said about FIRST robotics. Many of his students go on to study engineering in college and there are thousands of dollars in scholarships available for students who compete.
FIRST Robotics was founded in 1989 by Dean Kamen, the man behind the Segway, to inspire students in science, technology, engineering and mathematics (STEM). A study from Brandeis University found that FIRST students, when compared to those who didn't participate in the program, were more than three times as likely to major in engineering in college, were more likely to expect a post-graduate degree and were four times as likely to pursue a career in engineering.
Watch Lisa Leinberger talk about this robotics story at about 3:30 into this KHQ News Break:
"We are really excited to be hosting this at Eastern," said Mike Westfall, EWU's vice president of advancement. This will be the first time the competition has been brought to the East Side of the state. There are 55 regional competitions and winners will advance to the international competition in St. Louis later this month.
"The community is really embracing this," he said.
More than 100 volunteers will be at the event to judge, mentor and provide assistance to the competitors.
"It's the best thing I've ever seen to get kids excited for STEM," he said. "You have to come to feel it."
That excitement for STEM has been working at LC. Hatfield said he hopes to teach either chemistry or physics. David Grunzwei, 20, was involved in LC's robotics team and comes back to mentor the students. He is studying electrical engineering at Gonzaga University.
At LC, the team said they have high hopes for Sherman. Last year's robot didn't work out so well. .
"This robot is much, much better than last year's," Hatfield said.
Local journalism is essential.
Give directly to The Spokesman-Review's Northwest Passages community forums series -- which helps to offset the costs of several reporter and editor positions at the newspaper -- by using the easy options below. Gifts processed in this system are not tax deductible, but are predominately used to help meet the local financial requirements needed to receive national matching-grant funds.
Subscribe now to get breaking news alerts in your email inbox
Get breaking news delivered to your inbox as it happens.
---