Sports
Boedker nets another in OT for Coyotes
Fri., April 20, 2012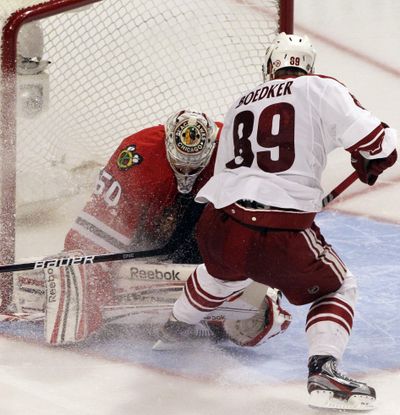 NHL: Mikkel Boedker scored in overtime for the second straight game and the Phoenix Coyotes beat the host Chicago Blackhawks 3-2 to take a 3-1 lead in the first-round series.
Boedker skated ahead of defenseman Nick Leddy and shoveled the puck under goalie Corey Crawford at 2:15 in the fourth straight game that has gone to an extra period.
Shane Doan and Taylor Pyatt scored 44 seconds apart to give the Coyotes a 2-0 lead in the third. But Brendan Morrison scored less than 3 minutes later to make it 2-1 and Michael Frolik tied it at 18:34.
• Elliott leads Blues past Sharks in Game 4: Brian Elliott made 24 saves, B.J. Crombeen and Andy McDonald scored and the St. Louis Blues moved one win away from the second round of the playoffs, beating the San Jose Sharks 2-1 in San Jose, Calif., to take a 3-1 series lead.
Joe Thornton broke the shutout with 1:07 remaining, but the Sharks couldn't get the equalizer.
• Devils even series with Panthers: Martin Brodeur posted his record-setting 24th Stanley Cup playoff shutout, leading the New Jersey Devils to a 4-0 victory over the Florida Panthers at Newark, N.J., tying their first-round series at 2-all.
Brodeur made 26 saves in taking over sole possession of the postseason shutout mark from Patrick Roy.
• Holtby energizes Capitals: Playoff rookie Braden Holtby followed up a shaky outing with a superb one by making 44 saves, and Alexander Semin scored the go-ahead goal, leading the Washington Capitals to a 2-1 home victory over the reigning Stanley Cup champion Boston Bruins that tied the first-round series at 2-all.
• Blackhawks coach draws fine: The NHL fined Chicago coach Joel Quenneville $10,000 for criticizing officials following the Blackhawks' overtime loss to the Phoenix Coyotes on Tuesday night.
Heat handle Bulls, tighten East race
NBA: LeBron James had 27 points and 11 rebounds, Dwyane Wade scored 18 points and the Miami Heat tightened up the Eastern Conference playoff race by beating the visiting Chicago Bulls 83-72.
Mario Chalmers scored 16 points and Udonis Haslem grabbed 10 rebounds for Miami, which held the Bulls to a season-low point total and moved within 11/2 games of Chicago in the East race.
• Pacers clinch home court for first round: Danny Granger scored 29 points to help the Indiana Pacers beat the Milwaukee Bucks 118-109 at Indianapolis and clinch homecourt advantage in the first round of the playoffs.
George Hill had 22 points and eight assists and David West added 21 points, 14 rebounds and seven assists for the Pacers, who won their seventh straight and 11th of 12.
• Hornets hurt Houston: Eric Gordon scored 27 points, Carl Landry had 20 points and 10 rebounds, and the host New Orleans Hornets dealt a blow to Houston's playoff hopes with a 105-99 overtime victory, the Rockets' sixth straight loss.
Houston (32-31) dropped one game behind Utah (33-30) for the final playoff spot in the Western Conference with three games left.
• Back surgery will end Howard's season: Dwight Howard tells ESPN.com he will have season-ending back surgery.
Orlando's All-Star center will undergo surgery this morning in Los Angeles to repair a herniated disk. The operation will end his season and keep him from playing in the Olympics in London.
Howard tells ESPN: "I tried to play through it and it just made my back worse."
• Blazers deny Kupchak report: Portland Trail Blazers President Larry Miller said the team has not reached out to the Los Angeles Lakers for permission to talk to general manager Mitch Kupchak.
Miller would not comment specifically on an ESPN report that the Blazers are interested in interviewing Kupchak about the general manager's job in Portland.
Big East-bound SMU hires Brown
Men's basketball: Larry Brown is returning to college to get back into coaching.
The 71-year-old Hall of Fame coach was hired at SMU. It is his first college job in nearly a quarter century, and comes with a struggling program that is headed to the Big East after next season.
Brown, the only coach to win both an NBA championship and NCAA title, hasn't coached since leaving the Charlotte Bobcats in December 2010 after the NBA's team's 9-19 start.
PSU paid $5.5 million to Paterno estate
College football: Penn State says it provided Joe Paterno's estate with more than $5.5 million in payments and benefits to settle his employment contract.
School spokesman Bill Mahon said the university and Paterno's estate finalized the remaining payments that were due to the longtime coach, who was fired in November in the wake of former assistant Jerry Sandusky's arrest on child sexual abuse charges.
Paterno died of lung cancer in January at age 85.
• Petrino detailed affair: Former Arkansas coach Bobby Petrino told his boss that his affair with a woman he later hired as an assistant began with a kiss last fall and ended sometime in February when the two decided to simply be friends, according to released documents.
• Ducks' Kelly doubts report: Oregon Ducks coach Chip Kelly said he believes a media report estimating that between 40 percent and 60 percent of his players use marijuana is inaccurate.
Kelly addressed the story in ESPN The Magazine following practice. Kelly said he doubts the Ducks would be as successful as they have been over the past few years if that many players were smoking marijuana.
• SMSU players won't be charged: Ten football players at Southeast Missouri State University may face discipline from the university for allegedly hazing teammates, but they will not face criminal charges, the university said.
Emery breaks record at Texas Open
Golf: Matt Every shot a course-record 9-under-par 63 to take a three-stroke lead over Hunter Haas after the first round of the Texas Open at San Antonio.
Ben Curtis opened with a 67, and Fredrik Jacobson, Cameron Beckman, Jason Gore, Troy Matteson and Derek Lamely shot 68.
Former Pullman resident Kirk Triplett shot an opening– round 10-over-par 82.
• Munoz, Miyazato share LPGA lead: Spain's Azahara Munoz shot an 8-under 64 to share the second-round lead with Japan's Ai Miyazato in LPGA LOTTE Championship in Kapolei, Hawaii.
Miyazato had a bogey-free 65 to match Munoz at 8-under 136, two shots clear of Jimin Kang and Christie Kerr.
Wendy Ward (Edwall, Wash.) shot a 71 for a two-day total of 148, missing the cut by one stroke.
Indy plans to keep 33-car starting grid
Auto racing: Thirty-four cars are officially on this year's Indianapolis 500 list, and race officials hope they will have a full field for the May 27 race.
Four cars currently do not have a driver. Speedway CEO Jeff Belskus says he's confident they will be able to fill the grid.
Local journalism is essential.
Give directly to The Spokesman-Review's Northwest Passages community forums series -- which helps to offset the costs of several reporter and editor positions at the newspaper -- by using the easy options below. Gifts processed in this system are not tax deductible, but are predominately used to help meet the local financial requirements needed to receive national matching-grant funds.
Subscribe to the sports newsletter
Get the day's top sports headlines and breaking news delivered to your inbox by subscribing here.
---
Subscribe and log in to the Spokesman-Review to read and comment on this story