News > Spokane
Leaders calling Riverpoint Campus this generation's Expo '74
Second-year medical education and new research efforts contribute to development
Sun., April 22, 2012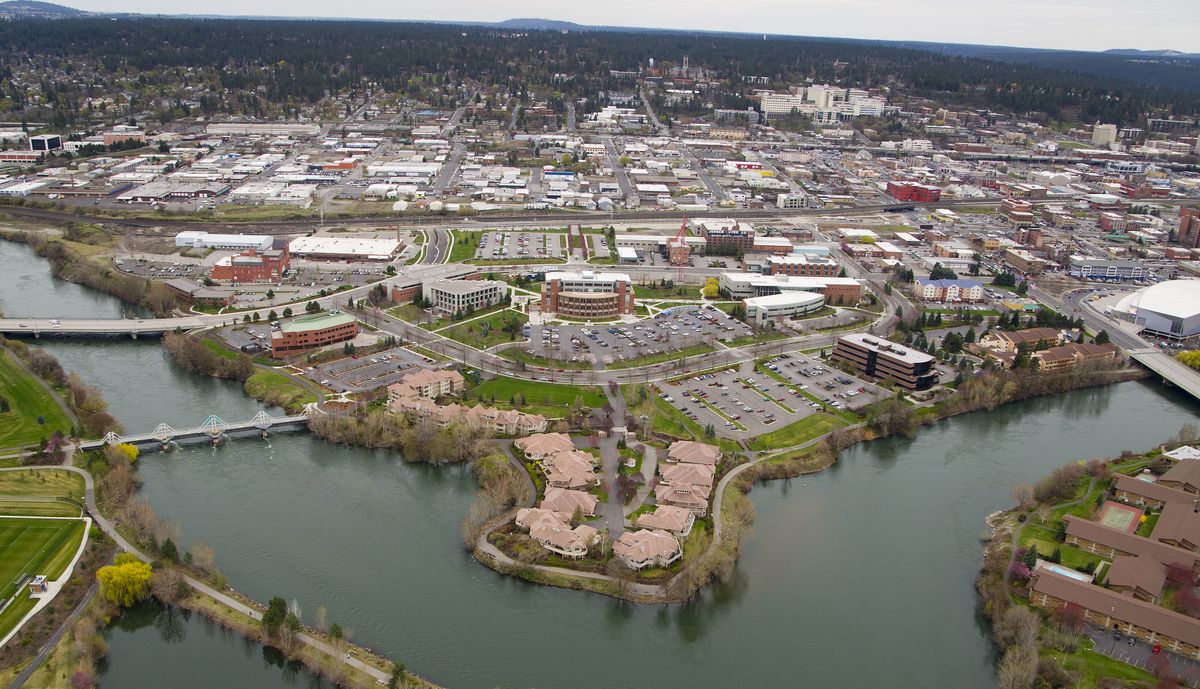 The Riverpoint campus on the east end of downtown Spokane continues to grow. It will be a union of public and private research and enterprise. (Colin Mulvany)Buy a print of this photo
The emergence of a medical education campus in downtown Spokane promises to define the city for decades to come. Community leaders say the project rivals Expo '74 in scope and audacity.
The price tag will rush past $1 billion, community leaders say, and build upon the rehabilitation of the city's downtown and its growing medical sector, which already accounts for 20 percent of Spokane's economy.
"For my generation of business and community leaders, this is our chance," said Scott Morris, chairman and chief executive of Avista Corp. "You don't get many opportunities as a community to be in on such a project.
"From that sense, we recognize that this is really special."
The creation of the Academic Health Science Center at the Riverpoint Campus is reaching a crescendo. Already $250 million worth of buildings, roads and infrastructure have transformed what had been an old rail yard on the eastern outskirts of downtown.
Now a giant crane looms over the beginnings of another new structure – the $78.6 million Biomedical and Health Sciences Building that will house the College of Pharmacy, classrooms for what could someday be hundreds of medical school students, and scientific research of national repute and commercial promise.
When the campus is finished and fully staffed in the next 15 to 20 years, it is envisioned as a multidisciplinary destination for 6,000 students pursuing various degrees in health care and science. It's also looked to as an economic powerhouse, a union of public and private research and enterprise creating 9,000 local jobs and injecting $2.1 billion into the regional economy every year.
There are scattered criticisms as tens of millions of taxpayer dollars are spent on buildings during a recession-fueled state budget crisis.
Others dislike pieces of the project, such as the decision to tear down the historic Jensen-Byrd building for new campus housing.
Some worry privately that the plans are too aggressive – that Spokane is not yet ready to teach, pay and support hundreds of medical school students.
Yet those costs, disappointments and concerns have not developed into broad opposition to the project. And there's little sign that they will.
Instead, people from across the business and political spectrum have coalesced around the education and research endeavor that is, at last, planting a public research university in the heart of Spokane.
Second-year instruction a key development
Coursework for health care careers has been taught in Spokane for many years. That focus has sharpened as Riverpoint grows.
WSU has consolidated several nursing programs and now enrolls more than 1,000 from its brick-and-glass Nursing Building, which opened in 2008 along Spokane Falls Boulevard.
Also, WSU is moving its School of Pharmacy to Spokane, which will educate hundreds as well as serve as a research nexus.
And this spring, the University of Washington School of Medicine agreed to allow more of its students to pursue studies in Spokane in a major development that was considered crucial to the vision for Riverpoint.
UW developed what it calls the WWAMI program 40 years ago to provide doctor training for five Western states, hence the acronym for Washington, Wyoming, Alaska, Montana and Idaho.
The program enrolls first-year medical school students who take science classes at campuses across the five-state area. The goal has been to spur student interest in one day working in a small town or rural areas where doctors are needed, said Dr. Paul Ramsey, dean of the UW School of Medicine.
Traditionally, however, all WWAMI medical students have had to migrate to Seattle for their second year. It is a crucial year of study and impression, and it's after the second year that students take the first of three national tests to score their knowledge and put them on pace for the rest of their education.
Beginning next year, that second-year instruction will be available in Spokane.
UW has established a pilot program that will bring 20 second-year students to Spokane each year for two years. Those numbers are in addition to the 20 first-year medical students who are enrolled in Spokane each year.
Though small, the change is a significant departure from years of UW practice and philosophy. Brian Pitcher, chancellor of WSU Spokane's Riverpoint campus, said the pilot project reflects a deeper academic partnership and will showcase a different approach to medical education.
Pitcher calls it transdisciplinary, as it draws on collaborating with the other health care fields taught on the WSU campus.
Since medical school students in Spokane will most likely be on track to become family practitioners or internal medicine physicians, the approach is considered a fit for training doctors for practice in the rural areas encompassed by the WWAMI program.
Pitcher is confident students will respond.
"We anticipate demand to come to Spokane," he said.
During the third and fourth years of medical school, students continue their studies in what are called clerkships, where they begin diagnosing and treating patients in clinics and hospitals under the tutelage of practicing physicians.
Rich Hadley, the chief executive of Great Spokane Incorporated and among the leaders in the Riverpoint initiative, sees the project as positioning Spokane and the region for the future.
"Our nation and the world are changing, and one day we're going to be in huge competition with other parts of the world for health care providers," he said. "We need to ask ourselves: How might we best prepare for that?"
Washington already brings 80 percent of its doctors from other states, and rural communities struggle to attract physicians willing to make a career out of small-town medicine.
It's among the reasons for the big medical school push. Hadley has declared that Spokane one day soon will have 480 medical school students in Spokane – about 120 in each year of the four-year program.
There's also an effort to expand the region's residency program, which trains medical school graduates for about three to seven years in what is perhaps best described as a physician apprenticeship program. The local residency program is run by sponsoring institution Providence Sacred Heart Medical Center, and Deaconess and Valley hospitals participate as supporting institutions.
Studies show residency is the crucial link in turning student doctors into practicing physicians.
But residency is expensive. Each slot costs between $150,000 and $200,000. And while the federal government subsidizes a large share of the cost, hospitals must pay, too.
"That's where the big questions are," said Dr. Judy Benson, program director of Internal Medicine Residency Spokane. "I'm sure it can be done. Right now there are lots of people searching for the answers."
Much more to be done
Spokane has seen its share of business-led projects fizzle.
What will separate the Riverpoint project from those other community efforts is the broad support and partnerships with UW and WSU, supporters say.
"You collect the value these organizations contributed during their time, and use it today to keep moving forward," Hadley said. "Everywhere we go it's not 'How will you do it?' The question people ask us is 'How can we help?' "
The project requires significant financial support from the Spokane community, which has been asked to raise $2.4 million to fund the operating expenses of the program for the two test years.
Marty Dickinson, of Sterling Bank, and Tom Quigley, president of Kiemle Hagood, have spearheaded the fundraising effort. They have secured about a third of the money – $850,000 – from the Empire Health Foundation, the new charitable giving organization created to capture the sales proceeds when nonprofit Deaconess and Valley hospitals were sold in 2008. The foundation has a $50 million investment fund, with the broad goal of improving the health of people across Eastern Washington.
Foundation president Antony Chiang said the sizable investment in medical education meets the foundation's goals of finding opportunities to fund large initiatives that will make long-lasting changes.
It does, however, carry a social cost: The foundation has been awarding smaller grants to scores of local nonprofit groups to help them weather the recession and subsequent slowdown in charitable giving. Such grants will slow or cease, Chiang said.
About a dozen companies have contributed money, including Providence Health Care and Avista. Cowles Co., which owns The Spokesman-Review, has pledged $200,000 and separately helped pay for an outside feasibility and funding study.
Among the biggest hurdles is locking in long-term funding to complement higher education dollars. The state's two leading universities have been undergoing seismic shifts in funding and tuition as the state continues to wrestle with budget shortfalls.
And it is difficult to ask much more from students. Last year's UW medical school graduates, on average, owed north of $130,000 in student debt.
Avista's Morris agrees more work is left to be done, even as the community gives itself a collective pat on the back for landing the medical school pilot program; lining up enough funding for two years; collecting $78 million over the past year from the Legislature for the science building; and recruiting top-flight researchers.
"It's important as a community that we don't take a breath and wash our hands and say, 'Boy, we got this medical school built and now we're done,' " he said. "Well, no. We're about half done, frankly."
Research important to campus' success
WSU President Elson Floyd is credited with embracing the project when he was hired in 2007 and giving it a purposeful push.
During a private dinner with Spokane business leaders after his arrival in Pullman, he advocated making the Spokane campus the center of WSU's medical education.
"If there is nothing else I accomplish at WSU, we will have a medical school" in Spokane, Floyd said during a presentation in Spokane last year. "We will do it because it is the right thing to do."
Less frequently talked about than the medical school, and yet just as important to Spokane and the campus's future, is research.
Floyd hired Gary Pollack away from the University of North Carolina last year to lead WSU's College of Pharmacy. Pollack is tasked with overseeing the consolidation of pharmacy to Spokane and supercharging the research enterprise.
The prospects are tantalizing.
Pollack is leveraging state, local and private funds to recruit scientific researchers who may be on the cusp of commercializing their work. Last month, under Pollack's direction, WSU received a $1.2 million grant of local tax dollars to help recruit two researchers with peer-reviewed, federally funded programs. Some of the money will be used to purchase new equipment.
Pollack predicts that the investments will aid in the creation of a $15 million research arm with 135 pharmaceutical scientists who will make lasting contributions to the campus and Spokane's economy.
Plans to create research clusters that spawn spinoff companies and wealth are not new. What Pollack believes sets WSU Spokane apart is the ability to offer researchers the rare opportunity to be a part of something new.
Research success stories really do happen, Pollack said. He was involved in many such efforts during his time at North Carolina, part of the nationally renowned Research Triangle.
Spokane has some examples, too. One of them is Signature Genomics Laboratories.
Less than a decade ago a pair of scientists from Baylor College of Medicine wanted to bring their novel research to Spokane.
Lisa Shaffer and Dr. Bassem Bejjani were developing a specialized form of DNA testing that allows a quick and accurate diagnosis of genetic mutations or hereditary diseases.
Their research held medical promise and big business potential. When they turned to Providence for support, their ideas netted a quick, initial investment. WSU provided research support, said Mike Wilson, Providence CEO.
Shaffer and Bejjani soon formed their company, collected major venture capital funding, and were running a successful company with 120 well-paid employees.
In 2010, national medical test company Perkin Elmer paid $90 million to buy Signature Genomics, according to reports filed with federal financial regulators. It's the sort of research commercialization success story that Pollack hopes to replicate as he recruits scientists to WSU Spokane.
"If we can recruit such research to Spokane, it really primes the pump for economic activity," Pollack said.
Right now, Spokane can look to the construction at Riverpoint and see that possibilities are on the verge of becoming realities.
"We're going to do this," Morris said. "It's becoming more evident every day."
Local journalism is essential.
Give directly to The Spokesman-Review's Northwest Passages community forums series -- which helps to offset the costs of several reporter and editor positions at the newspaper -- by using the easy options below. Gifts processed in this system are not tax deductible, but are predominately used to help meet the local financial requirements needed to receive national matching-grant funds.
Subscribe now to get breaking news alerts in your email inbox
Get breaking news delivered to your inbox as it happens.
---