News > Spokane
Family: Ex-Shock player needs mental illness check
Fri., Aug. 10, 2012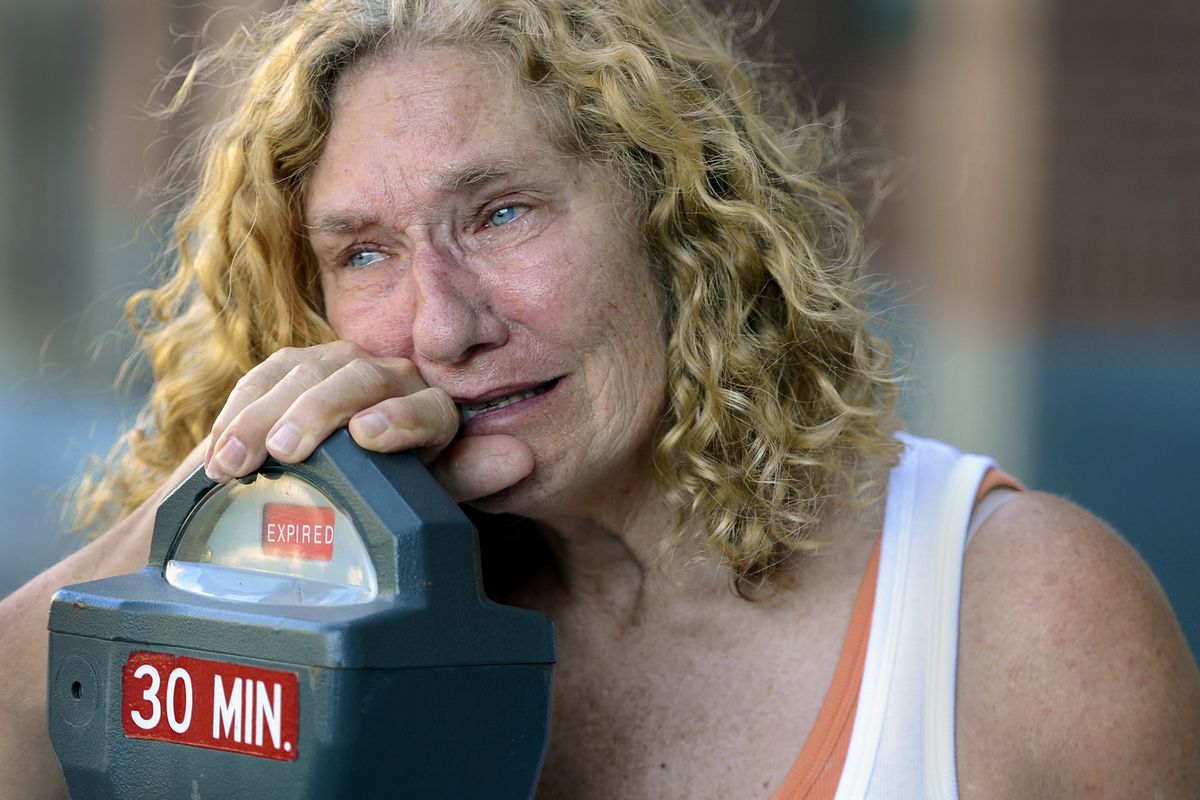 Judy Reisner wants her son, Kevin Ellison, to get mental health treatment, but he sits in the Spokane County Jail. The former Spokane Shock player has been in the jail's solitary confinement since he was arrested for arson in June. (Dan Pelle)
A former pro football player arrested for arson in June remains in solitary confinement at the Spokane County Jail, and his mother says his mental health issues will worsen without treatment.
Kevin Marcus Ellison, 25, who was a starting linebacker and defensive back for the Spokane Shock arena football team, has twice been denied release from jail for mental health treatment. His lawyer appealed U.S. Magistrate Cynthia Imbrogno's last decision, but U.S. District Court Judge Lonny Suko rejected the appeal Aug. 1, citing in part an altercation Ellison had with jailers last month.
Ellison's mother, Judy Reisner, traveled from Los Angeles to Spokane to visit Ellison in jail on Wednesday. He's not doing well, she said.
"The longer they have him in a cell locked up, the worse he gets," Reisner told The Spokesman-Review. "He knows something is wrong in his mind. He feels it when it happens. He just wants help. Who's going to get him help?"
Assistant U.S. Attorney Joe Harrington said Ellison is a danger to the community.
Ellison is scheduled for trial Nov. 5 for a federal arson charge that carries a minimum sentence of five years in prison.
Ellison has no criminal history but was arrested in San Diego in May 2010 after police reportedly found 100 Vicodin tablets in his car without a prescription. The charges were dropped.
He was a celebrated football player at the University of Southern California, where he earned a bachelor's degree and was a team captain.
He played for the San Diego Chargers and spent time with the Seattle Seahawks in 2010 before joining the Spokane Shock arena football team. The Shock had rented units at the Big Trout Lodge Apartments in Liberty Lake for Ellison and other players.
Watch reporter Meghann Cuniff discuss this case on KHQ.com
Ellison jumped from his burning third-floor apartment June 14 and told police God told him to start the fire. He told Shock general manager Ryan Rigmaiden that he started the fire with a marijuana blunt and that he was Jesus Christ, according to investigators. The blaze displaced residents and caused about $50,000 in damage.
The Shock dismissed Ellison from the team shortly after his arrest.
Rocky Seto, defensive passing game coordinator for the Seattle Seahawks, coached Ellison at USC. He described him Thursday as an outstanding young man and team role model.
"This is absolutely shocking to me," Seto told The Spokesman-Review. "I never would have thought he'd be in this situation."
Seto said he and Seahawks Coach Pete Carroll, who also coached Ellison at USC, have offered their support to Ellison and his family.
"Something's going on, and he needs to get some help," Seto said.
Reisner said she's desperate for her son to get help. But she's frustrated that the federal court system won't allow it.
"He knows he has mental illness. He can feel the episodes coming on," Reisner said. But, "he's just a number in the jail, and he understands that."
Ellison is Reisner's youngest child. He has a sister with a master's degree in marketing, a brother who played football for the Buffalo Bills and a brother who is a lawyer. All take turns visiting Ellison in jail, where Reisner said he's allowed only an hour of visitation each week.
Ellison has visited with the jail's mental health professional, but until he's evaluated there's not much treatment he can get.
Spokane lawyer David Miller said it's been more difficult than usual lately to get anyone released from jail who's awaiting federal charges because of public outcry surrounding the release of Charles Wallace, who shot two Spokane County sheriff's deputies June 19 after escaping from drug rehab. Imbrogno had allowed Wallace to leave jail to attend rehab while awaiting his heroin-trafficking trial.
"Right now, I don't even think I could get Mother Teresa out to go to rehab," Miller said.
The U.S. Attorney's Office told the federal public defender's office just after the shooting that they would seek full penalties for any defendant seeking pretrial release for drug rehab, but U.S. Attorney Mike Ormsby later said that was only a consideration.
Prosecutors are aware of Ellison's possible mental health problems. Assistant U.S. Attorney Aine Ahmed said Ellison "may have some mental issues" when arguing against his release from jail in June. His public defender, Kim Deater, had asked Imbrogno to allow Ellison to be allowed to leave jail and live with his mother and brother in Los Angeles and seek mental health treatment there.
Staff at the hospital where Ellison was treated for smoke inhalation and minor burns also suspected something was wrong. They contacted a Spokane County Mental Health professional who met with Ellison and said "she believed he qualified for detainment within a psychiatric facility," according to court documents prepared by Deater. "However, Mr. Ellison was shortly thereafter arrested and taken into federal custody."
Deater tried again in July to win Ellison's release – this time asking for him to be moved to a psychiatric facility.
Kristina Ray, the jail's mental health supervisor, testified at the July 20 hearing that Ellison suffered from hallucinations, delusional thinking and disorientation. She said the jail had access to a physician and psychiatrist "but did not have adequate treatment facilities" for a person with Ellison's problems. Ahmed told Imbrogno he didn't object to Ellison undergoing a mental health evaluation, but he was concerned about Ellison's safe return to custody afterward.
Affirming Imbrogno's decision, Suko cited a July 10 incident in which Ellison attempted to head-butt deputies who were trying to get him out of his cell.
But Suko also noted that Ellison was responsive in court and cooperative. He also noted his lack of criminal history and his accomplishments in education and sports but said he's currently unemployed with "no readily accessible support system in Spokane."
Local journalism is essential.
Give directly to The Spokesman-Review's Northwest Passages community forums series -- which helps to offset the costs of several reporter and editor positions at the newspaper -- by using the easy options below. Gifts processed in this system are not tax deductible, but are predominately used to help meet the local financial requirements needed to receive national matching-grant funds.
Subscribe now to get breaking news alerts in your email inbox
Get breaking news delivered to your inbox as it happens.
---