Sports
Cougars' coach jokes, but focus fully on BYU game
Sun., Aug. 26, 2012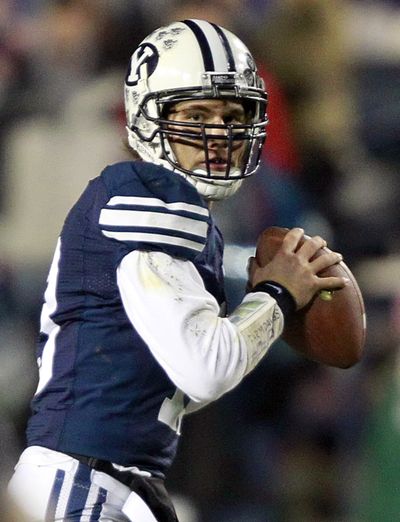 PULLMAN – Another four days remain until Washington State debuts its 2012 football season with an Aug. 30 game at Brigham Young.
But coach Mike Leach is already sick of studying his alma mater's team.
No, Leach said he'd rather sit down and discuss surfing technique with BYU head coach Bronco Mendenhall, whom Leach reputes as a skilled rider of the waves.
"I've seen all his football stuff. We've watched 13 games worth to the point where we're really not interested in seeing blue Cougars, we're only interested in seeing red Cougars," Leach said during a press conference on Saturday. "I'd be more interested in talking to him about surfing than football at this point."
And while it's true that Leach's offense is based off the principles of former BYU coach LaVell Edwards' highly-successful teams of the past, the Cougars and the Cougars have very little in common as they enter their 2012 opener.
BYU returns 14 starters – seven on offense, seven on defense – including senior quarterback Riley Nelson. Those Cougars are looking to build off a 10-3 record from 2011, and Mendenhall told the Salt Lake Tribune last week that he thinks this year's squad might be the deepest and most talented he's had in eight years as head coach.
WSU, meanwhile, returns its starting quarterback, its best player, receiver Marquess Wilson, and its entire secondary.
But there is minimal starting experience at linebacker. There is even less at defensive line. And the offensive line is currently a hodge-podge of key returners and guys who are contributing regularly for the first time, a group that has progressed well in camp but could take time to gel in a game setting.
Oh, and there's the matter of playing their first game under their new coach.
"They've got a bunch of seniors out there, a bunch of guys who have played a lot of snaps around there," WSU inside receivers coach Eric Morris said. "So you know that's going to be tough for us, going into their place and playing a team that's an older group and we're installing a new offense and a new defense."
Responding when faced with adversity, Morris said, will be a point of emphasis this week. But part of the beauty of Leach's offense is that nobody has ever really stopped it. BYU won't be able to key on certain receivers, because the Air Raid is predicated on balance.
"We do a pretty good job of spreading the ball around and getting it to a number of guys," Morris said. "Our big thing is ball distribution, so we'll try to spread the wealth.
"When you're having success, people throw a bunch of different defenses at you. We have to make the right calls when they throw stuff at us we haven't seen on film."
Leach said BYU's defensive backs tend to keep plays in front of them and force opponents to play mistake-free to move the ball against them.
"They kind of play off, they want to make you execute as many plays as possible to score," said Leach, who has been highly complimentary of BYU whenever asked. "But then they're good on offense, too. They've got a quarterback that runs around a little bit, that type of thing."
Nelson took over as BYU's starting quarterback late last season, winning the job from Jake Heaps, though the two played a similar number of snaps. The blue Cougars ran the ball slightly more than they passed it last season, and while Nelson isn't known for having a rocket arm, he did finish 2011 with 1,719 passing yards and 19 touchdowns.
And he showed his mobility by taking 88 carries for 392 yards, though that number is about 100 yards higher when lost sack yardage is taken out.
WSU's young front seven will have its hands full with Nelson and BYU's big, experienced offensive line.
"(He has) what I call that wrestler mentality, got that battery on his shoulder," WSU defensive coordinator Mike Breske said. "He's a great leader. You can see how their football team responds to him. Last year he was all over the place, good scrambler, takes a good look and then takes off running if the throw's not there."
Local journalism is essential.
Give directly to The Spokesman-Review's Northwest Passages community forums series -- which helps to offset the costs of several reporter and editor positions at the newspaper -- by using the easy options below. Gifts processed in this system are not tax deductible, but are predominately used to help meet the local financial requirements needed to receive national matching-grant funds.
Subscribe to the sports newsletter
Get the day's top sports headlines and breaking news delivered to your inbox by subscribing here.
---