Eastern will have hands full with Bearkats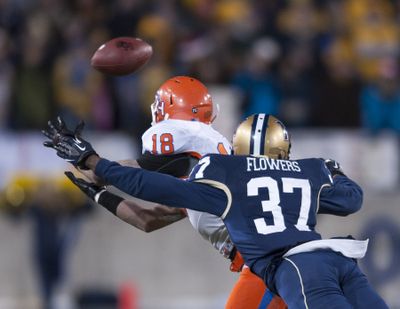 First impressions are hard to shake. For most Eastern Washington football fans, their first look at Sam Houston State came on television Friday night, as the Bearkats scratched Montana State from the FCS playoffs. Relief at not facing a revenge-minded MSU team gave way to the reality of facing one of the hottest teams in the country in Saturday's semifinal game at Roos Field: the Bearkats have won nine of their last 10 games and dearly want a return trip the FCS title game they lost last year to North Dakota State. "We're not here to have fun," Sam Houston quarterback Brian Bell said after running the triple-option offense to near perfection in a 34-16 win at Montana State. "We're here to take care of business and get a win and get back home and move onto the next round." That would be this week in Cheney, in the semifinals against an Eastern team that wouldn't mind getting a chance to add to the national title the Eagles won in 2010. The winner of Saturday's game will face either Georgia Southern or North Dakota State in the championship game in Frisco, Texas, on Jan. 5. "They have talent, speed and athleticism throughout their team," fifth-year Eastern coach Beau Baldwin said of the Bearkats. "They are right up there as one of the fastest teams we've seen since I've been here." On Friday, the Bearkats seemed a step faster than Montana State on both sides of the ball; on defense, they held MSU to 72 yards rushing, while Bell punished the Bobcats through the air when they cheated up against the run. Bell completed only 11 of 21 pass attempts, but passed for 254 yards and three touchdowns against the top-rated defense in the Big Sky. It's been that way all season: Sam Houston has averaged 460 yards a game, including 192 through the air – far more than most triple-option teams. The Bearkats rank second in FCS in scoring offense at 41.7 per game and 12th in scoring defense. The Bearkats (9-3) have already knocked off two Big Sky teams in the playoffs, defeating Cal Poly 18-16 in the second round. Eastern would be the third. "They are a great football team and they've done well against a lot of teams, not just against the Big Sky," said Eastern coach Beau Baldwin. "They've played well in big ballgames and you have to give them a ton of credit for that." A peek behind the stats shows a team that's eminently beatable, speed and athleticism notwithstanding. The Bearkats lost 24-20 at Central Arkansas in a game that eventually cost the Bearkats sole possession of first place in the Southland Conference. Central Arkansas scored two touchdowns in the last two minutes to pull out the win. A 1-2 start evidently brought out the best in the Bearkats, who steamrolled their next seven conference opponents by an average score of 51-12. Six of those teams finished with losing records, while Central Arkansas is long gone from the playoffs. This hasn't been a great top-to-bottom year in the Southland Conference. Two other losses came against bowl-bound FBS schools. The Bearkats gave Baylor a fight before falling 48-23 in the second game of the season, but a 47-28 loss to Texas A&M and Johnny Manziel wasn't that close – Sam Houston trailed 34-0 at halftime as Manziel left to polish his Heisman Trophy acceptance speech. No shame in that. But Sam Houston struggled in its first playoff game against Cal Poly, getting outgained 387 yards to 241. The biggest cause for concern for Sam Houston – and hope for Eastern – is the Bearkats' pass defense. Despite the presence of first-team All-America cornerback Darnell Taylor, Sam Houston ranks 75th in passing yards given up at 223 a game. However, the Bearkats are a respectable 25th in pass-efficiency defense.
Notes
Eastern cornerback T.J. Lee III is listed as questionable for Saturday's game with a strained back suffered against Illinois State. The Eagles reported no other injuries. … EWU and Sam Houston State will meet again, and soon, having scheduled a two-game series, in Huntsville, Texas, in 2013 and here in 2014. … Tickets for Saturday's game are on sale. For fans who agreed to purchase tickets to all three playoff games, the cost is $20 for premium seating in sections C and D, $15 for sections A, B, E and F, $15 for end zone and $10 for east-side seating (behind the visitor's bench). The cost is $5 more per ticket for first-time buyers. Tickets can be purchased at www.ticketswest.com or 1-800-325-Seat.
Coming up
FCS semifinals Sam Houston State at Eastern Washington on Saturday, 1 p.m. TV: ESPNU
---