News > Features
Hip-hop icon Snoop Dogg hits town Wednesday
Fri., Dec. 14, 2012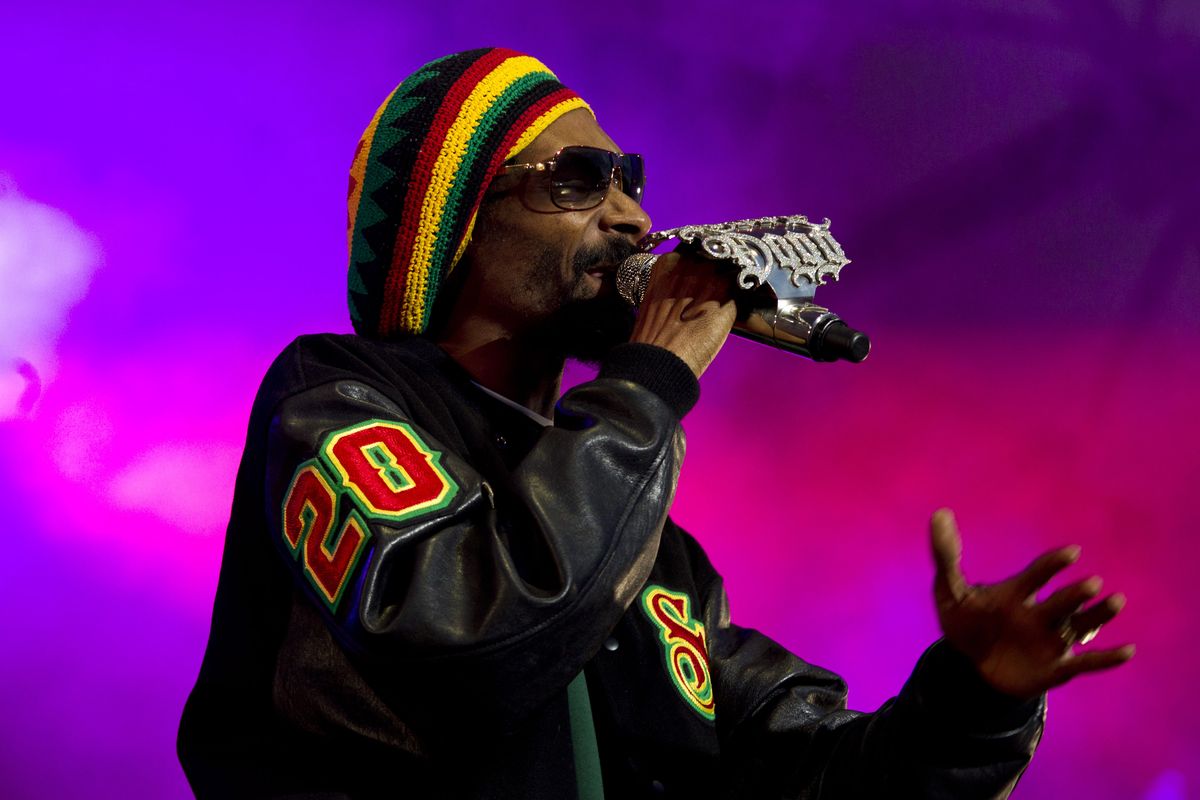 Snoop Dogg performs in Arendal, Norway, last June. He brings his timeless talents to The Knitting Factory next week. (Associated Press)
Snoop Dogg, Snoop Doggy Dogg, Snoop Lion, the Doggfather, or just plain Snoop.
Regardless of the alias he adopts, or how ridiculous they may seem, Snoop remains arguably one of the coolest cats, err, dogs, err, lions … whatever. It doesn't matter if he is fighting a real-life murder trial or haunting hoods in cheesy horror flicks, Snoop is the guy you call when it's time to resurrect 2Pac as a hologram.
Despite hip-hop's fickle history with mainstream acceptance, Snoop Dogg's double-decade-long career has a rare longevity in this young cultural art phenomenon.
Who cares if his lyrical content rarely deviates from the clichéd topics of sex, drugs and violence. If it's Snoop, it's cool.
Next week, Snoop will be in town puffin' smoke about his favorite recreational pastime as his national tour brings him to the one of the first states in the union to legalize it.
When asked to share their thoughts about Snoop Dogg's success, local hip-hop heads cited his king-sized charisma, brilliant business savvy, and key collaborations. But what it comes down to, some argued, is mostly the voice. 
• Andrew Walters, aka Locke
Occupation: DJ, rapper, and graduate student at EWU
"Most rappers lose relevance at some point and stop being cool. Snoop doesn't. He is this weird personality and everyone loves him. He's the pot-smoking uncle of hip-hop. I remember seeing those videos as a kid and singing along to them, or watching MTV or riding in someone's car before I ever had a drink and singing 'Gin and Juice' and not even knowing what you'e singing about. … I think it just might be the fact that he made 'The Chronic.' I don't think his music has stayed consistent necessarily … or maybe it has. He is still talking about smoking pot and saying 'What's up, ladies!' I think Snoop has been relevant to hip-hop musically, or maybe he is just culturally relevant. He has become more of a pop-culture icon than a hip-hop icon."
• Chauncey Jones, aka C-FLOW
Occupation: Rapper and producer at KHQ
"As a teenager growing up in L.A. I was right there when Snoop burst onto the scene. Whenever Snoop came on at a house party, school dance, or even on the radio we would go crazy. I will always associate my teenage years with Snoop.
"I believe that a large part of Snoop's success has to do with him never being afraid to experiment with different elements of art. Going outside of that proverbial comfort zone has opened many doors for Snoop that other artists will not attempt to knock on due to their pride and perceived image."
• Jackie Brown
Occupation: Radio personality at KXLY
"He was more than just a rapper, he was part of a movement in the '90s that changed, influenced and actually helped to define the rap genre during that time. Snoop always stayed true to himself, yet still reached a growing mainstream audience in an industry that's constantly changing. He's the type of artist where you think, 'I wanna hang out with this dude. I'm pretty sure we would be homies for life.' "
• Ghengis Black
Occupation: Radio personality at KYRS
"It comes down to Snoop's ability to adapt to trending cultures and retain/obtain new fans. Snoop told young black men that you could get out of the hood and make something of themselves. … What it did was bring gangster rap to the forefront. 
"His words were simple but it's effective simplicity. The bottom line is the consumer can relate to him in every word. He's the people's rapper. He will always be relevant."
• Phil Andrade, aka Wildcard
Occupation: Rapper/actor
"I grew up in L.A. County when Snoop was blowing up with the 'Deep Cover' freestyle with Dr. Dre, then of course with 'Doggystyle.' I believe no matter how many career transitions he has, he knows how to keep our interest by being himself. He is a survivor. From Death Row to No Limit, etc. He always made moves that advanced himself in one way or the other, and remains to be a success because of it.
"He changes with the times, but at the same time he stays himself. He's Snoop!"
• Kelton Allen, aka DJ Daethstar
Occupation: DJ
"Snoop owes a lot of his longevity in entertainment to the transparent nature of his personality. Anytime he is interviewed, makes a cameo or even says hello to a fan his 'Snoopness' shines through. 
"My first encounter with Mr. Dogg was backstage at one of his concerts. It was early in respect to the event and I was doing menial work. As I turned a corner, arms full of equipment, I was faced with a towering slender man walking my direction, it was Snoop. Torn between my duties and my one chance to meet a personal favorite I blurted out the first thing that came to mind, 'Hey, what's up Snoop?'
"Without missing a step or even batting an eye, in classic Snoop fashion, he replied, 'Sup, nephew.' The mystique of his celebrity remains intact in my eyes and you best believe I'll be at the Knit to support my Uncle Snoop."
• Jacob Dansereau, aka DJ Mac Jake
Occupation: DJ at Whitworth.fm and student at Whitworth University
"His music is far from stopping. He is still a regular on the West Coast Cyphers for the BET awards, and has recently found himself in a spiritual journey where he calls himself Snoop Lion, the Reincarnated Bob Marley. From his recent appearance in a movie collaboration he did with Wiz Khalifa, to his last Coachella performance where he was successful in reincarnating Tupac, Snoop Dogg is still in a certain prime."
• Doug Tobey, aka Stone Tobey
Occupation: DJ
"Snoop's longevity is attributed to a number of things. He is a well-rounded business man and has taken his brand name all over the map when it comes to products and markets, clothing, rolling papers, 'Girls Gone Wild' videos, etc. He must have much love for the rap game to still be touring and making music … I will be cheers-ing to I-502 at the Knit." 
• Jason Corcoran, aka Freetime Synthetic
Occupation: Rapper, visual artist and warehouse worker
"To me, Snoop Dogg's longevity can be attributed to that super smoothness. His vocal tone and delivery style alone will get you regardless of the subject at hand. No matter what mood you're in, if you spit a couple of his lines some of that cool charm will stay with you for a minute. Once a natural-born emcee has access to the best producers and collaborators on the planet, he better last forever."
Local journalism is essential.
Give directly to The Spokesman-Review's Northwest Passages community forums series -- which helps to offset the costs of several reporter and editor positions at the newspaper -- by using the easy options below. Gifts processed in this system are not tax deductible, but are predominately used to help meet the local financial requirements needed to receive national matching-grant funds.
Subscribe now to get breaking news alerts in your email inbox
Get breaking news delivered to your inbox as it happens.
---