Sports
Intense start to fatherhood
Ladd's daughter born almost two months premature
Fri., Dec. 21, 2012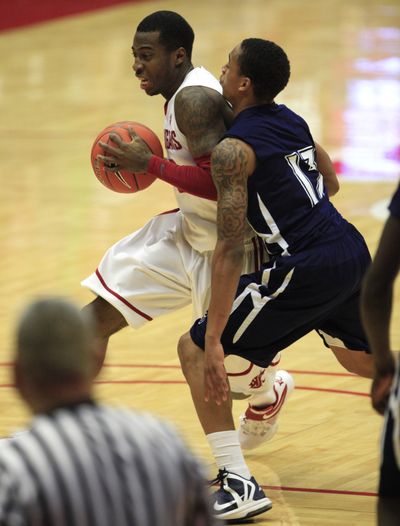 PULLMAN – High on positive thoughts and low on sleep, Mike Ladd could only stare at his daughter through the glass those first few days. No touching. No holding. No feeding.
Born nearly two months premature on Oct. 3 to Ladd and his girlfriend, Sherese Heard, baby Lauren was rushed via helicopter from Pullman to a hospital in Spokane where she was placed in an intensive care unit for nearly four weeks before Ladd could bring her home.
This was the senior Washington State guard's introduction to fatherhood.
"When I saw her, I was amazed," Ladd said. "I was like, 'Oh my gosh, she's really here.' It just hurt that they took her so early. She came, but she left."
Ladd was on his way to the student recreation center that day to play basketball with some of his friends after WSU's practice. Cellular reception isn't so great in the team's locker room, so he didn't get any of his recent text messages until he stepped outside.
That's when he found out Heard was in the hospital. But Ladd wasn't particularly alarmed by the news, because he said his girlfriend had been there before due to stomach pain.
So he drove to the hospital. An hour passed, then a doctor told him the baby wasn't moving as much as she was supposed to. They were going to deliver her that day, despite Heard's Nov. 22 due date.
"When the doctor said that I was like, 'Man, are you serious?' This is the most random time. I was not expecting this today," Ladd said. "I had to turn in a paper and I have a lab at 7 p.m., so I had to run, turn in the paper and then come right back."
He did a lot of that over the next few weeks. With Lauren being treated in Spokane, Ladd would attend classes, go to basketball practice, then drive to Spokane to see his daughter and get updates from the doctors, spend the night there, then drive back to Pullman the next morning and do it all over again.
In between, he developed a reputation.
"They were getting tired of me because I asked so many questions," Ladd said with a laugh. "Just seeing all of the other babies who were having trouble breathing and stuff, that made me worry."
Maybe those trying times aided the senior guard in embracing what he calls "the most important leadership role" he'll ever have.
Heard, a junior at WSU, takes online classes and is able to care for Lauren during the day when Ladd isn't home.
"It motivated me," Ladd said. "I feel like I have more strength. I'm not only living for myself. It's not all about me anymore. My main focus is on her. She motivates me to do better in my life, in class, on the basketball court. It's all for her."
As Ladd adjusts to his new role as the team's primary point guard, coach Ken Bone has noticed a change in Ladd's demeanor.
"I do think this year he's more relaxed and playing, and not allowing the little things to bother him as much, which I do believe comes along with maturity and a person seeing the bigger picture," Bone said. "Once you have a child, that becomes more important than basketball. And it doesn't surprise me that Mike's handling being a father extremely well."
Heard says Ladd, a laid-back, soft-spoken guy on the basketball court, is much more playful around his little girl.
"(The) best way to describe it is, he's his daughter's keeper," Heard said. "We have the utmost respect for Michael's loyalty, and we love him dearly."
Ladd laughs and says he isn't sleeping as much as he used to – Lauren's sleep schedule is still developing – but that's likely a welcome change after those unnerving first few weeks.
And now, he says with a smile, "we can hold her as much as we want."
Local journalism is essential.
Give directly to The Spokesman-Review's Northwest Passages community forums series -- which helps to offset the costs of several reporter and editor positions at the newspaper -- by using the easy options below. Gifts processed in this system are not tax deductible, but are predominately used to help meet the local financial requirements needed to receive national matching-grant funds.
Subscribe to the sports newsletter
Get the day's top sports headlines and breaking news delivered to your inbox by subscribing here.
---